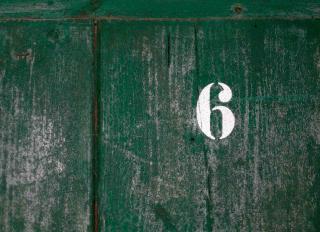 6 Tools to Improve SEO for Colleges and Universities
Whether search engine optimization (SEO) has been part of your marketing strategy for years or you're an SEO beginner, SEO tools can increase your impact by helping you identify and track tactics to elevate your website's organic performance.
Organic search is one of the most effective ways to capture relevant, high-quality leads — particularly for higher education. As prospective students navigate their college search, they frequently turn to search engines to determine which schools fit their criteria and to access quickly deadlines, requirements, and admission timelines. If your website content is optimized to rank on search queries frequently used along the prospective student customer journey — e.g., a particular degree program, scholarship opportunity, or campus amenity — there's an opportunity to engage and convert.
Improving SEO for Colleges and Universities: Where to Start?
Google ranks pages based on over 200 factors which means there is a lot to pay attention to when creating content. Updating website metadata, fixing broken site links, decreasing page load time, or crafting a content strategy around high-volume queries are just a few ways you can maximize your school's search visibility and extend the value of your website. 
But how do you know which aspects of your website are underperforming and which rankings factors you should prioritize? 
Define Your SEO Strategy
There are two primary SEO strategies for higher education – increasing the rank of your program or degree pages and creating a content marketing strategy to reach prospects at the top of the funnel. If you're just getting started with SEO, we recommend you check out our in-depth article detailing how SEO can drive student recruitment. It will help you make the case for investing in SEO, and help develop an SEO content marketing strategy that can be used to generate leads.
SEO Website Audit
A SEO software tool can provide a baseline audit for your college or university website. These tools will crawl your site and provide an audit that will show which keywords are generating traffic. We tend to divide keywords into "branded" and "non-branded" keywords. If your organic search audit is mostly "branded" terms, this means you're reaching people that already know about your school. Generally, increasing "non-branded" keywords — e.g., "nursing school in New Hampshire" or "MBA program Los Angeles" — helps your school reach new prospects that aren't thinking about your school yet for a degree program.
Identify Keyword Gaps
These SEO software tools will not only help you identify immediate SEO gaps and opportunities for fixes, but provide a holistic view of your school's search visibility and performance over time — which will make it possible to craft a viable long-term SEO strategy. For example, if you have a low number of "non-branded" terms or aren't ranking for well-known degrees, centers, or faculty, these are gaps that you'll want to close.
Edit and Track Page Performance
The next step will be to track the pages in the tool that you want to optimize. These tools will allow you to evaluate individual page performance to ensure that, as you edit the content target pages, the page ranks are improving for specified keywords.
Tools To Monitor SEO for Colleges and Universities
To get you started improving SEO for your college or university, we've compiled a list of some of the most popular SEO tools out there, and highlighted some of their most notable features and best use practices. 
Moz is one of our favorites for all-things SEO. Moz Pro's robust feature set makes it a go-to solution for any and all SEO-related reporting and research needs. Moz Pro's tool kit provides capabilities that audit your site for gaps and  track how your website pages are performing relative to SERP ranking and specific keyword positions. With Moz, marketers can track keyword ranking performance and overall visibility on SERP over time to see what's working, what's not, and identify any trends to inform how you can adjust your SEO or content strategy approach. The current state of your SEO regarding search visibility, keyword rankings, SERP position, and links, can all be measured against competitors to get a perspective on where your site performance falls in the market landscape.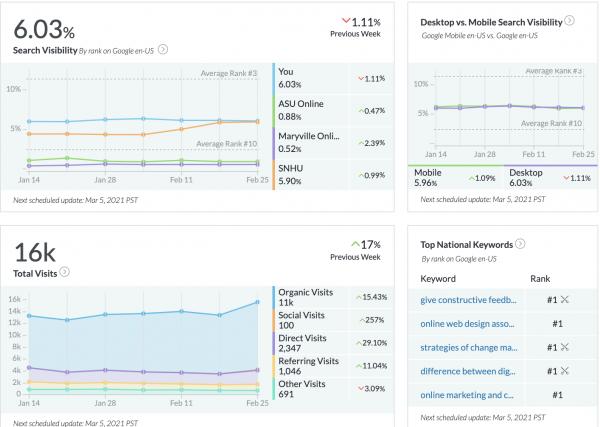 From a content strategy perspective, on-page optimization scores each page based on how easy it would be for users to find the information they're looking for, and how relevant the page is to specific keywords. The keyword research tool allows you to explore and prioritize high-volume keywords based on monthly volume, difficulty, and estimated click through rates.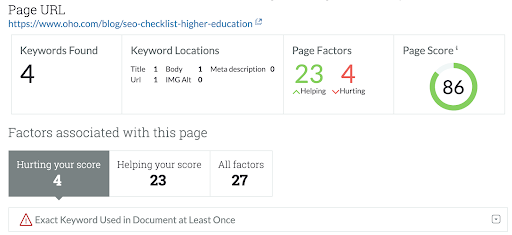 Best For: Moz is best for gaining a holistic view of your current SEO performance, in relation to SERP rankings, keywords, and links. We like to use Moz to report on current SEO efforts because it's capabilities provide a comprehensive look at a website's overall visibility and performance on search. 
SEM Rush is another great SEO tool for garnering an overarching view of current SEO standings and identifying new opportunities to advance SEO performance. With a large set of features similar to Moz, SEM Rush maximizes the ability for marketers to manage their website's online visibility. 
With SEM Rush, marketers can run technical SEO audits, analyze website backlinks, conduct competitive research, track SERP positions, and uncover keyword opportunities. The Keyword Magic Tool provides insight on any keyword or natural language query; including monthly volume, difficulty, estimated CPC, and trends.
This data can provide insight into new content ideas or inform how your existing topics pages can be optimized to perform better on search. By integrating the keywords and queries that prospective students are searching for into your content, you can further promote certain academic programs and drive more qualified leads. Taking an SEO-centered approach to content strategy can help your brand win higher SERP positions and drive more (and better) organic traffic.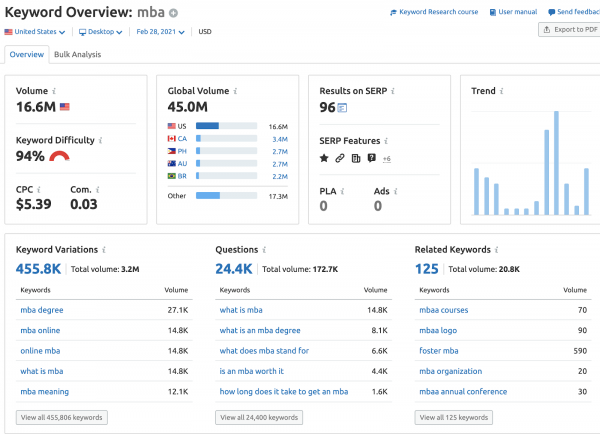 Aside from the various SEO capabilities available though SEM Rush, there are content marketing, market research, advertising, and social media solutions. Based on your brand's current goals and digital marketing efforts, consider which of these solutions could provide the best value for your overall marketing strategy. 
Best For: We like to use SEM Rush when conducting keyword research and doing some exploratory research around certain page topics and new content opportunities.
Accounting for over 90% of the search market share, Google is not only the number one search engine, but the greatest driver of traffic to your website. Tracking website and page performance on Google is extremely important to gain an understanding of how your web properties are performing and ranking where your audience is searching. Google's property, Google Search Console, provides exactly this capability. 
With Google Search Console, you can see how your site as whole — or individual pages — are performing in regards to the number of clicks and impressions, as well as how they rank for top keywords and on SERP. The number of links in your website is another factor that Google uses to rank and index content. GSC provides visibility to internal links, external links, and the top site's linking to your website. In GCS, you can also submit a sitemap so Google can more accurately index the pages of your website.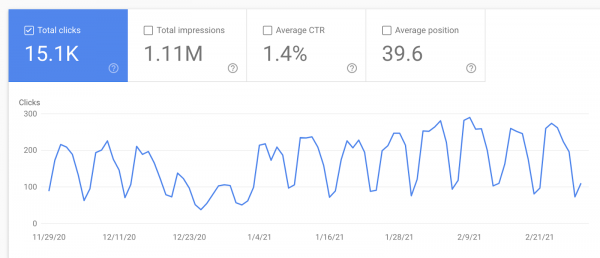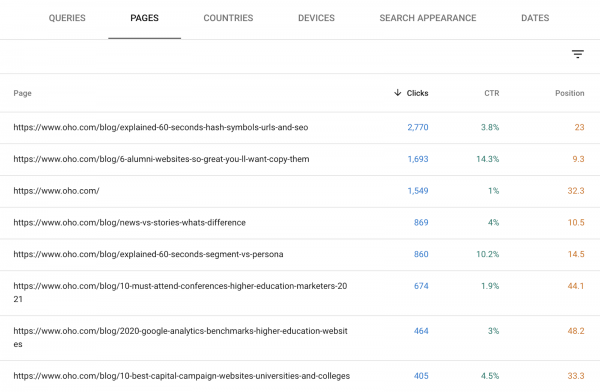 Best For: Getting a quick glimpse at how your website is performing on Google Search. Learn how specific pages are ranking in terms of clicks, impressions, and click through rates. 
Unlike the other SEO tools discussed, Yoast is a CMS plug-in tool that integrates with WordPress. As a Wordpress plug-in, Yoast is focused on making on-site content optimizations, rather than tracking your website's performance across search engines or providing insight into how pages are ranking against competitors. 
Yoast makes automated technical SEO improvements and real-time suggestions for metadata and canonical URLs. Title and meta descriptions templates are available to ensure your website metadata is following SEO best practices. Yoast automatically manages content in Wordpress and optimizes it for faster loading times, which is a factor that helps increase SEO performance.  From a content strategy perspective, Yoast's readability feature automatically crawls website content to ensure that both users and search engines can decipher content accurately.
Yoast would be an ideal implementation for marketing teams without a designated SEO team member. The ease of a Wordpress integration makes it simple to recognize which aspects of your site need to be optimized so you can begin to make immediate adjustments to help improve overall SEO performance.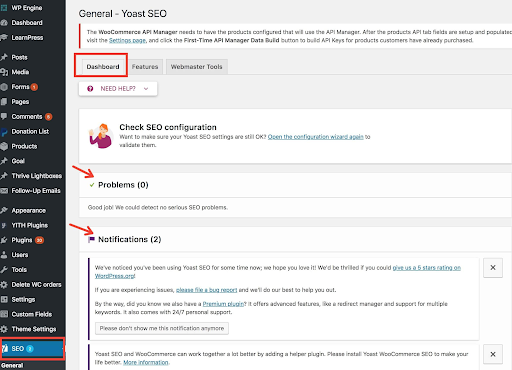 Best For: If you don't have a dedicated SEO expert on your team, Yoast is a great option. As a Wordpress plug-in, it's user-friendly and helps flag on-site SEO issues to provide suggestions in real time that can be directly implemented through WordPress.
Site Improve is a full-stack SEO tool that offers keyword monitoring, content optimizations, competitor analysis, reporting on ROI, and search engine analytics reports. Most similar to Moz and SEM Rush, Site Improve runs on-page diagnostics, discovers high-opportunity keywords, uncovers duplicate content, and identifies high-value backlinks (as well as potentially harmful ones). 
As an SEO solution, Site Improve is effective not just thanks to its robust reporting features, but also because of its management capabilities. Site Improve allows marketers to create customizable activity plans that monitor, track, and demonstrate the progress of your SEO efforts. The visibility into this progress makes it easy to benchmark against your SEO goals and see how you are progressing towards your KPIS. 
Based on your strategy and current SEO goals, Site Improve allows you to prioritize certain pages or goals so you can focus on the areas of your site that have the most performance potential. For content optimization, Site Improve allows you to identify target pages and monitor their progress. Through CMS integration, content can be directly updated to align with high volume keyword opportunities and SEO best practices.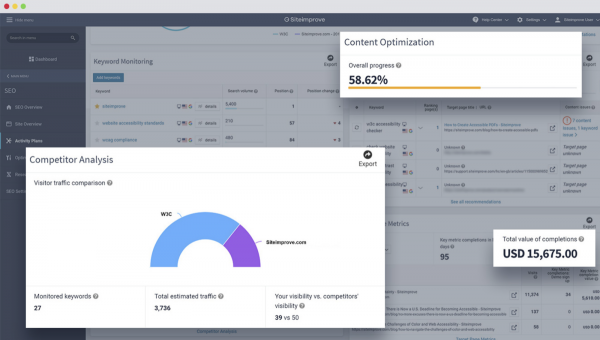 Site Improve makes it easy to manage SEO efforts and report on ROI by attaching monetary value to every effort. Integrating with Google Search Console, Site Improve offers extended visibility into why users are coming to your website and provides the option to filter keywords based on quick wins, high impact, search volume, and estimated traffic to align with your SEO goals.
Best For:  With its SEO functions and management capabilities, Site Improve is one of the most customizable solutions. Aligning  to your current SEO strategy and goals, and providing prioritization and goal-setting functionality, Site Improves is a useful tool for SEO beginners and experts, alike. 
Ahrefs is an all in one SEO toolkit that includes features such as site audit, site explorer, keyword explorer, content explorer, and rank tracker. Ahrefs provides research tools that allow you to measure important SEO factors such as organic and paid traffic, keyword rankings, backlink profiles, and referring domains, against competitors. 
Ahrefs provides advanced metrics and extensive data on each SEO feature provided in the interface. You can explore high-volume and newly discovered keywords with deeper insights into the true traffic potential, including click through rates, return rate, clicks per search, and percent of clicks organic versus paid.  You can audit your website based on customized filters and parameters to drill down into the metrics that are most relevant to your current content and SEO needs.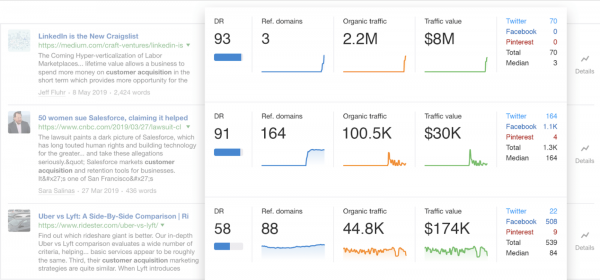 Best For: Ahrefs is a great resource for understanding the technical factors that contribute to your website's SEO performance. As a research tool, Ahrefs provides the most extensive data and advanced metrics on your site's performance and rankings, traffic potential, and current issues. 
SEO for Colleges and Universities: Next Steps
Which SEO tools you ultimately include in your marketing technology stack will depend on the size and makeup of your team, your budget, and your own SEO experience. But even with a limited budget and minimal technical expertise, there are plenty of opportunities to make significant improvements to both the quantity and the quality of your organic search traffic.
And if you lack the resources and team structure you need to get the results you're after with any of the tools above, our team of expert digital marketing strategists can help set you up for success.
Additional Video Insights