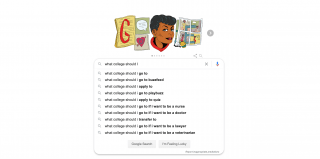 Protecting and Promoting Your School's Brand on Google
The relationship between Google search and your website has changed in the last few years. Here are the steps you need to take to ensure your users continue receiving accurate information about your school — even if they never visit your site.
Here's a shocking stat — only 53% of organic traffic makes it to your website. 
You might have invested effort to optimize your web pages, design a compelling brand experience, and find ways to capture inquiries and applications. But, those efforts can all be for naught because Google is diverting up to 47% of organic searches away from your site.
Why? Google tries to answer search queries directly in the search results or on a Google owned property — YouTube, Google Maps, Google Images, flight search, and more. According to some analysis, Google is successful 43% of the time in answering a user's question in the search interface or by sending the user to a Google property for the answer.
The other 4% of the time? Paid search ads interrupt and divert organic searches destined for your site.
Google: Just Trying to be Useful
Before Google made this strategy shift, a user searching for "harvard university undergraduate tuition" needed to click through to the search results for harvard.edu and scour the Harvard At a Glance page to find the answer. 
Today, Google parses information from sources like Wikipedia, The Integrated Postsecondary Education Data System (IPEDS), or the Department of Education, adds them to the knowledge graph, and displays the answer right at the top of the search results page.
Users get the answer right in the search interface without ever visiting harvard.edu. The result? Organic search traffic drops. 
While Google's just trying to be more useful — providing a better, faster, mobile-ready result — for colleges and universities, this shift in organic search behavior amounts to a loss of messaging control. It requires marketers to audit, monitor, and update the brand presence of the school on digital properties beyond the website to ensure the school is putting its best foot forward.
Protecting Your School's Brand on Google
The good news is that colleges and universities are not completely at the whim of Google when it comes to what information is displayed in search results. You still have some control and some opportunities to influence the presentation of your school's brand. 
In this post, we'll lay out a plan for deal with no-click search traffic, including:
What is the Google Knowledge Panel – and how do I update it?
Understanding the Google My Business profile and how to set-up one
Optimizing for Google Image Search and YouTube
Branded search optimization – putting your best foot forward
Writing web content for SEO
Let's dive in!
What Are the Knowledge Panel and Google My Business Profile
There are two main areas that colleges and universities need to focus on when it comes to brand management within Google search results: the Knowledge Panel and the Google My Business Profile.
Google Knowledge Panel
For each college or university, Google compiles the most relevant information about the institution and presents it on the right-hand side of search results on desktop and at the top of the page on mobile. This information includes:
Name
Location
Description (from Wikipedia)
Admissions and retention data
Tuition information (IPEDS)
Graduation data (US Department of Ed College Scorecard)
Notable alumni
Competitors
Various rankings (third-party sites)
Each college or university has just one Google Knowledge Panel that's shared across all of its locations, and it cannot be directly edited by the institution, but later we'll discuss how to influence it. The main sources of information are: 
Just like Google designed an interface and application for researching flights, it presents an interface for sorting, filtering, and comparing schools using the same data from the Knowledge Panel. 
Just like the flight interface draws traffic away from Kayak, Orbitz, and other travel platforms, this school interface draws users away from the traditional third-party sites such as the College Board, Niche, and Naviance. 
The drawback? Google offers no ways to advertise, brand, or promote your school like other third-party listing sites and they are using data that is 12-24 months old.
What to do? Hang-on — we'll get there in a minute.
Google My Business Profile
For schools, colleges, and universities the Google My Business Profile appears in Google Maps. The Google My Business profile contains less institutional information than the Knowledge Card  — there's no admissions information, enrollment statistics, alumni, cost — and it adds star ratings. Unlike the Knowledge Panel, the information presented in the Google My Business profile can be claimed and edited by the institution.
The Google My Business Profile for schools, colleges and universities includes:
School description

Hours of operation

Address and location information

Phone number

Photos — both from the profile owner and user generated content

User reviews and a star rating from Google Reviews
Google is transparent about how the data for the profile is collected and presented.
Influencing the Google Knowledge Panel
While you can't directly edit the information presented in the Knowledge Panel, you can nudge it in the right direction.
Update Wikipedia: The online encyclopedia serves as one of the primary sources of information for the knowledge panel, and your school has significant latitude when it comes to curating that information. You'll want to make sure your school's page is both robust and accurate.

Claim Your Business Profile: Certain knowledge panel details (like location and contact information) are pulled directly from your school's business profile. Claiming that profile and keeping it up-to-date will ensure the correct information filters through to the knowledge panel.

Audit Partnerships: Some information comes from ranking sites (e.g., US News and World Reports), so consider paid partnerships and pay attention to how you're submitting information.

Claim the Knowledge Panel: While you won't be able to make edits to the panel, this allows you to make recommendations and send feedback to Google.
Claiming and Editing the Google My Business Profile
Once you've claimed your school's business profile, you have direct control over what information is displayed.
Relevant Contact Information: Make sure the contact phone number is active, and relevant to most users. The street address should be an actual building on campus that someone could navigate to via Google Maps.

Create a Business Profile for Each Location: Unlike the knowledge panel, each school location for your school can have its own business profile. For example, if you have satellite campuses each satellite should have its own business profile. This allows it to be found in maps. For universities with schools or colleges (such as a business or a medical school), each can — and should — have a business profile. 

Monitor Reviews: Starred reviews of your school with user feedback may be displayed on the business profile, so you'll want to constantly monitor this section and flag any reviews that are offensive or inappropriate. For Google Maps, these come from Google Reviews and for Apple Maps these come from Yelp!
Google Is Really Many Search Engines
Google allows users to focus their searches around several of its ancillary properties (images, video, news, maps, books, etc). As schools audit their search presence, you'll want to take a look at how your school is presented across Google's other properties as well.
A Picture Is Worth 1,000 Words: Google Image Search
Image Search represents 27% of all queries and you can control some of this content by making sure your images are optimized on your own site. Google relies heavily on alt text added to images for screen readers when determining which images to display. When writing alt text for your website images, consider how to make it useful to people with disabilities and include text that's optimized for search queries you're targeting.
Optimizing Content for YouTube
For video optimization, pick a keyword — or a few keywords — and be sure to include these terms in the title. You'll also want to optimize the video description and write a substantial amount of text and repeat the relevant keywords. YouTube allows for 1,000 characters of description text, but keep in mind that only around 100 display before the user has to click to read more. Other considerations:
The "cover" image for videos should be unique and engaging

Avoid generic titles "Student Profile: Student Name"

Write active and editorial focused titles with wide appeal

Avoid using the same title "card" for every video
Image Packs and Video Packs
Images and videos show up in the "main" search results as well. These strategies ensure that your content will be featured in the main results (and not just YouTube or Google Image search).
Branded Search Results
Whenever your school's name appears in a search query, this is referred to as a "branded search". These searches are particularly important, as the user already has your institution in mind, and you'll want to do whatever you can to steer them toward the right content. Branded searches can be broken down into four categories based on user intent:
Awareness: "Wheaton College," "Wheaton College MA," "Wheaton College majors," "Wheaton College sports"

Interest: "Is Wheaton College a good school?" "What GPA do you need to get into Wheaton College?"

Decision: "Wheaton College application deadline," "Transfer to Wheaton College"

Action: "Contact Wheaton College"
Optimizing Website Copy for SEO
Once you've identified the most popular branded search terms, you can start generating content that speaks to the intent of the user and generates the desired result (e.g, a request for information, a virtual or in-person campus visit). 
Title Tag: 50 - 60 characters long. The title for the page can be different from the title that shows up on the page. Be sure to include the primary keyword in the title.
Meta Description: 160 - 300 characters long. This description will only show up on a search engine results page. Give a good intro to the page content and be sure to include the primary keyword for the page.
URL: Up to 75 characters long. The URL will usually automatically include the entire page title. You can edit it so that it is shorter, but be sure it still includes the primary keyword.
For the page copy itself, it's important to:
Use a unique, singular H1

Add appropriate captions, alt text, and title text with targeted keywords

Include copy that is written naturally, but comprehensively enough to include some artfully placed target keywords, natural synonyms, and naturally co-occurring phrases.
Protecting and Promoting Your Brand in Google: Next Steps
There's a lot to digest here, and while some of the steps you need to take to protect your brand can be accomplished relatively quickly, others may take many weeks or months and require buy-in from multiple groups on campus. For now, here are the most important things you can do to get started:
Audit your search results in Google, Maps, Images, Video.

Claim your business and knowledge panel profile.

Update your Wikipedia page to influence your Knowledge Profile

Work with Institutional Research and/or Admissions to be aware of changes in data before Google publishes it.

Update your meta descriptions and SEO content for clarity in branded search, including web pages, photos, and videos.

Integrate a paid search strategy to compliment your organic content and to reach new audiences.

Practice completion actions or tasks using only Google search; how can you improve the experience?