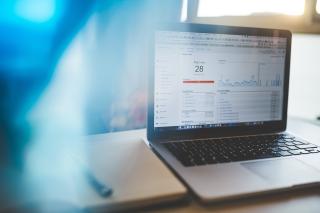 Digital Marketing for MBA Programs: 2020-COVID Report
More scholarships. No standardized tests. No application fees. With business schools facing decreasing or uncertain enrollments, MBA programs are employing a variety of tactics to recruit and retain students.
Our team analyzed the digital marketing activity of top business schools to understand the digital advertising and marketing tactics that are being employed to maintain enrollments and uncover opportunities.
Summary
17 business schools make significant increases in paid media spend in April. Though, it is unclear if these moves are in response to COVID or just part of the typical admissions cycle.

Almost all business school websites saw a rise in organic, first-page keywords in April.

After experiencing a sharp drop off in mid-March, organic search traffic related to business schools has made a recovery.
Digital Marketing Trends for Business Schools + MBA programs
We reviewed 76 U.S. business schools websites and digital marketing campaigns to analyze their paid search spends related to recruiting for business school programs. To find the information, we used third-party tools that records search volume and paid search bids for keywords. Every attempt was made to identify all active paid search campaigns and landing pages. These media spends do not include retargeting, display or paid social (e.g., Facebook, LinkedIn, Twitter).
Based on our analysis, between January 1, 2020 and April 30, 2020:
18 business schools spent nothing on paid search advertising
19 business schools made insignificant spends
20 business schools spent and average of over $20K/per month
The top 10 spends in paid search during this same time period were:
Syracuse – Whitman
Florida International – Chapman
Pepperdine – Graziadio
Baruch – Zicklin
Purdue – Krannert (online)
University of Miami
Harvard Business School
Howard
Wisconsin
Chicago – Booth
For the full rankings of all 76 U.S. business schools get the report.
Example: Syracuse Whitman School of Management
From January to April 2020, the biggest paid search spender by far was Syracuse Whitman School of Management. They outspent all other competitors by 4x to promote their online MBA programs.
The paid search campaign message leads with GMAT waivers. The ad campaign also emphasizes:
Same quality as in-person MBA
Career outcomes
Access to large alumni network
Third-party validation
Encouragement to seek tuition-reimbursement from employers
The landing page reassures prospects that they are still accepting applications and all classes are running. This page is strong because it leads with third-party validation and data points to support outcomes claims.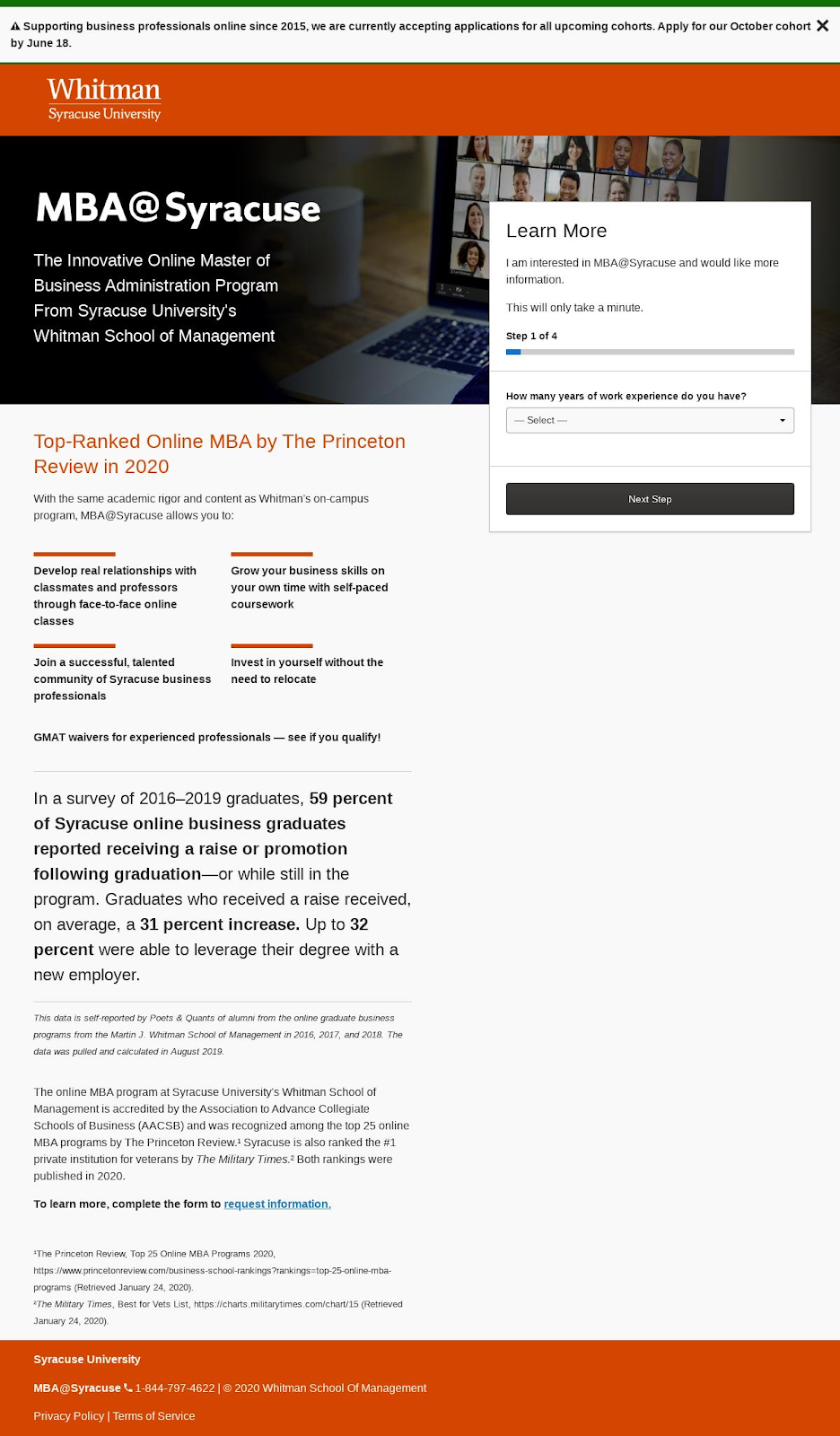 Example: Florida International University
Florida International University is also making a sustained investment in paid search advertising. However, their campaign is less explicit in calling out a response to COVID:
Leads with "fully-online"
Highlights "GMAT waivers"
Emphasizes scholarships – this is a pre-COVID selling point
The advertising landing page confirms that the school is still open, accepting applications, and planning to continue classes despite COVID-19. As a call to action, FIU is hosting a range of online events and directing prospects to sign-up for these rather than in-person events.
Target Audiences for Digital Marketing
For business schools, there are three primary target audiences for their paid search campaigns – traditional on-campus programs, online programs, and executive education. For the schools with strong traditional programs such as Harvard Business School, Stanford, and Yale, we're seeing the paid search spend going towards online, non-degree programs and executive education programs.
Organic Search Keywords Trend Up for Business Schools
While the number of keywords driving organic search varied dramatically, we did find that in April 2020 the number of first-page organic keywords went up for almost every business school. 
This lift can happen for two reasons. 
First, business schools intentionally optimize their website content to appear in organic search. Second, there's an overall increase in the number of people searching the terms related to business schools. It's unlikely that the 76 business schools we reviewed decided to optimize their content at the same time. Therefore, this up-tick in first-page keywords suggests increased search traffic related to business schools.
Jumping over to Google Trends, we see a drop off in Google searches around March 15 when the U.S. went into quarantine. We also see a steady recovery of search traffic over the past months.
Taking a look at searches on Google for MBA programs worldwide, we see a similar drop-off in mid-March as the US moved into quarantine. The recovery has been slower with one single spike late in May.
There has been a slight increase in search volume for "online mba" worldwide. In addition, there has been increased searches for degree shopping terms related to online mba with terms such as "online mba rankings 2020," "best mba online course," and "executive mba vs online mba" increasing in volume over 200%.
However, the searches for "masters of business administration" far outweigh searches for "Online MBA."
Opportunities for MBA Programs
An increase in Google searches suggests an increase in demand for business programs post-COVID. It's important for business schools to adjust their marketing language to speak directly to concerns related to COVID such as delayed classes, travel to campus, and inability to take standardized tests.
On the paid side, there's an opportunity to take advantage of lower digital ad costs and to update ad copy and landing page copy to speak to current concerns. Of the top 10 business schools spending the most on paid search, we did not find many messages adjusted to address the current economic and health climate.
We also see an opportunity for most business schools to pursue a content marketing strategy to increase organic traffic. Our report offers a full competitive analysis of business school paid search spends and organic search traffic and reveals additional opportunities for investment.