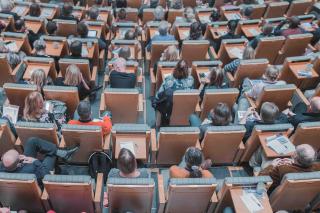 The 3 Marketing Strategies to Increase Student Enrollment
There's no magic button you can push to increase your enrollment numbers, but there are three core marketing strategies every college or university can employ to have the best possible chance to meet its targets.
With graduate programs seeing "steep declines" in applications as a result of COVID-19, it's a good time for schools to review and revise their digital marketing and enrollment marketing strategies to ensure that the foundational best practices for lead generation are in place and that their current approaches are optimized. 
However, with the proliferation of vendors, advertising channels, martech products, and CRM solutions defining and executing on an effective and "best practices" enrollment marketing strategy can seem overwhelming. 
But it doesn't have to be.
When it comes to generating leads as part of a student enrollment strategy in higher education, there are three primary digital engagement pathways. These enrollment strategies are three core lead generation strategies by which a college or university can attract new prospective students and convert them into leads for graduate, online, or degree completion programs:
Launching paid digital advertising campaigns and capturing leads on a dedicated landing page

Optimizing your school's website to convert organic and direct traffic

Implementing a content marketing strategy to attract top of the funnel traffic
Within each of these lead generation enrollment strategies there are choices to be made to improve targeting and conversion — e.g., which ad channels, budget size, user experience optimization — that can make increase the complexity. 
However, if your school is actively using these three lead generation strategies, you can rest easy knowing you've covered the major enrollment strategies that will recruit the students your school needs.
Ready? Let's dig into each of the three lead generation enrollment strategies.
Marketing Enrollment Strategy 1: Lead Generation with Paid Digital Ad Campaigns
The first effective lead generation strategy involves directing targeted users to a landing page through paid advertising or paid directory listings. 

The ads can be Google search ads — also known as Search Engine Marketing (SEM) — or ads on social networks or through paid listings on degree aggregator sites such as Poets and Quants for business schools. Selecting platforms and targeting audiences can be complex — we've broken down our approach to building an audience in this post.
The landing page focuses on a single program or distinct cluster of related degrees and, more importantly, is designed around a clear call to action. 
The landing page is a standalone page with the single purpose of pushing a user to complete a request information form. While branded like your school's main website, the landing page typically does not include overt navigation options to the rest of your school's website to prevent users from "wandering away" from the form. From a creative perspective, the landing page should be direct, easy to scan, and employ strong-yet-minimal copy.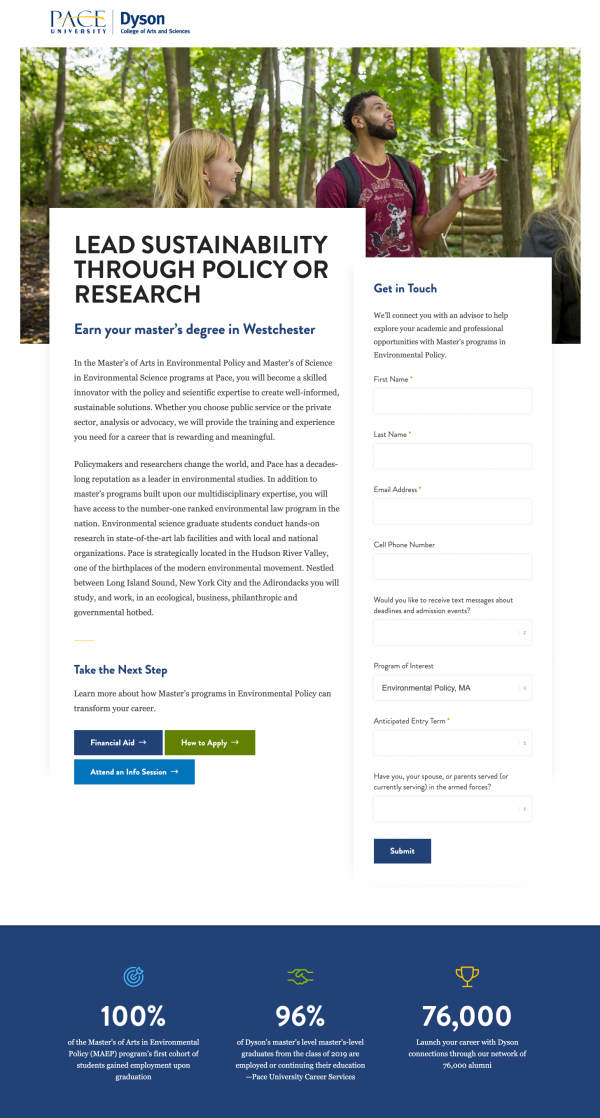 If a prospect completes the request-for-information (RFI) form and provides an email and phone number, you can nurture this lead through email, text, or phone outreach. 
But, what about visitors who don't complete the form? 
Keep Prospective Students Engaged with Retargeting & Remarketing Ad Campaigns
When visitors come through this first engagement pathway, but don't convert into prospects, there's an opportunity to create a lead pool for a retargeting advertising campaign. 
By placing a "retargeting" pixel on the landing page, you can target a second campaign to these unconverted prospects on a variety of digital channels — Facebook, Instagram, LinkedIn, search engines, and content websites across the web — and direct them back to the landing page. A secondary goal of retargeting campaigns is to remain top of mind and reinforce awareness and brand messages.
While retargeting campaigns are an additional advertising expense, if the original audience targeting (that brought the visitor to the landing page in the first place) is finely tuned to people seeking a degree, the retargeting pool will be highly targeted as well.
If you're investing in retargeting and remarketing campaigns, you need to make sure your landing pages are fully optimized and focused on capturing leads. This post covers five tips for building effective landing pages.
Marketing Enrollment Strategy 2: Capture Organic and Direct Website Traffic
The second engagement pathway considers how to convert users who've arrived to your college or university website via an organic search or direct look-up. 

First things first: for your website pages to be found, you must optimize them to appear in organic search results. But, no matter how a user arrives, once they land on the website, you want to keep them there long enough to convert. Having a clear understanding of the customer journey is key here. 
If you're seeking to recruit graduate students or adult learners, you need to understand their customer journey and their content needs. For example, prospective graduate students don't want information about your campus and student activities, instead they want:
to get right to the degree or program information

to understand the time commitment

to know the curriculum and who they'll learn from 
You'll want your degree or program pages to have a clear call to action, such as an information request form. But a highly engaged user might want to learn more before taking a next step, so, additionally, your website should of course have a clear pathway to other relevant information — we can't overstate the importance of a solid information architecture.
The goal is for a website visitor to complete an RFI form or start their application; to encourage the more passive visitors, there are some extra engagement strategies to use on your program pages.
Using Personalized Calls to Action to Drive Conversion
One way we've optimized program pages is using a pop-up to encourage users to take the next step; this could be a standard lead generation form or an opportunity to promote something more valuable, such as a downloadable career guide or webinar invite. 
The idea is to provide an incentive in exchange for contact information. We've had success with this engagement method, especially on mobile experiences. We typically see a 2-4% conversion rate.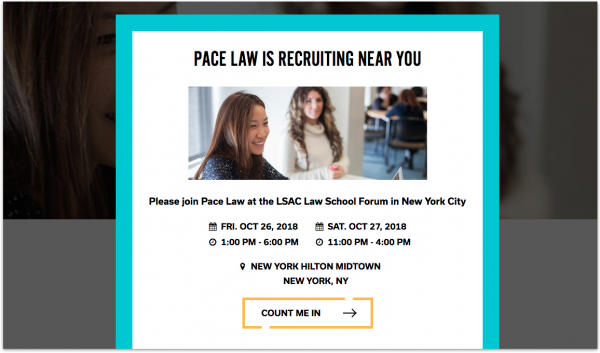 Before COVID, for Pace Law we implemented personalized calls-to-action for recruitment events that were based on the location of the visitor.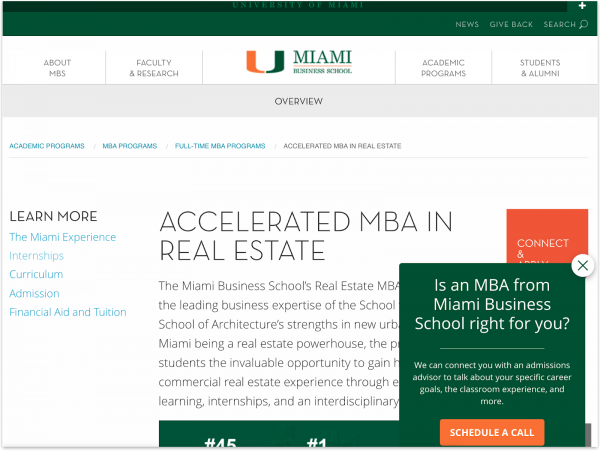 For Miami Herbert Business School, personalized calls-to-action encouraged prospects to schedule a call with an admissions counselor. These calls-to-action helped to capture additional leads from direct and organic website traffic. These are only shown to users with a customer journey that indicates they are evaluating an MBA degree in earnest. 
Expand your Retargeting and Remarketing Campaigns
If you've optimized your pages for organic search, created a solid information architecture to direct prospects to your program and degree pages, and aligned the content to their needs, and they still don't convert — you can add them to the retargeting pool. 
If visitors spent time on your MBA page, you can surmise they are interested in graduate business programs. By including them in MBA-related retargeting efforts, your program remains fresh in their minds. 
Enrollment Lead Generation Strategy 3: Develop a Content Marketing Strategy
The third enrollment strategy builds awareness with prospects higher up in the funnel with targeted, valuable content that informs and educates.

 A thoughtful, well-researched content marketing strategy allows your school to deliver useful content to prospects and build brand awareness. 
The most common approach here is a regularly updated blog with posts optimized for organic search terms with moderate to significant traffic related to your school's academic offerings. Posts should not be about a degree or program, but the posts should be about topics related to the degree or program. 
For example, if your school offers a cybersecurity master's degree, relevant blog posts could target keywords related to cybersecurity. To identify  these keywords, you can use a tool such as SEMRush, Moz, or iSpionage.
Here's an example set of results from iSpionage for keywords related to cyber security:

While it would be great to rank in the top three slots on Google for "cyber security degree" the competition is going to be stiff. However, "cyber security threats" and "cyber security career" both have solid monthly traffic – 210 and 170 monthly searches respectively – and these are topics a prospect high up in the funnel might be searching.
Armed with relevant, high-traffic keywords, the next step is to write a blog post and optimize it around one of these keywords. The University of San Diego did just that — the school produced an article that ranks number one for "cyber security threats" in Google.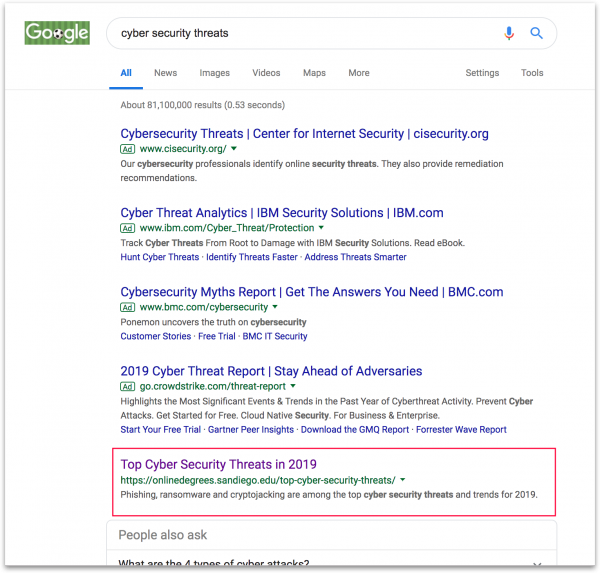 The University of San Diego's blog post includes a link to their degree, a request information form, and a downloadable ebook as a career guide.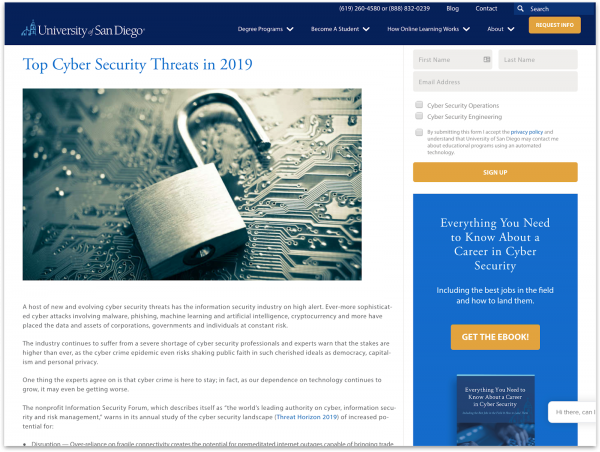 Thoughtfully developed content not only educates users about an industry or career path, but it can also connect them to your program page (or other admissions-related pages) through internal links and in-copy calls to action. Additionally, individual posts serve as a lead-capture opportunity by providing a request-for-information form.
And, what do we do if these visitors don't convert? Add them to the retargeting pool and use additional digital advertising campaigns to direct them back to the landing page to learn more about your degree.
We've established the three main digital engagement pathways, particularly for graduate student enrollment marketing strategy:
Run paid advertising campaigns with lead capture

Capture leads from direct and organic traffic 

Reach leads at the top of the funnel with content marketing 
While there are three core lead generation methods, there are many nuances — and this is where the strategy and creative thinking really kicks in. 
Coupled with the right tools in your marketing stack, such as a solid customer relationship management system (CRM), you can maximize your lead generation efforts by asking the right questions, making intentional design choices, creating clear communication flows, and optimizing along the way based on data and user feedback.