SEO Checklist for Higher Education
You don't need to burn through your marketing budget to improve search engine optimization (or SEO) for your higher ed website. Here's a rundown of 10 higher education SEO tactics to help your college or university website content to rank higher in organic search results.
Today, organic search is the number one driver of website traffic, particularly in higher education (and healthcare). Google dominates all search engines, and search is now a critical element of your visitors' journeys.
Colleges and universities must invest to improve in their organic search rankings to not only stay competitive, but to ensure that their audiences can access the web content most relevant to them and when they need it most.
But you don't need to be an SEO expert or invest in expensive SEO tools to conduct these simple hacks to audit your organic search rankings and improve your results. 
11 Higher Ed SEO Tactics to Audit Your Website and Improve Results
1. Use Google search recommendations for insight into the most common search terms, queries, and questions for your college or university.
Don't forget to use incognito mode to keep your search history the most "generic." After compiling a list of the the top terms, audit these pages to ensure that the content is relevant and up-to-date. 


2. Use Google Trends to dive deeper into search patterns specific to locations and timeframes, and compare search results between schools.
Google Trends is a free tool that is effective in starting to understand how your competitors' websites are doing in attracting organic traffic.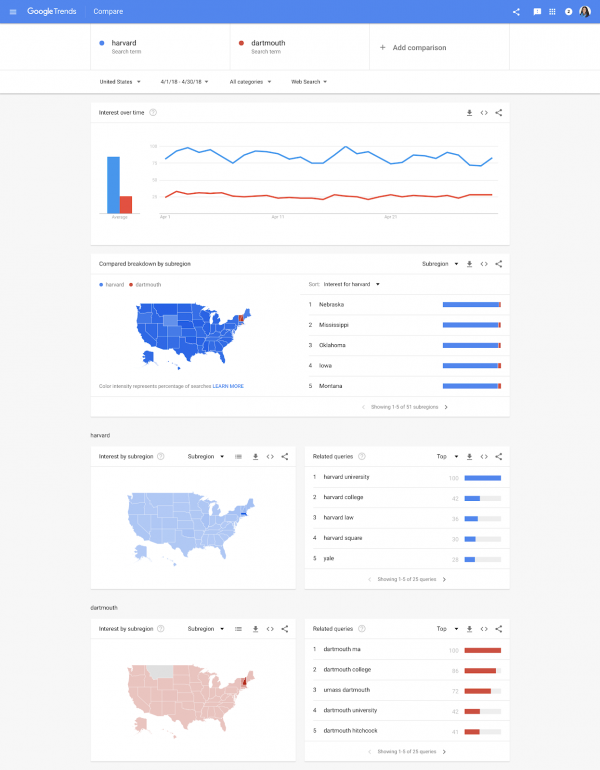 3. Investigate what phrases starting with interrogative words your website visitors are searching for.
More than ever, searchers ask questions (i.e. natural language search) to gain informational insight. Plus with the rise of voice search on mobile phones (thanks, Google, Siri, and Alexa), these questions tend to be transactional in nature.

Conducting some light user research can help with this — ask students, staff, faculty, and alumni what questions they might use Google to search for. Bring a team together internally to brainstorm common questions.
Research common questions for both your brand and your degree programs using aggregation tools like Answer the Public. This is also a great way to research new content opportunities.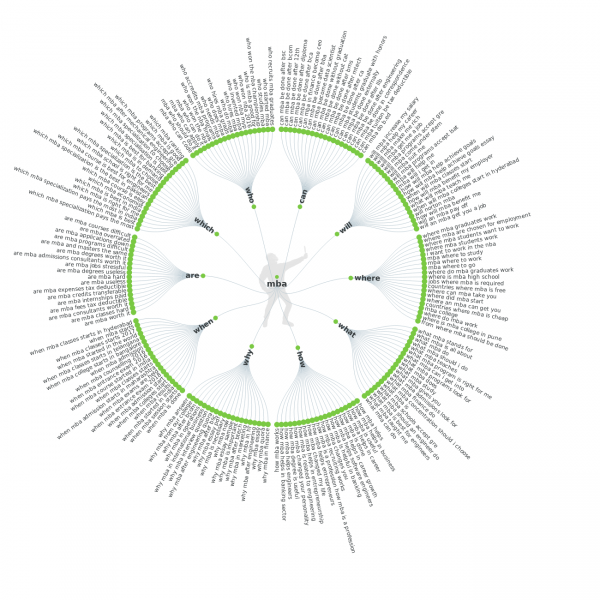 4. Use the Google Analytics Site Search report and Landing Pages from Organic Search to provide insight into what your website visitors are looking for.
Google reports a dismal number of organic search keywords to your site within Google Analytics or the Search Console. We recommend you use your internal site search results to give you an idea of what your website visitors are looking for, and use this data to inform content and architecture decisions.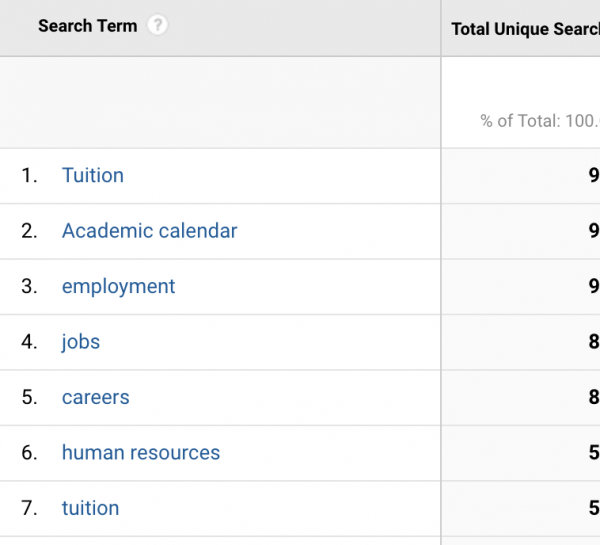 5. Research top landing pages from organic search.
Again, since Google does not report organic keywords, you can see which landing pages your audience tends to visit from organic search. These pages will tell you which pages your users tend to search for, and also which pages have very strong search value. And these results may surprise you!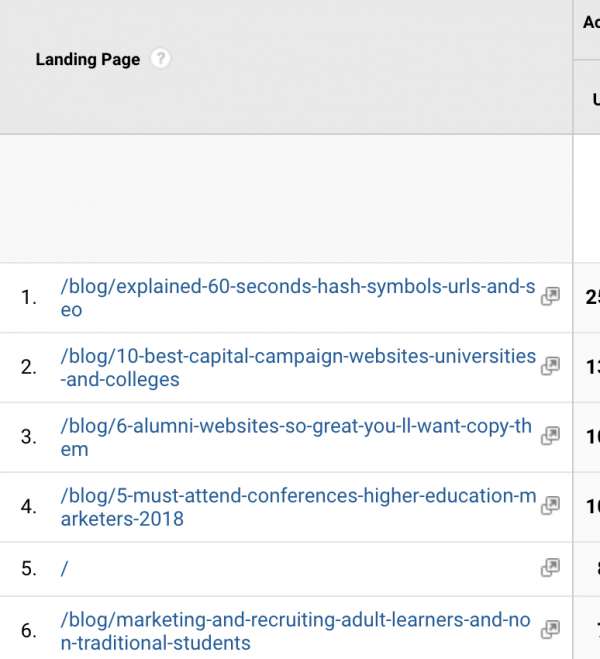 6. Use Google Keyword Planner to identify search volume for particular keywords and queries, either branded or non-branded.
This helps with paid search efforts, but also can be used for organic search analysis.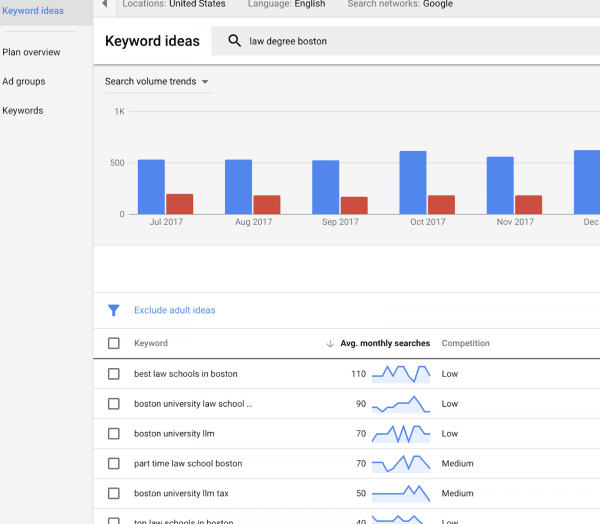 7. Set up a 404 report using Google Analytics or a tool such as Siteimprove to identify any broken links.
Broken links won't just impact your organic search strength, but broken URLs are just horrible for users. Regularly monitoring attempted pageviews of broken links will allow you to quickly set up redirects and prevent this interrupted user pathway. Learn how to set-up and effective 404 page.
8. Review the Google college search feature and update your Google business profile. 
You have limited control over what data appears in the college search feature, as it is primarily based on official reported data from the last few years and scraping publications and other "official" sources, but the more accurate your business profile (which appears through other Google properties like Google Maps), the better. We've written a full article on how to promote and protect your school's brand on Google.
9. Review and update your Wikipedia page.
Wikipedia is now an "official" source of content, as millions of users flock to Wikipedia for information and statistics. The link to your university's Wikipedia page appears at the top of organic search results AND is a source of content for the Google college search feature. Good news is that you can contribute to this content and correct any inaccurate data on this page. But keep it factual — no marketing speak allowed!
10. Optimize your media content — videos and photos.
Outside of Google search, YouTube is the 2nd most popular search engine. You know that video is an important vehicle to communicate brand messaging to your audiences, but consider how it can help answer your users' questions and provide more depth to their search queries.

Use search-friendly titles for your videos.

Apply user-centric keywords to the tags and video description.  

Amp up your accessibility: add subtitles and closed captions to your video, as well as transcribe the video in the video description.

The same goes for photos — consider how the metadata of public images can contribute positively to search results, and meet the needs of your audiences!
11. Use Google Search Console Insights
Google significantly upgraded its tools to provide more visibility into how specific keywords are performing. The Google Search Console Insights will show you both the high ranking keywords and the trending keywords from your website. You'll need to have access to the Search Console account and validate your domain to receive access.
Now What? Developing a SEO Strategy for Higher Ed
Now that you've got some tools to understand how your organic keywords are ranking (and how to find new ones), it's time to step back and understand the two main SEO strategies for higher education. The goal is to generate traffic that fills your prospective student funnel. We introduce the two SEO strategies for higher ed in The 3 Marketing Strategies to Increase Student Enrollment and, once you've mastered SEO strategies, the next step is to consider implementing a content marketing strategy to increase traffic. 
This article was updated February 4, 2022 from an earlier post.