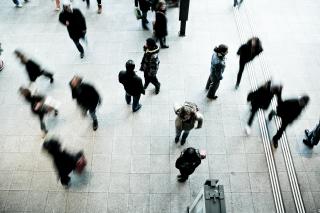 Selecting the Best CRM for Higher Education
Choosing a CRM for higher education can be a daunting (and expensive) undertaking. We've reviewed 11 popular CRM platforms and outlined a selection process to help you get started.
Customer relationship management (CRM) software has revolutionized how we do business. A report from HubSpot found that CRMs can:
Increase revenue by 29%

Enhance sales team productivity by 34%

Boost conversation rates by 300%
While these CRM statistics lean toward commercial enterprises, you can see how higher education, a traditionally siloed industry, has taken a cue from the retail and B2B sectors to streamline processes. Beyond revenue-generating benefits, CRMs are equally powerful tools for customer support, internal communication, and operations management. 
Using a CRM for higher education, from recruitment to advancement to cross-team collaboration, can help ease — or even eliminate — issues such as:
Siloed data

Outdated data

Inaccurate data

Cumbersome processes

Labor-intensive tasks

Delayed information

Duplicate efforts

Disconnected team members
These pain points aren't exclusive to higher education, but they're certainly among some of the most commonly voiced by our admissions and advancement colleagues. 
What is a CRM in Higher Ed?
CRM stands for customer relationship management and for colleges and universities, a single CRM solution can be implemented to unify and to manage all contacts from prospective students to enrolled students to alumni and donors. Centralizing this data allows schools to have a 360 degree view of their constituents. However, more frequently, we find different CRM software solutions being implement at a single college or university – one for admissions, one for current students, and one for alumni offices. In the past 10 years, as admissions offices have modernized and moved away from paper applications, there has been an increase in the number of CRM products designed specifically to manage the inquiry and application process.
College CRM Software Benefits
One of the strongest cases for implementing a CRM is centralizing data and streamlining internal collaboration. With an intuitive system and better processes in place, admissions teams can manage inquiries and applicants more efficiently. And, with access to the same real-time data, admissions and marketing departments can work together strategically throughout the recruitment cycle. 
Among the other benefits of using CRM software is the ability to:
Automate lead nurturing 

Track applicant processes

Find bottlenecks

Build workflows

Optimize staff productivity

Improve the student experience 

Personalize web content
Your CRM can work in tandem with other elements of your marketing technology stack. For example, when connected to a website personalization engine, you can use prospect data stored within your CRM to tailor a specific user's experience the next time they visit your institution online. 
Finally, a CRM might have its roots in sales and marketing — which in higher education equates most to enrollment — but these systems can also be integral to student retention and alumni engagement as well. 
Choosing the Best Higher Education CRM for Your College or University
Determining the best CRM for higher education for your institution depends on a number of factors. You'll want to go into the research and selection phases with a list of your requirements (and nice-to-haves). A few things to think about include:
Customization/Flexibility
Can it do what you need it to do out of the box, or will you need to customize any aspect of the system?

if so, what are the costs entailed? 

Is it something your internal IT team could manage? 

Do you have the option to brand the prospect and student-facing aspects, such as an application portal or email templates? 
Price /Licensing Costs/Terms
Does it fit within your budget? 

How is pricing determined? (For example, some pricing might be by licensed user or per student; some plans might offer varying levels based on what features your school will use)

What are the contract commitments? 
Implementation Costs/Additional Services
In addition to your monthly fees or annual contract, what are the initial costs? 

Is training included? 

What about support packages?
Integrations With Other Platforms and Tools
Today, many CRMs come standard with (or offer add-on) modules for marketing and other processes, so it's worth noting that the right college CRM software might allow you to consolidate two or more systems.   
Other considerations include:
Mobile and cross-device compatibility 

Hosting options

Security features

Compliance with FERPA, CAN-SPAM, and other regulations 

Permission levels/access

Growth and scalability 
A Closer Look: 11 College CRM Software Solutions
Customer relation management solutions come in all shapes and sizes. The biggest and longest-standing products, such as Salesforce, are powerful, robust systems that offer seemingly endless capabilities. With customization, these larger platforms can meet business needs of all kinds. Smaller companies or specialized markets may find CRMs without as many bells and whistles more suitable.
Recognizing the specific needs of higher education, some technology companies developed products specific to the industry, designed with the various aspects of the student journey — or their entire lifecycle — in mind. Some of these higher ed CRMs were born from other solutions; for example, some student information systems (SIS) expanded their products to include admissions management or advancement tools. 
There are advantages to choosing a higher-ed-specific platform, as Dennis Thibeault of Unifyed, told Educause in 2020: 
"CRMs that exist for general use within any industry can be difficult to fit into a higher education environment. That approach often requires extensive training and/or a technical resource."
We took a closer look at some of the options available, from enterprise systems fit for any industry to niche college CRM software solutions:
Salesforce

Slate

Target X

Hubspot

Full Fabric

Anthology

Creatrix Campus

Enrollment Rx

Jenzabar

Shape

Unifyed
Salesforce, perhaps the world's leading CRM, isn't just for big business: The company provides solutions for education and nonprofits. Education Cloud offers tools for recruitment and admissions, advancement and alumni engagement, and student retention and success. The foundation of this platform is Education Data Architecture (EDA), which offers a 360-degree look at every prospect, student, and graduate. 
Additionally, many institutions customize core Salesforce products such as Marketing Cloud and Pardot to meet their higher ed marketing needs. 
Unique feature: Einstein Analytics offers predictive modeling, AI-enabled engagement, automated scoring, and other powerful, mobile-friendly dashboards. 
Slate, from Technolutions, is a comprehensive CRM platform for admissions and enrollment management, student success and retention, and advancement and alumni engagement. The customizable, feature-rich Slate offers everything from marketing automation and event management to data visualization and document hosting. With more than 1,300 colleges and universities on the platform, Slate engages with its community through an annual summit and other events. 
Unique feature: Slate.org, a free platform that connects high school counselors, independent counselors, and community-based organizations with colleges and universities. 
Target X, a Liaison company, offers CRM solutions for the complete student lifecycle. Its intuitive and mobile-friendly Recruitment Suite product includes online applications, event management, travel planning — as well as email, chat, and SMS capability. Its Retention Suite product is a service-based approach to student engagement and success. Target X is a Salesforce partner and offers seamless integrations with SIS and payment systems (e.g., Banner, Jenzabar, PeopleSoft, TouchNet, and PayPa)l. 
Unique Feature: UChat allows prospective students to connect directly with an admissions counselor. Schools App lets accepted students to engage with staff members — and each other. 
HubSpot, a company well known for its inbound marketing services, offers a free CRM (with additional paid features). The system includes contact management, automated marketing tools, form builders, live chat, and integrations with email and social platforms. While not designed specifically for higher education, HubSpot shares how colleges and universities have used aspects of its CRM in this blog post. 
Unique feature: Landing Page Builder allows you to create and test mobile-optimized pages for lead generation. 
London-based, founder-managed Full Fabric offers a suite of higher-ed specific solutions, including its end-to-end Foundation CRM — with the "c" representing "constituent" here. Full Fabric also offers module-based solutions: Origin, a customizable admissions portal; Core, for student information, advising, and retention; and Connector, an alumni engagement tool. 
Its founders and team members have first-hand experience in higher education, which helps fuel its mission to use intuitive technology to improve student relationship management at every level.
Unique feature: Features a highly adaptable end-user experience, with content tailored to applicant stages. offers a free trial of Origin, with no payment details necessary. 
In 2020, three education technology service providers — Campus Management, Campus Labs, and iModules — combined to form Anthology. Among its offerings is a higher education CRM system of intelligence, which comes in the form of three main products: CampusNexus Apply, CampusNexus Engage, and CampusNexus Succeed. Anthology also offers student information system (SIS) and enterprise resource planning (ERP) solutions. 
Unique feature: RENEE, a digital assistant whose name is an acronym for Retain, Engage, Notify, and Enablement Engine. 
With origins in accreditation and compliance, CreatrixCampus offers a range of student lifecycle and academic solutions. The recruitment software includes admissions workflows, document management, event planning, and automated communication tools. 
Unique feature: Multilingual chatbots, including a robo-tutoring option, as well as a career placement module that allows students, staff, and companies to connect for internship and employment opportunities. 
Enrollment Rx delivers Recruitment, Admission, Decisions (RAD) solutions. Built on the Salesforce platform, Enrollment Rx allows institutions to leverage one of the most powerful CRM tools on the market, but delivered as a solution designed just for higher education. In addition to its core product, Enrollment Rx offers modules for events management and application reviews, as well as various imports and integrations.  
Unique feature: FormBuilder Rx allows users of any experience-level to create drag-and-drop web forms. 
With roots in the student information system space, Jenzabar offers end-to-end solutions for student lifecycle management from recruitment and enrollment to alumni engagement. As an admissions CRM, Jenzabar focuses on finding the best-fit candidates with features like application submission, customized content, personalized messaging, real-time reports, and internal workflow and staff management tools. 
Unique feature: Admission counselor task lists, plus daily call and contact sheets for recruitment teams.
Shape's CRM, sales, and marketing automation solutions fit any industry, from finance to real estate. It touts lead scoring, prioritization, and filtration among its top features. Shape's marketing tools include email and SMS follow-ups, custom triggers, and automated drip campaigns. This CMS also integrates will student information systems and other higher education-specific tools. 
Unique feature: Prioritization rules for call lists; offers a 14-day free trial.
Developed at Columbia University, Unifyed was made for higher ed, BY higher ed. Described as the only AI-first, microservices-based cloud-native student information system, Unifyed offers more than a dozen modules, including Admit, Engage, Retain, and Advance. Its recruiting and admissions CRM — Admit — offers personalized and automated communication tools, customizable constituent portals, document management, and internal workflow tools. 
Unique features: Additional apps include Attend (attendance solution for professors) and Protect (notification system for students, guardians, and campus security). 
Choosing the "Right" Higher Ed CRM Solution
Finding the best CRM for higher education for your institution takes research and plenty of due diligence. We hope you found the information here helpful as you start the selection process. 
To reiterate one of the biggest benefits of a CRM for higher education, these systems are incredibly valuable to your complete college or university martech stack. If web personalization and marketing automation are priorities, aligning these practices with a CRM can strengthen and streamline your efforts.
This article was originally published March 4, 2021.