Market Like a Pro: Building a Marketing Technology Stack in Higher Education
Building a higher education digital marketing technology (martech) stack can be a daunting and overwhelming task. I'll demystify the process and offer steps for implementing a marketing technology stack at any college or university. 
The marketing technology — or martech — stack refers to the integrated collection of software tools that digital marketers employ to deliver and optimize a comprehensive customer digital experience. The marketing technology stack typically spans across the website, email marketing, personalization, social media, and analytics.
As competition for students increases, universities and colleges need to consider implementing a higher education marketing technology stack to provide a full view of the prospective student journey and to optimize prospective student outreach.
The Marketing Technology (Martech) Stack Defined
While there are thousands of tools that can help marketers analyze and improve their digital marketing efforts — all of which could be considered part of a martech stack — most organizations have these five to six core tools.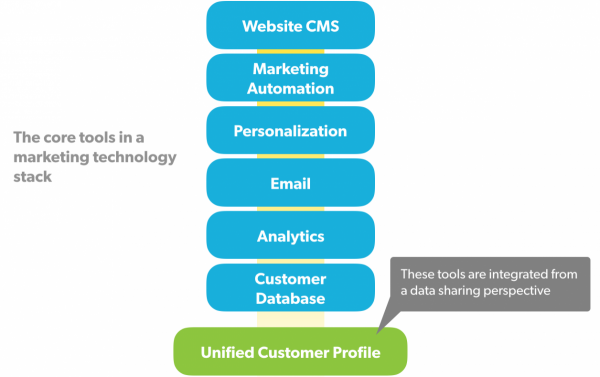 The core stack typically includes these software tools:
Website Content Management System (CMS) — Drupal, WordPress, Sitecore

Marketing Automation Platform — Hubspot, Marketo, Pardot

Customer Relationship Management (CRM) Software — Slate, Salesforce – see the top 11 higher education crm solutions

Personalization Engine — Salesforce Interaction Studio or Acquia Lift

Analytics Engine — Google Analytics

​Business Intelligence Tools — Tableau or Domo
The marketing technology stack can also include: advertising and retargeting tools, social media management, media management, and monitoring.
What Software Makes Up the Digital Marketing Stack?
Now that we've got the basic understanding of the martech stack, let's break down the primary role of each piece of software and tool:
Website Content Management System — This software is used to publish and maintain content on the website. The core set of features includes: page editor, menu management, publishing workflows, permissions, and content reuse tools.
Typical platforms include: Drupal, WordPress, Sitecore, Episerver
Marketing Automation — Marketing automation platforms are used for tracking and triggering email campaigns. After a user takes an action on the website, the marketing automation platform can trigger an email. Plus, the marketing automation tool is usually used to send out bulk emails. In higher education the marketing automation platform is the most overlooked and often most difficult to justify because it has overlap with CRM tools that are frequently owned by a different department — admissions. Installing and using a marketing automation platform requires integrating multiple tools and multiple processes between the marketing and enrollment groups.
Typical tools include: Hubspot, Marketo, Pardot and the entire Salesforce Marketing Cloud
CRM Software — The CRM holds the customer and prospect data. Confusingly, these tools may also have features to capture data on the website and also to send email. The CRM is typically the system of record for customer data. So, while marketing automation, email or personalization engines may capture data, all of the data is typically centralized in the CRM. Ideally, and according to the latest data regulation policies, your organization should house all customer data within one user profile. We've put together an article with 11 of the top higher education CRM software solutions.
Typical tools: Slate, Salesforce, Banner, Jenzabar, Hobsons
Personalization engine — The personalization engine employs website and profile data to make real-time customizations to the content on your website. These tools may also provide personalization to emails.
Typical Tools include: Salesforce Interaction Studio and Acquia Lift
Analytics engine — Analytics platforms provide you with quantitative insights on user interaction on the website and your marketing channels. These insights lead you to the next improvements to your marketing communications strategies.
Typical Tools include: Google Analytics
Business intelligence tools — More robust business intelligence (BI) tools allow for data analysis across all of these platforms. These BI tools allow marketers to dig deeper into the data and find insights.
Typical Tools include: Domo and Tableau
Increasingly software companies are looking to offer full integrated solutions. This includes solutions such as the Salesforce Marketing Cloud or the Acquia Cloud. These solutions have the benefit that all of their tools are designed and architected to share data.
Data Integration: The Power of the Marketing Technology Stack
It's not just enough to purchase and staff for each of these software tools. The real value comes from data integration to create a unified customer profile. When data sharing amongst every tool that touches the customer journey is in place, marketers can access a clearer picture of customer intent and then trigger messages across all digital platforms to deliver relevant, real-time messages.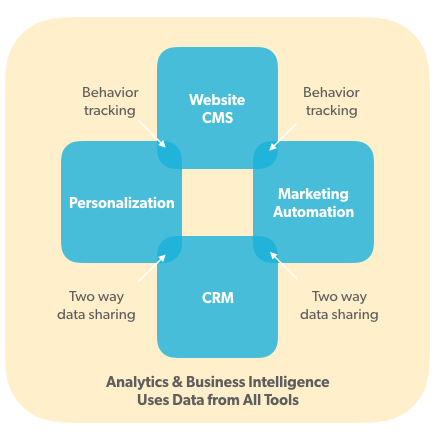 A business intelligence platform that uses all the collected data points allows a business to ask bigger business questions, find meaningful correlations, and begin to build predictive models.
The Higher Education Martech Stack
Colleges and universities face a unique challenge: digital properties and data ownership are often split between marketing and admissions departments. Each group has different priorities and historical processes. Before purchasing and implementing a marketing technology stack, these differences need to be discussed and bridged.
Both marketing and admissions need to understand the benefit of an integrated marketing technology stack:
A full view of their prospect funnel

Improved metrics throughout the admissions process

Reducing stealth applications

More relevant targeting of communications

Optimized effort to reach out to prospects
A typical higher education marketing technology stack might look like this: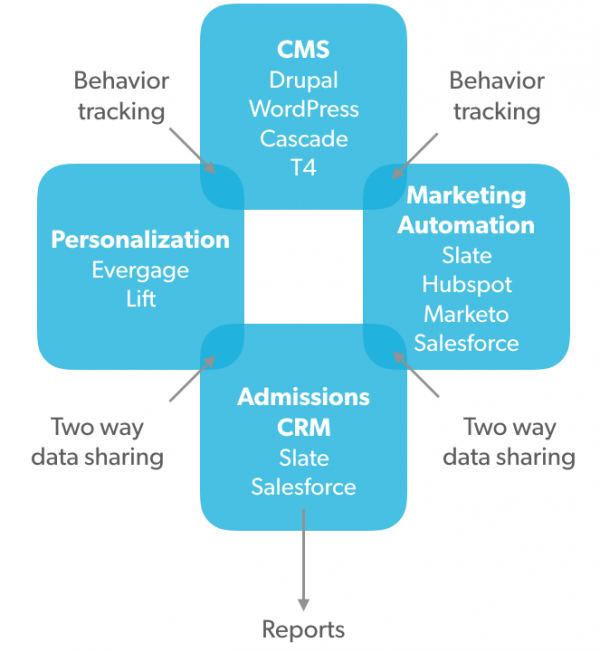 Unique Aspects of the Higher Education Marketing Technology Stack
Higher education marketing technology stacks are often limited by a CRM system that is in place. Many higher education CRM tools do not allow for the free-flow of data between different systems. In this case another tool may need to become the systen of record and hold the unified user profile that collects all of the data about a prospect.

The marketing automation tool is sometimes replaced by a modern CRM tool such as Salesforce or Slate that include email functionality.

​Frequently, a low-end email platform is used to send out messages to prospects. Using a low-end platform results in there being a lack of integration with the core user profile.
How to Start a Marketing Technology Stack for Your College or University
Audit your existing systems and understand the integration possibilities

Convene meetings between marketing and admissions to talk about the desired outcomes and problems

Map out the prospective student

Consider working with a consultant to help facilitate these conversations and provide best practices.

​Start with some small, test campaigns
Updated September 21, 2020