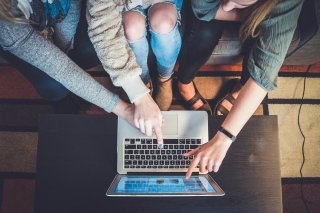 Best College Research Sites for Enrollment Marketing
Reaching prospective students means being where they are — college research sites. Leveraging marketing channels within these platforms ensures your university is reaching prospects at pivotal moments in their enrollment journey.
Understanding the Student Journey
How do prospective undergraduate students decide what college is their perfect fit? 
Well, prospective students consider a number of factors, including: 
Location
Cost
Reputation
Program selection
Career opportunities
Understanding the values, motivations, and concerns driving and informing the decisions of prospective students is essential to successful brand positioning, messaging, and user experiences. 
As marketers, we must not only think about what helps students make their decisions, but also where they are making their decisions. This means leveraging channels and online spaces that are most relevant to the undergraduate student journey, like college search websites. 
The college decision making process is a lengthy, non-linear journey, which often begins with extensive amounts of time spent researching universities through various online platforms. College research websites are one of these platforms, and a valuable tool for helping students navigate their admissions journey. The research stage of the student journey provides an ideal opportunity to drive awareness and capture qualified leads for the top of your admissions funnel. 
Enhancing Undergraduate Recruitment with College Research Sites
College research website partnerships provide an opportunity to enhance undergraduate recruitment efforts by reaching prospects on a channel that is native to the student admissions process to drive website traffic and high-intent leads. Many of these sites provide opportunities to customize and enhance your brand profile, run display and lead gen campaigns, leverage student data, and other partnership opportunities that can help increase engagement and drive awareness and intent. 
Popular sites like Naviance, Niche, and College Board are all designed to help prospective college students navigate their college research journey, but which ones offer the best partnership opportunities for colleges and universities? We've rounded up some of the most popular college search websites and highlighted what marketing and partnership opportunities are available to higher education marketing teams. 
Best College Research Sites for Marketing & Partnerships 
Niche is an authority in the college research process and has a strong affinity with prospective students at the start of their undergraduate enrollment journey. More than 50 percent of college-bound high school seniors use Niche to research colleges. 
Niche allows students to discover schools based on a number of criteria by populating results of school profiles. These profiles act as an overview of your school, including key information relating to cost, admissions rates, majors, student demographics, etc. For students in the early stages of their research, this profile may act as the first interaction and impression your school has with a college-bound student. 
With a college partnership, Niche enables colleges to claim their school's profile. Claiming your profile allows you to manage how your school is presented to Niche users by controlling data and rankings information on your profile. Additionally, you gain access to tracking on-site engagement with your profile. Niche offers a premium profile option, which additionally includes the ability to motivate users to drive more applications, visits, and inquiries through the addition of custom site links, featured videos, and custom messaging to make your profile more robust and aligned with your brand identity. Niche reports that colleges see a 2-4x increase in engagement with a premium profile. By tracking Niche users clicking through to your site, an opportunity emerges to retarget these users via other paid channels to drive leads. 
In addition to profile partnerships, you can also purchase Niche data to gain  insights into competitor schools or DMAs. Niche college data includes information on academics, athletics, student life, value, location, and various  other data points for each institution.
Niche also  provides advertising services to promote your school beyond your profile through display campaigns and program and event marketing for admissions events, open houses, information sessions, key deadlines, etc. 
With over 10 million annual users, College Board Big Future is one of the most trusted and utilized resources in the college search space. Similar to Niche and other college search resources, users discover universities that meet their search criteria through curated university profiles that include key data points relating to tuition, programs, student demographics, test score requirements, etc. 
Since Big Future is a product of the College Board, it also provides resources to help students navigate the financial aid application process, apply for scholarships, and prepare for SAT, ACT, and other standardized testing. These resources and college planning tools have made Big Future one of the most reputable and trusted college research sites among high school seniors, parents, and guidance counselors.
College Board Search offers three primary enrollment solutions to partners for focusing and optimizing recruitment strategies. 
Student Search Service: An admission search database that provides the ability to connect high school test takers with colleges and universities
Enrollment Planning Service: Analytics and reporting features that provides access to and insights on College Board's database of test-takers.
Segment Analysis Service: A data and tagging solution that allows colleges to identify high-intent prospective students through access to geodemographic information.
The data in these enrollment solutions are sourced from SAT/PSAT test-taker data. It should be noted that the pandemic has altered the long-standing precedent of universities requiring SAT test scores for college applications. This means that the volume of test-taker data offered through these enrollment solutions may be more limited than it has in previous years. 
To partner with College Board Search, brands must meet a certain set of eligibility criteria to be accepted for partnership. 
College Confidential is a college search platform and community-based discussion forum where users can ask questions, share tips, and communicate on popular topics in real-time. College Confidential has over 20 million unique users every year. Similar to most other college search websites, College Confidential curates school profiles with key data. 
Institutions can upgrade to a premium profile that allows colleges to customize their profile with links, school data, and videos, including profile activity insights and access to a customized lead list of users who have favorited your profile.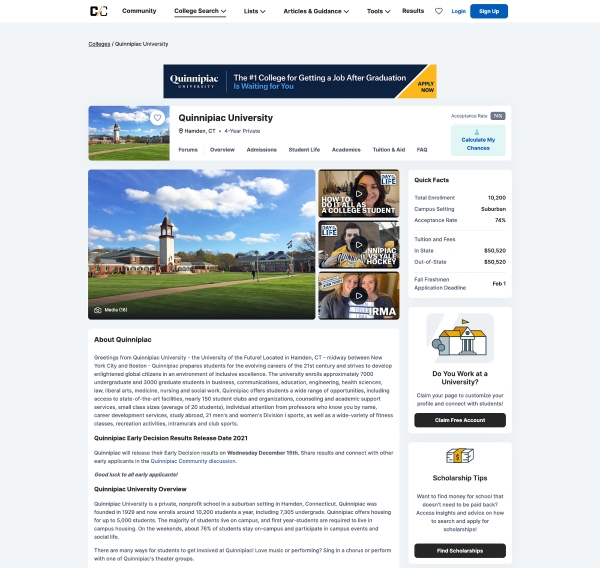 College Confidential provides digital marketing services to promote your school beyond premium profile partnership. Partners can run display campaigns in their institution's forum category, or can run campaigns targeting users in their school's primary DMAs. Partner's can also optimize for lead generation by integrating lead capture pop up modals on their school's profile.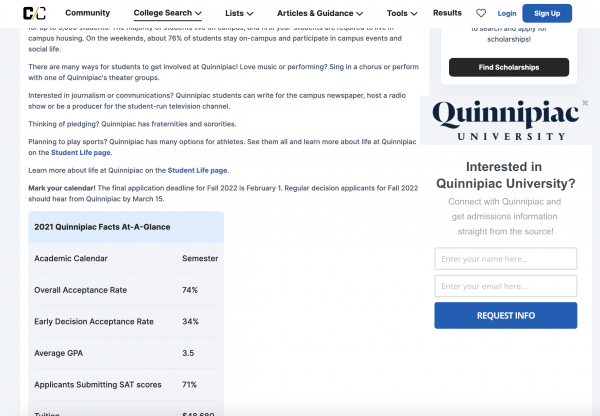 Through the discussion forums, colleges can sponsor posts on relevant forums to drive brand awareness and drive qualified site traffic by leveraging existing content. By capitalizing on the native conversations already taking place, schools can  join the conversation and extend value to potential students, while increasing awareness and directing traffic to their site. 
Naviance is a college planning tool that partners with high schools and other K–12 institutions to provide students with college search and career assessment tools. With nearly 8 million active student users, Naviance is one of the most utilized college search resources to help students navigate their discovery and admission process.
Partnering with Hobsons, Naviance offers a variety of data-driven solutions for universities to market to — and connect with — prospective students. Intersect Match and Fit is a Naviance solution designed to help colleges expand the top of their enrollment funnel by connecting institutions with qualified prospective students.   
Interest Awareness allows schools to focus on driving brand awareness and interest by displaying enhanced college profile pages within Naviance, customized with information most relevant for students.
With Intersect Connection, colleges can identify characteristics indicating which students are a good academic match, as well as find students who fit specific demographic variables. By leveraging data on currently enrolled students, this provides an opportunity to find high-intent prospects, and present messages to them about your institution.
With Intersect Presence, colleges can promote important admissions events, such as information sessions, tours, and on-campus activities to students who can RVSP directly within Naviance. With student inboxes becoming bogged down with virtual event invitations, promoting your events on a platform where students are already searching can help increase visibility and drive registrations. 
The U.S. News and World Report rankings lists are some of the most anticipated annual reports in the higher education world among university administrators, faculty, enrolled students, and prospective students alike. Ranking lists from reputable publications like U.S. News and World Report are huge players in the college discovery process for high school students. For universities they are significant contributors to brand awareness. 
USNews.com offers a variety of advertising solutions, including programmatic display, native content boosts, and first party data solutions.  
The Princeton Review is one of the most well-known brands in higher education when it comes to admissions testing prep, online learning, tutoring, and for researching colleges. With over 1.5 million college-bound students using The Princeton Review services, leveraging advertising opportunities with TPR can provide an ideal opportunity to drive awareness and fill the top of your admissions funnel. 
Through partnership opportunities, TPR offers enhanced school profiles and search results listings, featured schools banners and badges, newsletter sponsorships, and targeted email marketing to prospects including event invites and key deadline reminders. Additionally, TPR offers lead generation campaign opportunities to drive inquiries. 
Be Where Prospective Students Are
Crafting a successful digital marketing campaign requires you to understand what the student journey looks like and align your marketing strategy with the values and behaviors of your audience profiles. 
With other paid media platforms implementing deeper restrictions for advertising to students under 18 — the traditional undergraduate prospective student — taking advantage of online spaces native to the student enrollment journey can help your brand reach new prospects and form connections with high-intent students.  
With students and parents leaning on college research websites to learn information that will help shape their final decisions, increasing your school's visibility and customizing and maintaining how you present your brand to users can be an integral aspect of your undergraduate enrollment marketing mix.