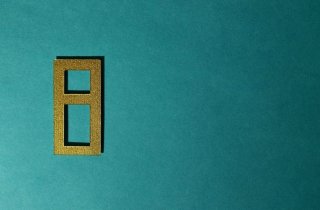 8 Higher Ed Digital Marketing Trends & Tactics for 2022
What do higher education marketing leaders need to be thinking about heading into 2022? Our digital marketing team rounds up tactics and strategies for colleges and universities to consider.
Higher Education Marketing Strategies 2022 – What's Ahead?
For higher education marketing, 2022 is less about finding the new shiny marketing tool and more about finding ways to go deeper into channels and optimizing your existing content to adapt to constantly changing industry landscape. This year, higher ed marketing strategies need to focus on expanding reach in digital channels by leveraging new audience tools and micro content. 
From our vantage point of running enrollment marketing campaigns, 2022 will be about taking advantage of new opportunities to expand the reach of schools and craft compelling digital marketing campaigns that leverage the unique values each school has to offer. 
1. Rely More on Your Proprietary Data for Ad Targeting
In 2020, Google stopped producing their annual search terms report, and started omitting 10-20% of search query data, making it more difficult for campaign managers to recognize which queries and keywords are worth spending on and which aren't. In 2021 Facebook and Apple both made sweeping privacy changes that made it more difficult to target ads to users. As other companies follow suit, brands should prepare to have less tactical data available from ad networks. We expect Google will continue to pursue its own interests in taking over the performance of campaigns which may lead to additional obfuscation of your ad spend and gaps in data reporting and analysis. Changes over the last few years include:
Exact match keywords are no longer exactly exact

Daily budgets can be doubled

Higher search volume thresholds for keywords which diminished the potency of long-tail keywords
Learn more about strategies for building effectives audiences for digital campaigns including using your school's own CRM data to counter these trends by the ad platforms, and if you're new to PPC advertising we've assembled a glossary to digital advertising terms.
2. Incorporate Short-Form Video into Your Higher Ed Marketing Strategy
With 36% of campuses experiencing a decline in campus visit requests and the number of campus visits and tours expected to drop, there is an increased opportunity to build brand awareness and reach prospects through video. Topics can include:
Answering the school's most searched queries

Providing mini-tours of the facilities with student tour guides

Video campus tours
Nearly every social media platform now offers the capability to include short-from video content — and short form video offers better engagement. Over 50 percent of people who watch short-form videos (i.e., videos that are less than 90 seconds) actually completing them. 
In 2022, consider taking advantage of short-form platforms such as TikTok for awareness and retargeting campaigns to reach the feeds of prospective students. These short videos can also be linked out to long-from videos including more detailed information. 
3. Embrace YouTube for Content Marketing
Based on a recent study, 27 percent of prospective teen students cited YouTube videos as a major influence in making an enrollment decision. YouTube provides an opportunity for extending brand awareness, increasing SEO performance, and supporting other digital marketing campaigns. If you are already posting videos to YouTube, you can dramatically increase traffic by spending an afternoon or two optimizing your videos for organic search (to learn how see #10 in this article).
Long-form video can also be an effective means of advertising on a program level. Having student program ambassadors discuss their experience in the program or conduct quick 'day in the life' videos can provide insight to prospects, as well as enhance the overall storytelling of your brand. And, new tools make it easy to test your video for effectiveness with audiences before posting.
Videos also don't need to include people, but could have interesting motion graphics or insightful data visualizations that highlight your brand's unique values and priorities – we've written on the 8 types of higher education marketing videos to help you plan your strategy.
Example: The University of Virginia's student channel promotes the school 's brand and culture through "day in the life" video series.
4. Utilize Responsive Ads
Responsive ads are ad units that automatically scale the assets of your campaign to fit the varying constraints of multiple devices and platforms. When creating responsive ads, you can upload different ad formats, headlines, copy, or visuals and Google Display Network will automatically deliver a variation to fit the needs of the platform or device of the user. 
According to Google's data, on average, advertisers see 10% more conversions at a similar CPA when using multiple headlines, descriptions, and images with responsive display ads.
From our experience running college enrollment marketing campaigns, moving from static to responsive ad units, we've noticed an increase in impression volume and higher click through rates. When considering your 2022 approach to display advertising, acknowledging the performance potential of responsive ad units could prove beneficial in driving relevant leads and increasing conversion rates. 
5. Incorporate Inquiries into Lookalike Audiences
Marketers use lookalike audience models to extend the reach of their brands and acquire new, relevant leads. Ads that market to a lookalike audience will target users that mirror the attributes of your current audience base, which will be informed by uploading data sets from a CRM to social platforms such as Facebook and LinkedIn. 
The value of these audience models can be extended by incorporating inquiries into these builds. Uploading inquiries lists, datasets including users who have shown interest by submitting forms or requesting information, can help match your ads to those with the same inquiries. For marketing in higher education, extending the potential of look-alike audiences will broaden the reach of the school and attract prospective students that are more likely to engage with your content and apply.
6. Use the New Google Analytics
Released in September of 2020, the new Google Analytics moves away from measuring technical performance and focuses on behavioral trends, focusing on how the site is being used as a whole, rather than segmented on the performance of specific components. 
The improved interface adds predictive metrics to forecast user behavior and to calculate churn, plus it grants more granular data controls to manage how data should be collected and to specify how it should be leveraged in accordance with different campaigns.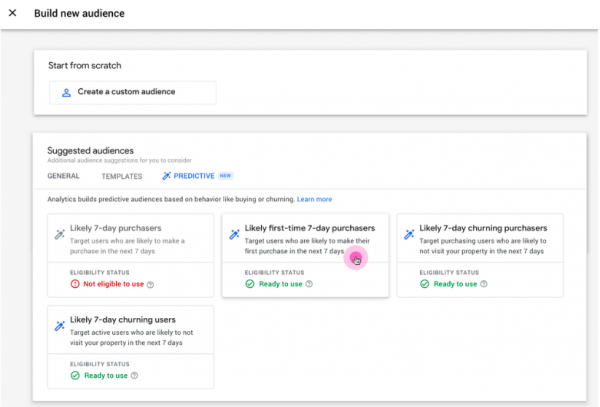 Moving into 2022, higher ed marketers should familiarize themselves with the new interface and capabilities (Google offers free training courses for Google Analytics), as well as make necessary adjustments to their reporting and data collection strategies. In addition, higher ed marketers can benchmark their site against other college and university sites.
7. Increase Search Engine Visibility
In 2021, we saw an increase in no-click search on Google, which meant a decrease in organic traffic. Nearly two thirds of Google searches ended right on the search results page, without the user clicking through to any results (up from 50% in 2019). 
Why? Google's featured snippet box. The featured snippet box pulls information from websites and leverages them directly to the user on the results page. Winning the featured snippet box can help increase brand visibility and combat declining numbers for organic traffic. 
In 2022, higher ed marketing teams should work with SEO experts to devise content strategies that focus on producing content that answers high-volume search queries and contains popular keywords. Using keyword research and SEO insights to product new content or optimize existing content can help you win feature snippets, lead in SERP rankings, and drive traffic back on site.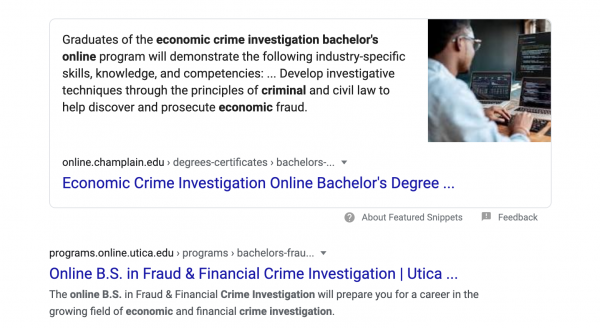 Example: Champlain College Online wins the featured snippet box by using high volume keywords in their program pages and carefully crafting content. As a result, they win the first position and receive an enhanced presentation at the top search results. 
In addition, higher education marketing groups should audit their school's presence across all of the Google properties — maps, knowledge panels, and business profiles. These components should be audited and monitored on a semi-annual basis.
8. Prioritize Career Outcomes for Higher Ed Marketing
Today more than ever, students and parents want to be reassured of the tangible value of a college degree. In a 2019 survey of American college freshmen administered by the Cooperative Institutional Research Program at UCLA's Higher Education Research Institute, found that the most popular reason cited for attending college is to get a good job. 
Post-graduate outcome surveys provide great value for marketers as a source of data. Leveraging the insights collected from this research can inform a strategic marketing plan that visualizes and communicates career outcomes on both a program and enterprise level.
Example:  Boston College has an entire page dedicated to their career outcomes, which links out to a Tableau dashboard that visualizes and segments outcomes.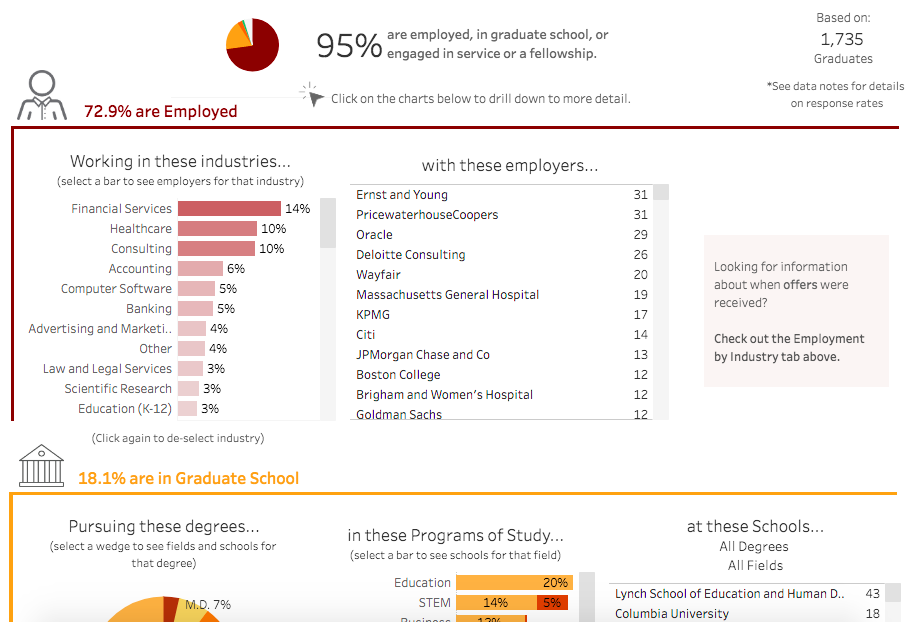 Ensuring that career, financial, and academic outcomes are emphasized on your website, social channels, and marketing messaging will be imperative for engaging with prospects and driving them through the admissions funnel. Get best practices for presenting outcomes on your higher ed website. ​​
Higher Ed Marketing Strategies – Your Next Steps
These 8 tactics will help you refine your campaigns and stay ahead of the competition. However, if you're just getting started with digital marketing, we recommend beginning with four key strategies:
Paid search campaigns driving to a landing page
Improving SEO on your program and degree pages
Using personalized calls to action on your website to capture direct, organic and return traffic
Implementing a content marketing strategy
If hitting enrollment targets is a major focus for your marketing team in 2022, implementing the three core higher ed marketing strategies that are the baseline to driving enrollment is an important step to help you achieve your goals.