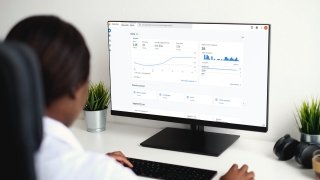 What You May Be Missing About the GA4 Transition
The transition to Google Analytics 4 is much more complicated than it appears at first glance. Here's everything you might be missing about Google's new analytics tool.
I've been thinking about Google Analytics 4 "migrations" all wrong.
I knew we'd need to install the new pixel to start tracking. I knew I'd lose access to the historical data in Universal Analytics — and I'd need a plan to keep it. I knew I'd need to do some more configuration and set up in Google Analytics 4.
What I missed — the number of standard reports was going from 78 in Universal Analytics down to just 19 reports. What surprised me — if I didn't tell GA4 to capture certain data it wouldn't do it by default until I took an action. 
In other words, I need to proactively think through which data was important to me and configure GA4 to start capturing that data. If I didn't do that step, the data wouldn't be there for future use. 
To take advantage of the exciting new features and start gaining new insights, I was going to do some work — and some critical thinking about analytics.
Explaining the Universal Analytics to GA4 Paradigm Shift
Moving to Google Analytics 4  is like buying a brand new piece of software or technology — not just getting the next version. 
Before my epiphany, I was thinking of the upgrade to GA4 more like a move from iOS15 to iOS16 — a quick download, some new features and things are generally the same with some new improvements.
Today, I consider the upgrade to GA4 to be like implementing a brand new technology platform.
Let's say you have Hubspot as your CRM and you decide to move to another CRM like Salesforce. While both Hubspot and Salesforce are CRM products with leads, contacts, organizations, and bulk email, they function differently and the underlying data relationships and configurations can be quite different. 
If you've been using Hubspot as a CRM for a number of years, you've probably written custom workflows, created tagging structures, added custom fields, and built reports and dashboards. Salesforce can probably support all of these customizations, but each will need to be documented and recreated inside of Salesforce. 
That takes time and effort. 
If you're like most organizations, all of these customizations likely aren't documented. This means that someone needs to go through Hubspot and untangle the customizations: What features are currently being used? How are the relationships defined? Where are there dependencies? That's how we had them — but Is this how we want them defined in the new CRM?
That takes additional time and effort.
Universal Analytics Made Us Lazy
With over 78 reports and data types being captured automatically, Universal Analytics grabbed large swaths of data that we could explore as marketers. It made the choices for us, and there always seemed to be hidden pockets of data to explore. That's leaving some marketers flat-footed and unprepared for the demands of a proactive data analytics tool like GA4.
Making Lemonade with Google Analytics 4
The transition to GA4 is a great opportunity to think critically about what data is important to us as marketers. The underlying framework of GA4 is moving away from primarily tracking baseline activities to tracking events and actions that matter — ones that are meaningful to the business or organization. 
This upgrade is an opportunity to set up an analytics framework that is smarter and more insightful than ever before. It's an opportunity to have analytics better inform the overall evolution and optimization of the website.
Plan for More Time and Effort
The shift from Universal Analytics to GA4 is less about installing the new version and copying over settings and configuration. This shift requires us as marketers to ask the right questions, understand why we're tracking, and what's most meaningful. This thinking and questioning takes time.
Help! What Do I Do?
First things first — create a GA4 property and set up a GA4 data stream for your website or app. It's pretty quick and easy — especially if you have a tag manager installed on your website. This will get you started collecting data in GA4.
Second, you'll need to create some time to define which metrics are important to you or work with a partner who can guide you through the process. Start this today — Universal Analytics will stop collecting data June 30, 2023. 
Third, go through your current analytics set up and document which views, reports, and data points you might want to re-set up in GA4.
Fourth, dig in and ask what actions and activity on the website are most meaningful to your business or organization? It is likely someone taking a step to purchase your product or services. Plus, don't forget about utilizing custom explorations and custom dimensions, these features allow you to collect data around and report on specific attributes or characteristics of both users and events.