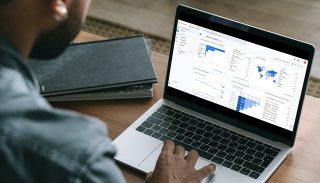 Google Analytics 4 Setup & Configuration

Start the Transition to Google Analytics 4

All existing instances of Universal Analytics will stop registering hits on July 1, 2023. Don't be left scrambling at the last minute — start the transition process now.
Get the Help You Need to Ensure a Smooth Transition
Even for organizations that have not yet begun to shift away from Universal Analytics, there's still time to start planning for the transition. 
Unfortunately, making the transition is not as simple as adding a new tag to your site and watching new data pour in. There are a number of fundamental changes to how Google Analytics 4 processes and presents data, particularly when it comes to events, conversions, and reporting. If you need help navigating the transition, OHO has a proven process that will make the transition as seamless as possible for your organization.
Our Google Analytics 4 Transition Process
Define KPIs, website goals, and conversion points
Audit of current setup and internal use
Setup of GA4 Stream(s) with goal and event configurations
Configuration guidance — profiles, goals, events, segments, reports
Start the Transition Process Now
While some organizations will be able to manage the transition to GA4 in-house, there are many that won't have the skills on staff or the bandwidth (or both) to handle it on their own. If you think you may need help with the process, OHO's dedicated team of strategists can help you plan and execute the transition.
Why do we have to transition to Google Analytics 4?
Except for a small minority of businesses utilizing Google Analytics 360, sites that haven't already transitioned to Google Analytics 4 by July 1, 2023 will not see any new data in their Universal Analytics dashboard. No new site visits. No new conversion. No new data whatsoever. Legacy data will still be available within Universal Analytics for at least six months after Google sunsets the platform in July of 2023, but at some point in the future even legacy data may no longer be available.
Digital Marketing
Digital marketing seems like a good solution, but where do you start? You don't have the time, resources or team to figure it all out. All you care about is running a campaign that generates quality leads to meet your enrollment goals. With a proven process and our industry expertise, we help you make an immediate impact.