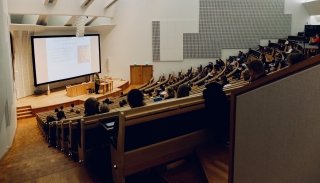 Recruitment Strategies to Attract New Students
How can colleges attract new students when enrollment numbers are on the decline? Here are some strategies to drive enrollment by capturing and nurturing leads for prospective undergraduate, graduate, and adult learners. Download our free guide with additional strategies using the form at the end of the post. 
If there's one thing the COVID-19 pandemic demonstrated, it's that colleges and universities need to be prepared for years when enrollment numbers suddenly drop without warning. While we may never see another event that so drastically impacts enrollment numbers, having strategies in place that your marketing team can rapidly deploy will help your school weather any enrollment storm. 
Colleges and universities need to develop separate approaches to attract "traditional undergraduate" students and adult/graduate students. These two audiences have different customer journeys and paths to application and matriculation, which call for different enrollment strategies — including messaging, calls to action, and lead generation techniques that align with the persona of each student population. Understanding the motivators, values, and behaviors of your different prospective audiences will be imperative in making well-informed marketing strategies that reflect the unique priorities of each audience. 
Here we'll highlight some important considerations and techniques for attracting undergraduate students and graduate or adult students, as well as lead nurture strategies to drive matriculation. 
Enrollment Strategies to Attract New Undergraduate Students
Virtual admission events — In the last few years, admission events such as information sessions and admitted students day have shifted online. Admissions events are some of the most important for capturing qualified leads and moving prospects down the funnel. On social channels, there is an opportunity to market information sessions and program-related webinars to segmented audiences that have expressed interest in varied academic programs. 

An admission-focused website — 85% of prospective students report that the website is the number one resource of research during the admissions process. Unfortunately many school sites are institutionally and inwardly focused. It's essential that your website is accessible for all users, providing a positive user experience through seamless navigation that makes it easy to find important information. A sophisticated content strategy should communicate the identity and differentiators of your institution, as well as highlight the admissions information, career outcomes, and tuition details that prospects are looking for. 

Make SEO a priority — More than half of site visitors start their customer journey from a search engine, and fine-tuning your content to cater to their search patterns can give you an edge over your competitors. Tools like Google Trends, SEMrush, and Moz can help you identify what your prospects are searching for, so you can optimize your content and ensure it ranks highly for the most high-value search terms.

Targeted advertising campaigns — Understanding who you want to reach and where you can find them is crucial when planning a digital marketing campaign. Once you've identified your target audience and determined the best platforms to reach them on, you can increase your advertising spend to offset a slump in enrollment.
Lead Generation Strategies to Attract New Graduate or Adult Students
Google Search Engine or PPC ads — Traffic coming from Google Search has a high level of interest and intent and converts at higher rates. Take advantage of both branded and non-branded search queries relevant to your school and run paid search ads to heighten your visibility on SERP and drive more traffic to your website or landing pages

LinkedIn ads — LinkedIn is an effective channel to leverage for graduate program campaigns because students looking for a grad degree likely have professional experience and are seeking a degree as a qualifier for career advancement. When developing campaigns for your academic program, you can explicitly target audiences that work in positions and industries that align with the career outcomes of your programs.

Retargeting or remarketing campaigns — The average click-through-rate for remarketing ads are ten times higher than for regular display ads.  Using display networks, your school can follow visitors that have already engaged with your school across the web, and serve them ads that are optimized to drive them back to your site or take the next step in their student journey. 

Content marketing campaigns — There's an opportunity to engage prospective students with your school through a content marketing strategy. By conducting an organic search analysis, you can discover what adult and graduate audiences are searching for during their college research process. Understanding what prospects are looking for will allow your team to incorporate popular queries and topics into your blog or other marketing materials. Using a CRM tool you can set up an automated workflow to market relevant and personalized content to different user personas though an email drip campaign. 
Lead Nurture Strategies to Attract New Students
Once prospective students engage with your brand and enter the enrollment funnel, you will want to nurture them throughout their customer journey with relevant messaging, information, and calls to actions. Consider the following strategies to nurture leads:
Email drip campaigns — By conducting email drip campaigns, your school can send prospects a series of curated automated emails that provide relevant content to a target audience as they move through their customer journey. Having segmented personas will help ensure you target your leads with the most relevant email touchpoints along their journey.

Text messages — Mobile is the preferred method of communication for college-aged students. Compared to email, text has far higher engagement rates, open rates, and faster read times. When trying to reach prospective students, texting is an effective way to quickly provide clear next steps and pertinent information or resources. Your school may consider leveraging SMS software to automate text campaigns that may include deadline reminders, financial aid information, event registration details, notifications for missing forms, and informative resources or links to program details.

On-campus or virtual recruitment events — As students move through the admissions funnel, offer virtual events that allow prospects to learn more about your school and their academic programs of interest. In addition to information sessions relating to the school and academic or extracurricular activities, provide social events that allow attendees to engage with other prospects or current students. 

Direct mail campaign — While nearly every aspect of the enrollment process and customer journey has gone digital, direct mail campaigns remain an effective way to engage students and provide them additional materials and information. 
Tactics to Increase Student Enrollment
Now that you've got a sense of what needs to be done, here are some individual tactics and next steps that can help you implement some of the approaches we've highlighted:
Develop a clear website that showcases the student experience and is optimized to meet the expectations of visitors.  If you aren't quite sure where to begin, you can email hello@oho.com and we'll be happy to send you some helpful guides to get you started.

Create a digital marketing strategy to generate and nurture leads. If you already have a digital marketing strategy in place, consider refining it to incorporate more advanced tactics that reflect today's marketing trends and consumer behavior. .

If you're trying to reach adult learners and non-traditional students, we'd be happy to help you better understand the customer journey of this audience. Just shoot as an email at hello@oho.com and we'll pass along some blog content we think you'll find helpful.
Download the Comprehensive Guide Below
We've walked you through a handful of strategies to attract new students, but there's a ton of additional content available in our 29 Ways Colleges Can Attract New Students best practice guide. The guide is completely free, and contains a number of additional strategies and tips that can help you meet your enrollment targets.
Download the Full Recruitment Strategies Guide
If you found the recruitment strategies in this blog post to be helpful, there are a number of additional tips and strategies available in our comprehensive recruitment strategies guide, 29 Ways Colleges Can Attract New Students. The guide is free to download, and perfect to share with your team.