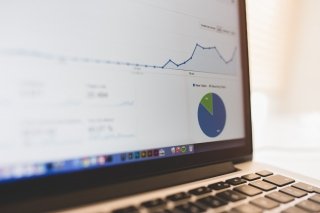 Reporting ROI to Stakeholders
This four-point approach will ensure you share your marketing data in a way that's both informative and approachable for stakeholders with varying levels of marketing knowledge.
Whether you handle your digital marketing in-house, or work with an outside agency, at some point you will have to present the outcomes of your campaigns to individuals who might not be particularly familiar with the work.  
Sometimes it's just one VP that needs to see reporting, sometimes it's multiple groups of program directors, deans, administrators and others who want to know what sort of results the organization is getting from the investment in marketing — and their understanding of digital marketing, SEO and analytics may be limited. So, how do you produce reporting that can showcase the ROI of your marketing efforts in such a way that all of your stakeholders can understand and digest it? 
Know Your Audience
It's helpful to know exactly who will view a report, what their level of understanding is with digital marketing, which marketing goals they're most interested in, and how often they will need to see reports. This way, you can make sure the reporting you provide prioritizes data on the goals that are most important to them and showcases it in a way that is easy for them to understand. This also allows you to choose the right report format or tool to meet their needs.
State Your Goals, Then Show The Data
The start of every report for stakeholders should remind them of the primary goal(s) of your marketing efforts. It should define the goal and then explain what metrics are used to measure success. Then, show those metrics. 
Too often, reports include a lot of data that build up to the primary goal, which ultimately just makes the audience for the report feel so bombarded with information that by the time the primary goal data is shown, they feel overwhelmed, confused or frustrated. Starting with the information that's most important to them will help focus your reporting. 
Use Data To Show The Bigger Picture
Marketing campaigns nearly always have a larger impact beyond the primary goals and usually there is a bigger story to tell about the tactics that went into getting the results. The rest of your report should use data to showcase how your campaign efforts contributed to your primary goal results and the broader impact of the campaigns.
For example, impressions, clicks, cost-per-click, and click-through rates can show why some ad groups or channels were more efficient than others and help provide context to the cost-per-lead. Data on device usage, user demographics, and geo locations can help identify opportunities to optimize future campaigns. 
Similarly, looking at analytics for campaign traffic on your site can be illuminating. Perhaps you'll see that 25% of those who went to the campaign landing page didn't fill out the form and instead went to the financial aid page and used the tuition calculator. Or maybe you'll discover that 5% of those who filled out a form then went to the "Visit Campus" page and signed up for an upcoming tour. You may also notice that in the same timeframe that your paid search campaigns ran, your organic search traffic grew by 20%. That could indicate your paid campaigns helped raise general awareness of your school in addition to directly generating leads.  
These user behavior insights can give you ideas for future campaign CTAs, or improvements to campaign landing pages, and should absolutely show a broader ROI of your campaigns beyond the primary goals.
Choose The Right Format
Reports generated in a slide deck using PowerPoint, Keynote or Google Slides work great, but don't overlook Google Data Studio to build custom dashboards for stakeholders. Slide decks are perfect for presenting or sending in PDF form, and Google Data Studio dashboards allow you to pull reports in real time right from the ad platforms and Google Analytics to get campaign data from whatever timeframe you choose. 
It's important to pick the format that will work best for your stakeholders, and to provide enough context within the report to help them understand it. A slide deck designed to be presented may be primarily visual, whereas a PDF report that will be emailed and shared will have all the necessary text and explanations included on the slides. A Google Data Studio dashboard is best for stakeholders who need frequent reports or may need campaign results on short notice, preventing the need to make several slide decks or scrambling to pull a report quickly.
The "Best" Approach is the One That Works
This four-point approach should help you produce reporting that is valuable, insightful and informative to your stakeholders — but it's not the only method. As long as you communicate the results in a way that effectively highlights both the successes and weaknesses of your marketing efforts, you'll be able to work with stakeholders to continue to improve and iterate on your work.
If you want to learn more about how you should be measuring the success of your campaigns and how to figure your ROI in the first place, you may find our blog post on measuring ROI of paid advertising to be quite helpful. If you want to learn more about setting up dashboards and other analytics reporting, please reach out to us at hello@oho.com with questions!
Additional Video Insights