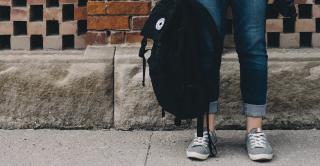 Panel Highlights: What Prospective Students Expect from College Websites
A group of six high school juniors and seniors gathered with us at our second annual Higher Education Digital Marketing Bootcamp to discuss their college search process.
At OHO's second annual Higher Education Digital Marketing Bootcamp, six junior and senior high school students joined us on a panel to discuss their college search experiences. They shared their entire search process — from start to finish — and offered invaluable insights on how colleges and universities can improve the website experience for prospective students.
Prospective Students Rely Heavily on Mobile
All of the students on the panel used their phones in some capacity when looking for colleges, and for some it was their primary device throughout their search. We've seen an increasing trend in mobile use among visitors to higher education websites, so their experience is not uncommon.
Dori, a graduating senior, used her phone almost exclusively during her college search process. But she often found the desktop experience provided features and functionality that simply weren't present when she visited on her phone. Something she encouraged attendees to improve.
"I think would help is if the (mobile) website was the same as what it would be on the computer and you could do the same stuff...You can do it!"
Apart from viewing the school's websites primarily using mobile devices, the panelists also relied heavily on their phones to engage with college and university social media accounts. Although they were a bit skeptical of the curated nature of social feeds, they did admit that Instagram, Facebook, and Snapchat accounts run by a school could offer unique insight into the day-to-day experiences of students.
"I want to be able to look at their feed and really know what's actually going on in the school," said Alana, a graduating senior. "Like events that they have at the school, and not just information that I have to read about on the site."
Elevate Your Video Content to Engage Prospective Students
From study abroad programs to dining and housing, the panelists all agreed that being able to see genuine, first-hand video content helped influence their decision-making process.
"There was one virtual tour that I liked where they had a student essentially videotaped at each location, and so you could click on the video and get more info about it, rather than just being like a huge block of text about it," offered Emmett, a rising senior. "Which I thought was really nice."
The students did caution attendees, however, not to overload school websites with long, drawn-out videos. Even Gen Z has a breaking point when it comes to what they'll sit through.
"I see 20 minute YouTube videos. Nobody's going to watch that," Emmett exclaimed. "What you've got to do, you've got like five minute videos, five minute videos, max, you're perfect. Because it's not too long, not too short, and you can make it engaging."
Guide Prospective Students Through the Application Process
One of the primary goals of any higher education website is to drive applications, yet nearly every student on the panel expressed frustration with their own experiences during their college application process. For the students on the panel, they simply didn't have the time and energy to struggle through a convoluted application process.
"We're trying to keep our deadlines straight, but also we've got 15 schools, we've got our schoolwork, we've got family and we've got sports or extracurricular activities," said Sam, a rising senior. "I think a lot of colleges and high schools don't realize, 'oh they're doing two things at the same time, they're balancing two different school lives.' So if either side makes it easier we will take whatever we can."
Sam suggested schools provide personalized calendars or text message reminders to prospective applicants to alert them when admissions materials are due, ideas that were all met with enthusiastic agreement from the rest of the panel.
Providing a clear picture of financial aid options and tuition costs was also a sticking point for several of the panelists and their families. 
"My parents are concerned about the financial part," admitted Gary, a graduating senior.  "College is really expensive, so they wanted to make sure that the college that I picked would enable me to have financial success after college."
Show (Don't Tell) How Great Your School Is
From finding a roommate to being away from home and independent for the first time, the students said the idea of starting life as a college student can be daunting, and they look to schools' websites for hints about what their new life will look like. Students are looking for videos that show:
a typical day in the life of student
what makes a school special
​students participating in campus clubs, activities, and study abroad programs
All the panelists desired more authentic content about campus life to help ease their anxieties around fitting in. They looked for more listings of events held at the school for students and how students "have fun on campus," according to Angela, a graduating senior. 
"When I'm looking at a school website, if your homepage is not great. I'm going to be disengaged," said Emmett. "I've definitely had some where I've opened it up and I'm like, 'It looks weak.' There are no pictures, it's a lot of text. I'm like: 'that's not engaging to me.'"