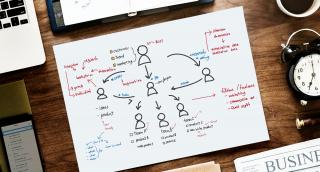 Managing Internal Stakeholders During a College or University Website Redesign
A website redesign can be an invigorating exercise for a college or university — people are excited about a new look, a new direction, and a new strategy.
A website redesign can be an invigorating exercise for a college or university — people are excited about a new look, a new direction, and a new strategy.
But it can also be challenging to find the best way to engage internal audiences throughout the process. Common questions include:
Who needs to be involved? When do they need to be engaged?

What information do they need to know?

Who should be involved in some level of decision-making? Who should be merely informed?

​How do you manage expectations that may stem from previous history, political considerations, or strong personalities?
Forget about picking a CMS — managing these issues can easily be one of the most overwhelming parts of a redesign project. But let's take a deep breath. If you are thoughtful about how you organize and empower project roles, as well as how your communicate and engage members of your campus community, you can avoid project potholes and enjoy a smoother path toward post-launch glory.
Engage and Communicate Proactively
While every organization's culture and structure is different, we generally recommend a proactive approach to managing internal audiences. At some point, in some way, the new website will impact their lives — whether as a content editor or simply as a user. Getting buy-in early and effectively is key.
By thinking through the best internal communications approach and being thoughtful about how you involve stakeholders in the process, you not only sow the seeds for long-term investment in the website, you assert your team's ownership and authority around the web, laying a strong foundation for web governance going forward.
Create a Communications Plan
As the project progresses, it may be helpful to find a way to keep different audiences apprised of project progress through regular (whatever interval is appropriate) status updates. This can give them a window into what goes into the making (and sustaining!) of a website, and keep them in touch with the project. You can share key milestones, provide timeline updates, provide a sneak peek at certain elements of the site, or solicit feedback around specific features, labels, or design components.
Transparency is a cornerstone of effective web governance — if people have a window into the process and its rationale, they will be more likely to become invested in it. That transparency starts in the project phase, as you not only give people a glimpse into the status of the project, but open the door to their broader engagement with the ongoing life of the website.
We've written previously about the value of maintaining a blog for sharing such project updates. Depending on your needs, you may manage such communications via a dedicated newsletter, regular updates in your existing faculty/staff campus newsletter, a microsite, or other platform. There is no one correct approach — whatever medium works best for your community. You may also consider different types of communication for key stakeholders versus the general campus community. If the needs of your community dictate it, in-person engagements ranging from town hall discussions to more collaborative, informal  "open lab" engagements can also be productive.
Orient Your Community Through Strategy
As you communicate about the redesign to people across the institution, whether they are members of your core team, institutional leadership, subject-matter stakeholders, or just an average member of the community, it's important to root their understanding of the topic at hand in the overall strategic approach.
Remember, you'll be reaching out to people at various stages of the process, and they may be reviewing deliverables for the first time, or may not have been part of the stakeholder interview/user research phase. Ensuring they are grounded in the project goals and primary audiences for the website, and giving them a foundation of what the website is (and is not!) for, is key. Having a standard handout or flyer that sums up the high-level approach to the project may be helpful to ensure consistency in how you communicate those priorities.
As you assert these core functions of the website to a range of audiences, these dialogues can also help assert your team's ownership over the web, laying the groundwork for effective governance relationships going forward.
Set Expectations Around Feedback
When engaging stakeholders across the institution, you will want to guide their understanding of what they are seeing and also what feedback is appropriate (and not appropriate). For instance, in a wireframe, colors and typefaces are not relevant, but information hierarchy and types of content are.
At OHO, we convey a good deal of this context when we present our IA deliverables. If you are sharing work presented by a partner with broader constituencies, be sure to retain the context in which the work is presented. This is especially pertinent when it comes to communicating the content expectations entailed in a sitemap or wireframe, since signing off on a wireframe is in many ways committing to a content strategy.
Be sure to define a standard mode and a firm timeline for providing feedback, which should then be consolidated for review by the core team and, from there, any relevant project partner. It's important to set an expectation that all feedback will be considered but final decisions rest with the core team. That way, just because someone in program XYZ thinks that there should be a carousel on the homepage, the decision is yours as to whether or not that feedback is taken into account for any revision.
Establish Clear Project Governance
Effective website redesign projects are helmed by groups of empowered decision-makers representing key functions of the institution. The groups should have clearly defined roles that help reinforce both the day-to-day efficiency of the project and its successful alignment to overarching institutional objectives.
Here are some considerations in defining your project governance structure:
Consider what is the appropriate composition to reflect both the relevant institutional priorities driving the website redesign and the goals and audiences for the site.
Be sure there is a shared sense of understanding around who is the ultimate owner of the project and thus the ultimate decision-maker. For instance, if the need surfaces to move to a different approach for publishing an events calendar — which would require funding and resourcing — whose call is it to say "yea" or "nay"? And do those decision makers have the full support of institutional leadership?
​Creating a RACI matrix is one way to clarify project roles and determine who is responsible, accountable, consulted, or informed for certain phases or decisions within the website project. All members of the core team should have the time demands of that role taken into account, in context of their other responsibilities, to ensure they can dedicate sufficient time to the project.
While politics and personalities may be a factor, keep in mind that there are multiple ways to engage individuals or groups throughout the process, and carefully consider which approach is most prudent to handle any sensitive areas while still ensuring project momentum and efficiency.
There are typically three tiers to consider.
Core Team
The first group, we'll call the core team (your naming convention may vary — some call it the working group). This is the group that has the most immediate day to day oversight over the redesign project, whether the work is being completed internally or by a partner, and is typically the primary audience for the presentation of any work completed over the course of the project.
The core team manages scheduling; project communication; relationships with vendors, contractors, and other delivery teams; and socialization of work to stakeholders for review and feedback (more on that later). This group may include members from the marketing communications or public relations teams, information technology or web services, and possibly one or two representatives from key functions such as admissions or advancement. A critical role on the core team is a designated project manager who drives the project by coordinating meetings and gathering/consolidating feedback.
Steering Committee
The core team should maintain ongoing conversations with another group we'll call the steering committee. This group contains a broader representation of institutional stakeholders, including admissions and financial aid, academic leadership (deans, provost), advancement, the president's office, trustees, or other key constituencies.
The steering committee will inform budget, resourcing, and high-level scoping (in alignment with key institutional objectives) while reinforcing the core team's efforts to engage stakeholders and the broader institutional community. The steering committee is not responsible for day-to-day project oversight, but is instead consulted at key project milestones. (You can define those checkpoints at the outset of the project -— for example, strategy recommendations, key wireframes, and initial design concepts.) The types and frequency of these check-ins should be mutually agreed upon at the outset of the project.
Stakeholder Groups
As part of the discovery phase, the core team and any partners convene meetings with key stakeholders from across the institution to help inform the direction for the redesign effort.
The pertinent stakeholder groups should be determined by considering the following criteria:
How relevant is their function to serving the core business goals of the website?
How relevant is their function to grasping the essence of your institution's mission & community?
How politically prudent is it to give certain individuals or units a voice in the discovery phase?
Typical stakeholder groups include various types of prospective and current students, alumni, representative faculty, and staff comprising key functions such as admissions, financial aid, student life, career services, and alumni relations.
The goal of these discussions is in part to surface opinions and preferences about the website, but primarily the stakeholders should be consulted to glean an understanding of priorities, mission, brand, community, differentiators, challenges, and opportunities that will inform decision-making throughout the project. In addition to up-front consultation at the outset of the project, select stakeholder groups may be convened to evaluate certain deliverables mid-stream.
(This is also a great opportunity to engage those stakeholders about their role in the ongoing maintenance of the website (e.g. content creation) and what shape that will take.)
The aforementioned guidelines around managing feedback are particularly relevant with these stakeholder groups. Managing expectations around feedback can help avoid hiccups later.
Managing a Redesign Means Managing People
When it comes to challenge factor, people trump pixels every time. Group dynamics, organizational culture, strong personalities and pervasive politics can derail even the best-intentioned digital initiative, if you're not careful. But through a combination of clearly defined roles and direct, ongoing communication, you can mitigate these concerns while yielding the valuable insights that inform a successful project. Finding it tricky to herd the cats? As your digital partner, we're happy to help support those efforts along the way.