3 Overlooked Google Search Optimizations
If you're looking for some quick ways to help drive organic traffic and extend your brand visibility, we've picked our top three recommendations for optimizing your Google Search presence. 
With organic search making up approximately 53% of all website traffic — and more than 90% of that traffic is coming via Google Search — it's highly likely that Google Search is the number one driver of traffic to your website. That said, digital marketers have seen recent drops in organic traffic numbers due to the rise in no-click search on Google. New UX features like the "People Also Ask" box and featured snippets make it increasingly easy for users to get the information they're looking for without ever leaving a Google property.
 In 2019, half of all Google searches ended directly on the results page without a click through to a paid or organic search result. While this has posed new challenges for digital marketers, there are SEO opportunities for brands to increase their search visibility by adapting to Google's adjustments in how they rank and index content. 
SEO is a vitally important component of your brand's growth strategy, but it doesn't have to eat up your entire marketing budget. Adjusting your marketing strategy to incorporate subtle optimization techniques can prove invaluable to your brand's organic traffic numbers, page rankings, and overall visibility on Google. Consider these three recommendations for optimizing your Google Search performance.
1. Prioritize the "People Also Ask" Box
Winning space in Google's "People Also Ask" (PAA) box is one of the most advantageous ways to increase your brand's search visibility. The PAA box is a universal search result box that presents other questions that searchers have asked relating to your original query. Google answers each of these related questions by leveraging information from websites to directly answer the user's search query on the results page itself. The best way to appear in the PAA box is to generate topic-specific content on individual pages of your website. 
To begin implementing a PAA-centered SEO strategy, we recommend conducting research around top-ranking keywords and high-volume queries that are relevant to individual content pages on your site. Conducting an audit of your search visibility and how your pages are ranking on keywords can provide insight into new topic ideas or inform which of your existing individual topics pages should be optimized. Producing content pages based on these insights can help display your brand in PAA questions or a featured snippet, which will drive more traffic to your website and help combat dropping numbers in organic search traffic due to no-click search. 
Prioritizing the PAA box as part of an SEO strategy is relevant for any sector, however for higher ed, there lies a prime opportunity to extend your website's value and school's visibility when students are conducting their initial college research. Producing content that addresses common Google search queries from prospective students can increase your brand's SERP rankings and help drive students through the admissions funnel. 
2. Optimize Content for Voice Search  
Voice search is quickly becoming the preferred method of search. According to recent studies, 60% of users prefer asking questions via voice search on their mobile device to other input methods. 
People who use voice search want answers. While a user who opens Google on their desktop might be willing to do some research, the user who opts for voice search is likely asking a question that warrants a direct answer or call to action. Voice search is effective because its algorithm takes into account the context of the search to provide the most accurate answer. Using the data and customer insights available through your school's reporting platforms can be especially beneficial to drill down on what users want answers to and what type of answers they're looking for. 
The phrasing of a query through voice search is natural and conversational. When devising your content strategy, consider incorporating natural language phrases and questions into your content. Organizing content in a way that leads with common queries, for example, "What should I major in for  cybersecurity?" may be more effective in driving traffic than "Cybersecurity majors". Generating content in this format can help increase your page rankings on Google, as it directly addresses these high-volume queries.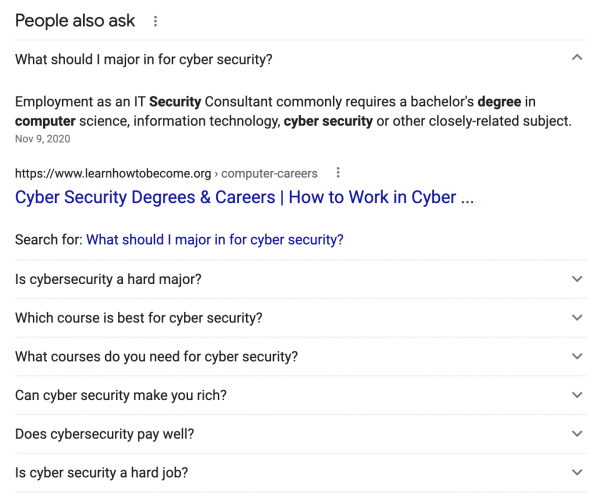 This format of question appears in Google's "People Also Ask" box, so using semantic phrasing will help Google identify your content as a trustworthy source to leverage when answering queries on the search engine results page. As a result, this will heighten your brand's visibility and help increase your organic traffic. 
3. Audit and Update Meta Tags
Meta tags are invisible tags that index your website pages and tell search engines what your content is about. These tags don't actually appear on the pages themselves, but they exist in the source code of your website — which can be edited in your content management system. It is important to have appropriate metadata for your website because it provides search engines with information for how their crawlers should decipher your content. 
Google uses metadata to index and rank content. Meta tags allow you to highlight the most relevant aspects of your website pages and provide Google with more context about the data on your site. The most important meta tags to audit and optimize are: 
Meta title 

Meta description

Canonical tag 

Alt text for images

Header tags - H1, H2
To begin editing your metadata, we recommend using an SEO tool to audit your current meta tags for any gaps, irregularities, or inaccuracies in your copy.  The best way to approach writing copy for meta tags is to advertise what you want users to know and how you want Google to understand your website. Crafting metadata that is concise and useful can help your website increase organic traffic and  achieve a greater search visibility for your brand.
Understand Your Content First
Depending on the size of your site (and your team), optimizing your content for PAA, voice search, and meta tags may be a significant undertaking. To make that process a little less daunting, undertaking a content inventory and content audit could reveal areas where your content is underperforming and needs to be reworked, as well as areas where no immediate action is needed.
Once you have an intimate understanding of your content, you can start implementing a new SEO strategy that prioritizes organic search results and visibility on Google.