Top 3 SEO Strategies for Healthcare Content Marketers
The fundamental tactics of organic search optimization are well-known — but how can healthcare and health insurance marketers use SEO to generate brand awareness and engagement? We detail the three key SEO strategies.
Healthcare SEO Strategies: Let's Get Right to It
There are three search engine marketing strategies to use when implementing SEO for healthcare and health insurance. 
Product: The first type of SEO is to optimize your "product" pages — e.g., an insurance plan or treatment — so that these "products" rank on the first page of search results for a generic search (more on that below)
Content Marketing: The second use of SEO is a content marketing approach where articles are used to drive traffic for your website.
Branded: The third use of SEO is for "branded" search. Branded search optimization ensures that when a visitor uses Google to find something on your site that the best, most-relevant page ranks first.
SEO Healthcare Strategy 1: Product
The goal of this strategy is to optimize your "product" content for generic search results — this is a search result that does not include the name of your business or organization. 
Generic search results expand your reach to engage prospective customers or members who are seeking a service, treatment or insurance plan, but these prospects aren't aware of your organization (or if they are aware, your organization isn't top of mind).
Examples of "generic search terms" for health insurers and healthcare:
family health insurance plans Massachusetts
MRI center dallas texas
low cost health insurance Utah
Bariatric Surgery New York
"Generic Search" SEO Example
Let's take the last term as an example. In this case, users typing "bariatric surgery new york" aren't looking for a particular hospital or doctor in New York, they're looking for a procedure in a particular region. 
The marketing challenge is to optimize a single page of content to rank for this keyword phrase. I recommend selecting each of the "products" or "service offerings" your organization generates revenue from and optimizing them for primary and secondary keywords.
Here are the top 5 organic results for "bariatric surgery new york"  — you can see how these pages are optimized for multiple terms related to Bariatric Surgery such as "weight loss" or "obesity."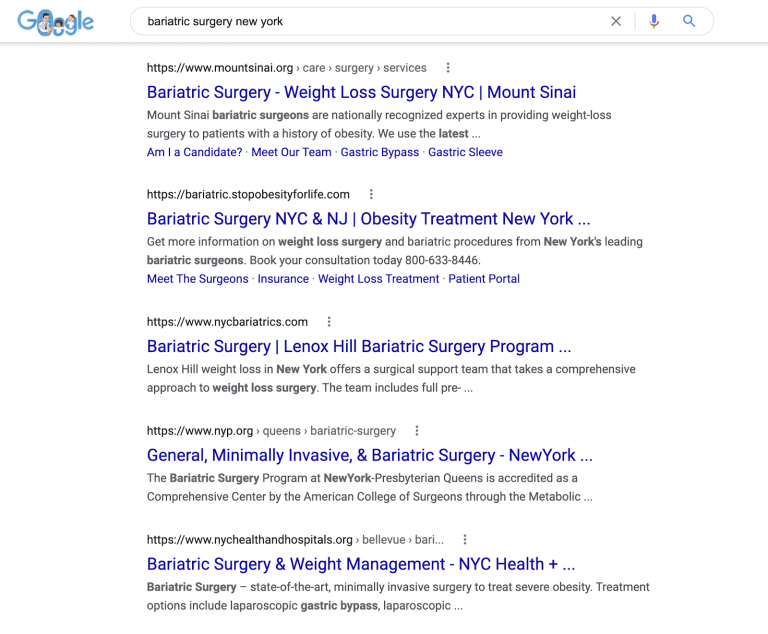 How Much Value Does SEO Generate? 
We calculate the value of organic rankings by looking at the investment it would take to buy a paid search ad. For this term, that value is $2.79 - $16.79 per click.


Each click that can be generated from organic search marketing may reduce the paid search spend for this product. Optimizing your "product" pages for organic search is the best strategy for reaching prospects in the middle to bottom of the engagement funnel. These users have a high degree of intent and are actively considering a decision.
Health Insurance SEO Strategy 2: Content Marketing
Content marketing is a strategy that reaches users with information about broad and general topics or questions that relate to the plans or treatments that your organization offers.
To continue with the example from above, an hospital or clinic offering bariatric surgery might write and publish any — or all — of these articles on their site:
How long does it take to recover from bariatric surgery?
What are the types of bariatric surgery?
What are the alternatives to bariatric surgery?
What is bariatric surgery and what are the results?
In healthcare, it's critical that the information in these content marketing articles be accurate and not misleading in any way. Therefore, when executing on a healthcare content marketing strategy that involves specific treatments, we recommend you pair the SEO strategist with knowledgeable medical writers. The goal is to first produce medically accurate content and then overlay SEO strategies to ensure the content ranks highly without jeopardizing the quality and accuracy of the content.
Use Content Marketing to Promote "Products" and Services
Content marketing is about more than just driving website traffic — it's about building awareness of your services. The template you publish the content marketing articles on should not be an editorial dead-end. 
First, the page should offer links to a "service," "product," or "treatment page."
Second, add callouts with an opportunity to sign-up for a newsletter or follow your organization on social media channels. The notion is: if they like this content, perhaps they'd like to receive more.
Third, follow the COPE approach (Create Once, Publish Everywhere) and reuse content marketing articles in all media channels — social media, email newsletters, etc.
Healthcare Content Marketing Example
Hebrew SeniorLife developed a content marketing blog focused on topics related to senior care issues and rehabilitation. Each blog is well-researched and informed by medical research conducted in partnership with Harvard Medical School and uses all three of the strategies outlined above.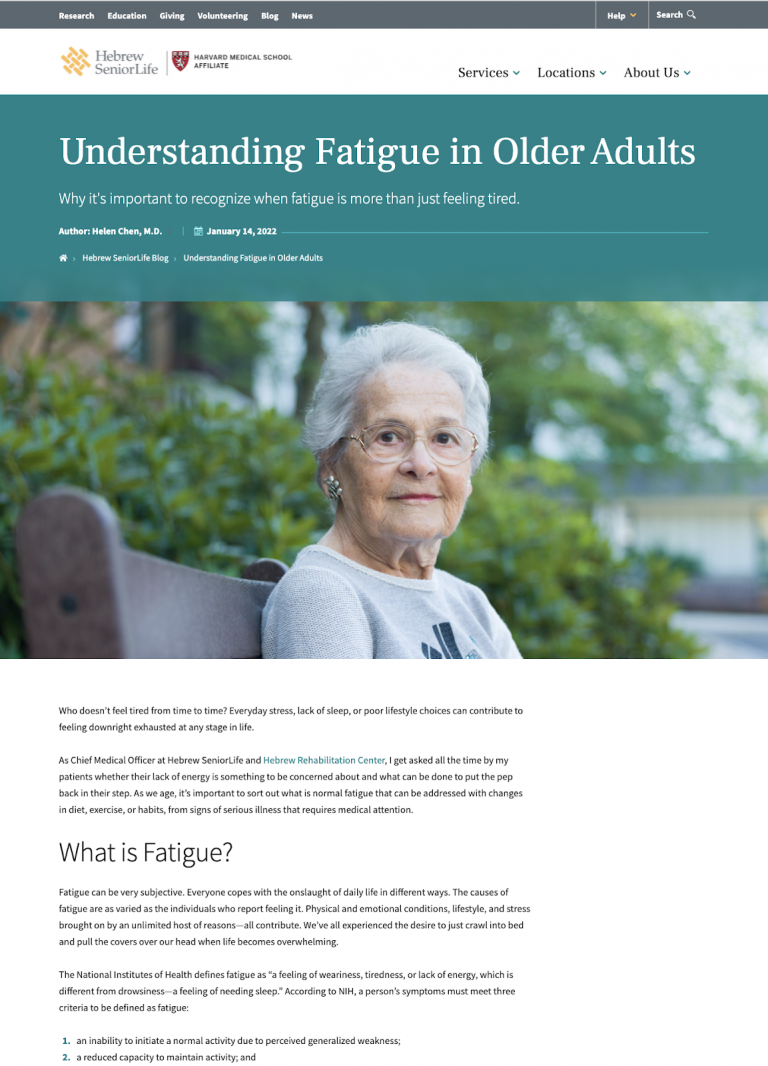 Each article contains multiple calls to action (CTAs) — links to related content, links to services pages, links to their podcast, and phone and email contact information.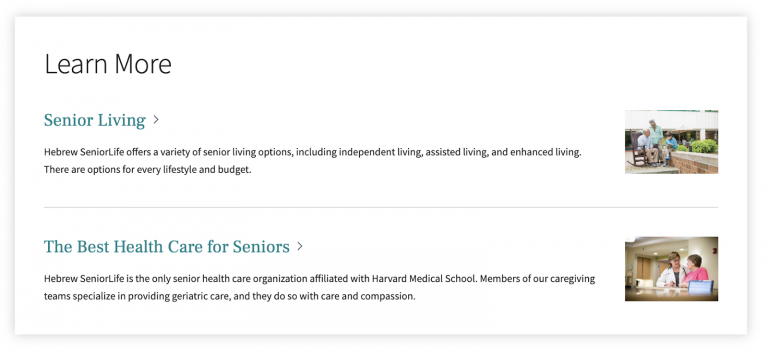 Hebrew SeniorLife bundles their blog content into downloadable resource guides. 
Health Insurance Plan Content Marketing Example
Health insurers can produce a wide range of content marketing articles on health and wellness topics or on topics related to understanding healthcare and health insurance jargon. This is a rich area for optimization, and we've written an entire article on the topic and broken down how Cigna and Tufts Health Plan have capitalized on content marketing.
Creating the Last Search Page
When we set out to write an article and optimize it for search, one of our objectives is to be as complete as possible so that users stop looking for other search results.
Why?
This gives your organization a brand boost and also increases the likelihood that the user will share this article with others or return to the page later — thus increasing engagement.
To create this type of hospital or healthcare search engine marketing content, produce an article with the following attributes:
A minimum of 1,000 words and ideally 1,500 words — this makes the page authoritative and Google also rewards longer content
Include helpful, descriptive sub-headings that are direct and guide the reader
Ensure the language is not too dense or loaded with jargon — aim for an 8th grade reading level and use a tool like Hemingway to review your content
Include relevant images and diagrams to support the text
Include a video that recaps the content — this video content can also be optimized for search
It's not crucial to do all of these, but the first three are the most important.
Health Insurer SEO Strategy 3: Branded Search
The last type of search engine optimization for healthcare is branded search. A branded search result is a result that includes the name of your organization along with other search terms. Here are some examples for health insurers:
BlueCross medicare plans
Doctors that accept Cigna
Aetna out-of-pocket maximum
UnitedHealthcare plan comparison tool
Users who are searching in this way are already familiar with your organization or healthcare group. They are using Google to find specific information on your website as part of their customer journey. The goal of branded search is to make sure that when prospective or current patients or members turn to Google to find information about your organization, they are quickly and easily able to find the most relevant page on your website. 
Key strategy: Pursuing a branded search is important because you're trying to reduce friction and smooth the "engagement process" for current and prospective members or patients who already know your organization. 
If you're just getting started thinking about branded search, head over to Google to see what people are asking about your organization — be sure to use incognito mode or a private browsing window to ensure the most generic results.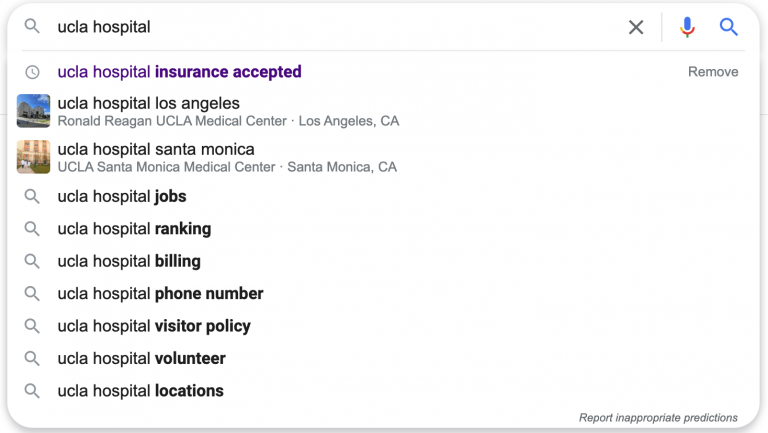 You can also find out some of these keywords from the Google Search Console. 
Adjusting Branded Search for Health Insurance and Healthcare
The general strategy for branded search is to adjust your page titles, URLs, and H1 headlines to be clear about the content on the page. For example, searching "UCLA Hospital locations" in Google produces the following results.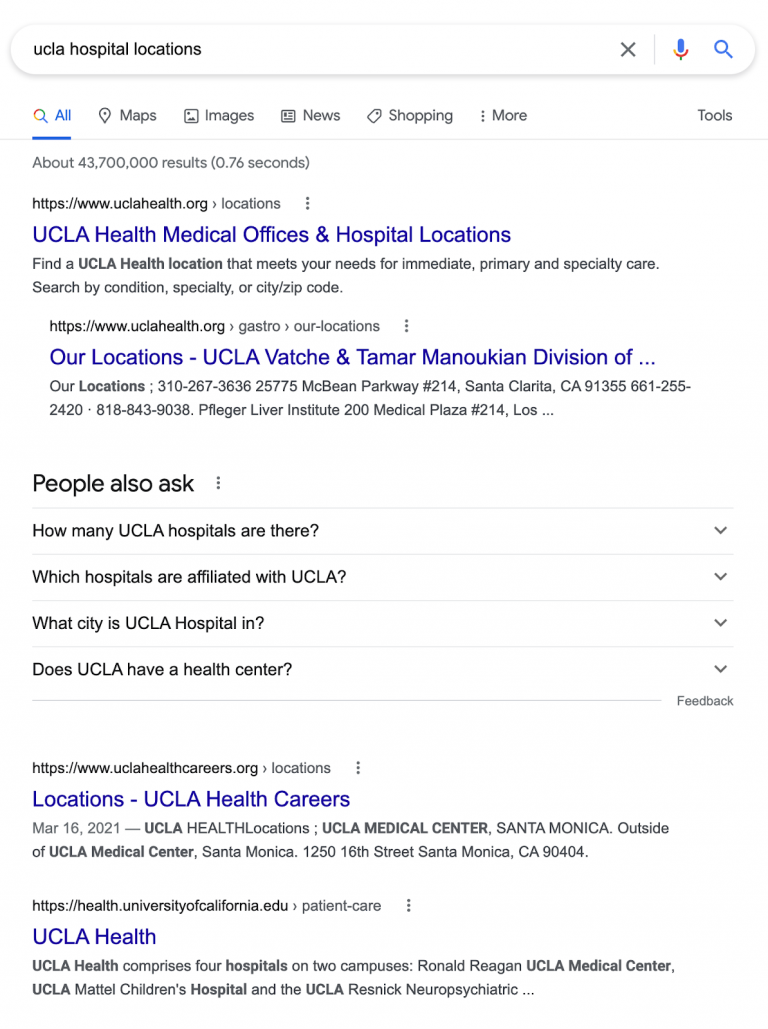 The top result is the best result to find all of the locations, however, three other results come up as well. Optimizing for branded search requires that you look at frequent search queries used by people engaging with your organization and then consider how clearly your information is being presented in Google. Here, leading with "Our Locations" and "Locations" as the first word makes result two and three seem more relevant. While result one is likely working, there is room for optimization.
Tying SEO to Business Impact 
Each of these three strategies produces a different business result.
Branded search – increases customer satisfaction by improving access
Content marketing – builds awareness, informs prospects just learning about your organization and keeps current members engaged
Generic search – promotes services and products and reaches users with a high-level of search intent
Investing in organic search optimization builds a "marketing moat" around your offers. Unlike paid media — where a competitor can snatch your position with an increased budget — organic search ranking takes time to build. Investing in organic search will increase traffic, increase brand awareness, and become a valuable asset that is not easily conquered.