Creating an Inbound Healthcare Content Marketing Strategy
Healthcare organizations and health insurers can implement an inbound content marketing strategy to improve brand recognition, attract new patients, and stay engaged with their current patients and members – we layout how to create, implement, and measure content marketing efforts.
How Can Healthcare Marketers Use Content Marketing? 
Inbound content marketing is the practice of using online articles or "blog" content that is written specifically to rank highly in organic search results. If the content ranks highly and provides relevant information, content marketing pieces will generate website traffic and bring more users in contact with the organization and its services.
For example, to reach a prospective member or customer, a health insurer might write and publish content that answers questions about health insurance, such as: 
"What is the donut hole in Medicare?"
"What does deductible mean?"
"What is a referral and why do I need one?"
These broad-based, general interest questions can be answered by individual articles on the health insurer's website. Once written, as a healthcare content marketing agency, we work to ensure that each article should be optimized to rank in organic search results for a few keywords. If properly search engine optimized (SEO), these articles will drive traffic to the health insurer's website. Content marketing "articles" can also include images and videos — such explainer videos or infographics – that can be optimized to appear in Google Image or Google Video search results.
Leveraging Content Marketing to Retain Members
In addition to writing on topics that explain medical or insurance topics, healthcare marketers can produce articles on health and wellness topics. For example, our client Tufts Medicare Preferred produces health and wellness articles in 13 categories.
These articles can be used to reach prospective members and promoted to current members on social media channels or through e-newsletters. And while recipes might seem out of place, they are some of the most clicked content.
Answer Questions to Rank for Voice Search
As part of developing a content marketing strategy, you can take advantage of the "People Ask" questions. Reviewing these questions can be a solid source of ideas for your healthcare content marketing campaign. Also, most SEO experts agree that Google uses these answers in voice search results (i.e., these are the answers Siri, Google Assistant, and Alexa provide when asked a question).

By including a concise answer to one of these questions in an article, Google may select it as an answer. There is no way to submit your answer to a question — to improve your chance you need to rank in the top five pages for a relevant keyword and include a concise definition or answer. If you are successful, you will likely have two links from the first page of Google results pointing to your content. 
Measuring the Impact of Content Marketing
After publishing and optimizing content for keywords and Google rank, it's time to start measuring and reporting on the impact. We measure content marketing reach in a few ways.
Organic page visits: Use website analytics to measure the number of visits to the article page (in total) and, more importantly, measure the number of visits to the page that come from organic search and referral links.
Keyword ranking: Using a keyword tracking tool, you'll want to see if your article is ranking in the top 10 results (ideally, your article is ranking in the top 3 results for the primary keyword you optimized the content around).
Click-throughs or conversions: Ideally on the template where you are publishing your content marketing articles, there are some calls to action that direct users to other content, your products and services, event registration, content download, or ways to reach customer service. Using website analytics, you want to measure the number of times these actions are taken.
A more advanced method of demonstrating impact to calculate the number of clicks generated is "cost-per-click". For example, if you wanted to buy traffic in Google ads with the keyword phrase "what is medicare part d" it would cost $6.21 (you can look up this cost in a tool like SEMRush or iSpionage). If a health insurer wrote an article that ranked first for this and received 100 clicks/month this is equivalent to generating $621/month (100 clicks at $6.21/per-click) in paid traffic. 
Content Marketing Example: Large Health Insurer
Cigna created an Understanding Insurance hub that contains all of their content marketing articles. Their article on pre-existing conditions is extremely well optimized. It ranks first in Google Search for "what is a pre-existing condition."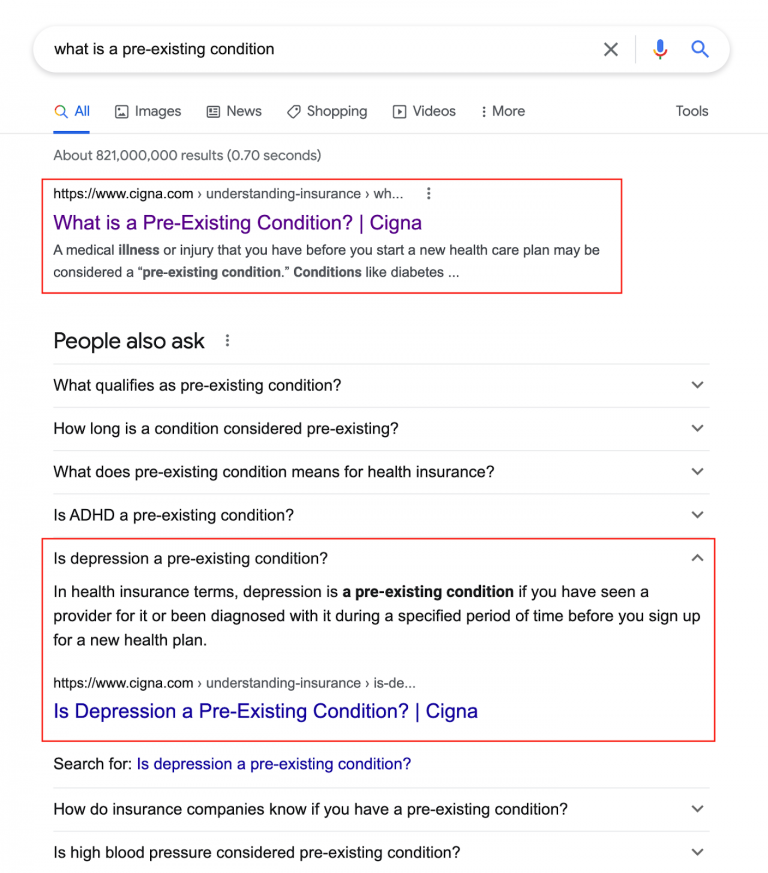 Note that Cigna's content marketing scored a second win on this page. Their article, "Is Depression a Pre-Existing Condition" is used as an answer to one of the related question results in the "People also ask" section. This gives Cigna even more visibility and potential to draw in organic traffic.
Also, note how the page titles are carefully constructed:
to include the keyword that the article is optimized for
it's written in the form of a question
it's set-up to include the brand name
Using keyword tracking tools, we can estimate a dollar value or return. In terms of value generated, Cigna is likely generating 50-100 clicks per month, each with a value of $9.03/click.

Doing the multiplication, that's $450 to $900/month in traffic value each month. Remember, this is traffic that they are generating organically so they aren't paying $9.03/click. Instead they are saving $9.03/click because they don't have to pay Google Ads that price to rank at the top of the search results.
Creating a Healthcare Content Marketing Strategy
Here are the seven steps that you'll want to follow to launch a successful healthcare content marketing campaign:
The first step is to understand if your site is performing well for organic search and making any technical adjustments to the website to resolve barriers to your site being properly indexed. Conducting a review of your site in Google Search Console is a good first step.
You'll need to define the goals of your content marketing campaign. Who are you trying to reach? What do you want them to do when they end up on your site?
Document and understand the customer journey of both your prospects and members. What question might they be asking? You need to understand the customer needs to write content that meets those needs.
Look up those questions in Google Search Console or another keyword research tool and see if there are topics that have a solid amount of traffic from Google.
You need to write the articles, publish them on the website and optimize them for keywords. Ideally, the page that you're coming to, not only contains the article but also relevant calls to action and connections to your product. So what you're trying to do is link people from your product, from your blog, over to your product page.
We recommend using a tool like Moz or SEMrush to continue to monitor your placement in those articles.
Promoting the content through social channels can drive more traffic to your website as well.
Remember that this content is representing your brand. Ensure that content aligns to and represents your brand. The content should be helpful, accurate, and high-quality.
Content Marketing Delivers Results
In sum, content marketing is a strategy that requires an initial investment in keyword research and content development, but pays results for years. Two closing thoughts to keep in mind: organic results are more valuable (users convert at higher rates) and organic content, unlike paid digital marketing, is difficult for your competitors to immediately assail and outrank you.
This article was originally published January 31, 2022
We can help improve your online customer satisfaction and conversions. We're a team of 75 strategists, creatives, and technologists helping healthcare and health insurance marketers improve their web and digital marketing strategies. Learn more about our UX, content, and development services for healthcare and health insurance.