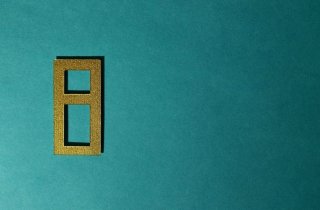 8 Higher Ed Digital Marketing Strategies, Trends & Tactics for 2023
What do higher education marketing leaders need to be thinking about heading into 2023? Our digital marketing team rounds up tactics and marketing strategies for colleges and universities to consider.
In 2023, the "new" higher education marketing strategies are less about finding the shiny marketing tool and more about finding ways to go deeper into channels by optimizing your existing content to adapt to the changing industry landscape. This year, higher ed marketing strategies need to focus on expanding reach in digital channels by leveraging new audience tools and micro content. 
From our vantage point of running enrollment marketing campaigns, 2023 higher education marketing strategies will be about taking advantage of new opportunities to expand the reach of schools and craft compelling digital marketing campaigns that leverage the unique values each school has to offer.
1. Transition to Google Analytics 4
Google announced the transition away from Universal Analytics to Google Analytics 4 back in March of 2020, with a deadline of July 1, 2023 for existing users to continue to use Universal Analytics without interruption. The transition is far from a minor cosmetic update; GA4 is a complete paradigm shift in both how Google tracks site activity as well as how organizations report on their analytics data. 
Any higher education digital marketers who haven't already replicated any business critical Universal Analytics reports in GA4 would be wise to spend the early months of 2023 planning out the transition. 
2. Reevaluate Your Higher Education Social Media Marketing Strategy
To put it mildly, 2022 was not a particularly great year for some of the biggest players in social media. 
With so much uncertainty in the social media space, now is a great time to evaluate how much of your marketing strategy centers around both paid and organic social media and consider reallocating budget and resources toward other, more stable, areas like SEO and paid search.
3. Explore AI-Generated Content
Anyone who has played around with ChatGPT — an AI chatbot system that can craft anything from an essay to a blog article in less than a minute — in the last few weeks can attest that we are far closer than many people thought to the point where AI can reliably generate compelling marketing content.
While content from ChatGPT (and systems like it) is still a bit stilted, this can still be a valuable tool even in their current state. For example, you shouldn't expect an AI to craft blog content that's ready to publish as is, but you can certainly get a good foundation to help you flesh out a more in-depth piece. And for some stories, like new hire announcements, ChatGPT might get you a lot closer to a finished product than you'd expect.
4. Every Higher Education Marketing Strategy Needs a Short-Form Video Strategy
Campus facilities are a major enrollment decision driver for many prospects, with 64% of prospective students indicating that campus facilities have at least some influence on their decision to enroll. But not every prospective student is able to visit campus, with 11% of students relying exclusively on virtual tours. Schools have an increased opportunity to build brand awareness and reach prospects that can't visit campus through video — as well as to supplement the in-person experience for those who can visit. Topics can include:
Answering the school's most searched queries
Providing mini-tours of the facilities with student tour guides
Video campus tours
Nearly every social media platform now offers the capability to include short-from video content — and short form video offers better engagement. Over 50 percent of people who watch short-form videos (i.e., videos that are less than 90 seconds) watch the video in its entirety. 
In 2023, consider taking advantage of short-form platforms for awareness and retargeting campaigns to reach the feeds of prospective students. These short videos can also be linked out to long-from videos including more detailed information. 
5. Include Responsive Ads in Your Higher Education Advertising Strategy
Responsive ads are ad units that automatically scale the assets of your campaign to fit the varying constraints of multiple devices and platforms. When creating responsive ads, you can upload different ad formats, headlines, copy, or visuals and Google Display Network will automatically deliver a variation to fit the needs of the platform or device of the user. 
According to Google's data, on average, advertisers see 10% more conversions at a similar CPA when using multiple headlines, descriptions, and images with responsive display ads.
From our experience running college enrollment marketing campaigns, moving from static to responsive ad units, we've noticed an increase in impression volume and higher click through rates. When considering your 2023 approach to display advertising, acknowledging the performance potential of responsive ad units could prove beneficial in driving relevant leads and increasing conversion rates.
6. Link Keyword and Audience PPC Strategies
Everyone knows how successful PPC ads can be when it comes to driving new prospects to your site, but there can be even greater value in remarketing to site visitors after they've already engaged with your content. Google ads have supported Remarketing lists for search ads (RLSA) since 2013, and it's an invaluable tool when trying to maximize ROI.
For example, a generic keyword like "MBA degree" might be too expensive for a school to pursue on the open market, but if you only target individuals who conduct that search after they've already visited your MBA program page, the additional spend has significantly more value if you can direct them to additional content to help them convert. 
Another newer Google Ads tool to use in tandem with RLSA in 2023 are custom intent audiences. This feature allows you to take search keywords and use those to build an audience of individuals to target on the Google Display Network who — based on their search history — you think might be likely to convert.
7. Add Personalized CTAs to Your Higher Education Website
In order to effectively nurture prospective students, you first need to capture their contact information via a form submission (campus visit, request for information, etc.) Most schools have numerous landing pages optimized to appeal to various audiences, but few go the extra step to enable personalized forms that can cater to each individual visitor.
By tracking visitor behavior — pageviews, return visits, session duration —schools can present the right message at the right time to increase the chances that visitors will identify themselves and allow you to incorporate them into your lead nurturing engine. 
8. Increase Search Engine Visibility
In 2022, more than 57% of mobile Google searches ended right on the search results page. The number is slightly smaller for desktop users (53%). 
Why? Google's featured snippet box. The featured snippet box pulls information from websites and leverages them directly to the user on the results page. Winning the featured snippet box can help increase brand visibility and combat declining numbers for organic traffic. 
In 2023, higher ed marketing teams should work with SEO experts to devise content strategies that focus on producing content that answers high-volume search queries and contains popular keywords. Using keyword research and SEO insights to produce new content or optimize existing content can help you win feature snippets, lead in SERP rankings, and drive traffic back on site.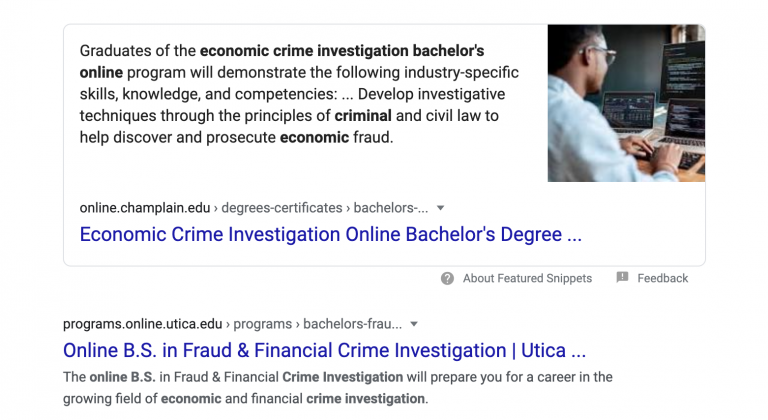 Example: Champlain College Online wins the featured snippet box by using high volume keywords in their program pages and carefully crafting content. As a result, they win the first position and receive an enhanced presentation at the top search results. 
In addition, higher education marketing groups should audit their school's presence across all of the Google properties — maps, knowledge panels, and business profiles. These components should be audited and monitored on a semi-annual basis.
Higher Education Marketing Strategies – Your Next Steps
These 8 tactics will help you refine your campaigns and stay ahead of the competition. However, if you're just getting started with digital marketing, we recommend beginning with four key strategies:
Paid search campaigns driving to a landing page
Improving SEO on your program and degree pages
Using personalized calls to action on your website to capture direct, organic and return traffic
Implementing a content marketing strategy
If hitting enrollment targets is a major focus for your marketing team in 2023, implementing the three core higher ed marketing strategies that are the baseline to driving enrollment is an important step to help you achieve your goals.