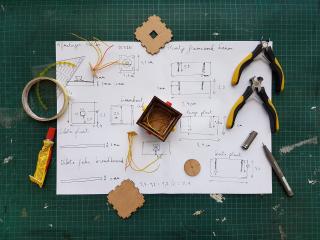 Planning a Website Redesign: Free (and Cheap) Tools to Help You Get Started
The more upfront work you can do when planning your website redesign, the better. Here are some of our favorite tools to help you get started.
When we work with colleges and universities to redesign their websites, one of the first things we do is a comprehensive discovery to assess the current state. 
Our discovery typically involves a variety of activities, such as reviewing existing research and branding, interviewing stakeholders, conducting workshops to better understand key customer journeys, and reviewing website analytics. Altogether, these activities help paint a picture of where the website is and where it needs to be as an effective business tool.
But here's the truth — when we dive into the data and the dialogues, there are always a few tantalizing pieces of information missing that, if available, would deepen our understanding of the current website's effectiveness, as well as user intent.
And here's a little secret — if the school also had access to this information before partnering with us, it would definitely enhance their own understanding of the needs and opportunities for a new website, perhaps influencing the RFP they would write or budget they would seek.
We get it — there is not always the time or resources to do comprehensive discovery work in-house before beginning a redesign effort. There are, however, some key tools and configurations you can activate (at little or no cost and effort) to begin gathering valuable data and insights that will be ready and waiting when you do finally begin planning for a new website
We've compiled our top recommendations here — and we'd love to hear your own.
Google Analytics
Reviewing your website analytics should be a fundamental precursor to any website changes. We do a deep dive into traffic, trends, and behaviors as part of our process, but a few key changes to your analytics configuration can yield even more meaningful insights into how your website is working and where it falls short.
Understand Search Terms to Improve SEO
My kingdom for a keyword! The more we understand user intent — meaning, the questions and goals that drive how users browse our website — the better we can create a relevant, meaningful, and actionable experience. There are a few key ways to do this:
Google Search Console (formerly known as Webmaster Tools) is a function of Google Analytics that can provide detailed insight into search traffic. You can see what keywords people are using to find your site, evaluate site performance in search engine result pages (SERPs), view any error reports yielded from the site crawl. You'll just need to to verify ownership of your site before you get started.
The other important thing to do is to configure your internal site search, so you can see what queries site visitors are entering when using your website's own search function, and how successful the search results were in yielding deeper site engagement.  
How this helps your redesign: Identifies IA and SEO needs and opportunities going forward
Cost: Free
Create Internal and External Views
You likely have a variety of website audiences, and understanding and prioritizing those audiences is a fundamental part of rethinking your website. But how can you determine how these audiences are using your website? 
There's no perfect solution, but distinguishing internal from external views is an easy and important way to differentiate your site traffic. In all likelihood, internal views come from on-campus audiences — current students, faculty, and staff — who have very different informational needs from the audiences likely to come via external traffic — prospective students, alumni, community members, the media, parents, and so on.
How this helps your redesign: Helps focus your understanding of site usage in rough alignment with specific audiences
Cost: Free
Set Up Conversion Goals
Your website should be built with action in mind — every page should motivate the user toward a desired action. But how do you measure whether or not your efforts in guiding these actions are successful? 
Defining conversion goals in Google Analytics — for example, did site visitors complete and submit this RFI form, read more than two articles in a session, or interact with content hidden in open-close ("drawer") components — is a quantifiable way to determine if your site is working in ways that help you meet your business goals.
How this helps your redesign: Shapes your understanding of how effective your current UX and content are
Cost: Free
User Behavior Analysis
Another dimension to audience insights is how they interact with the audience on the page. What content grabs their eye? What motivates them? What confuses them? What are they totally missing? We may have all the right information, but presented and organized in all the wrong ways — how can we learn to do better next time?
There are two great ways to go about collecting these insights: in-person usability testing and automated website mapping tools. Both approaches will yield a punchlist of actionable findings, which you can analyze to consider broader issues around process or strategy — from the tactical to the strategic, all of these insights will help focus your next redesign. But here's a pro tip: to make these approaches the most successful, go into your testing and analysis with specific goals and questions in mind.
Usability Testing
Usability testing entails simply observing how your target users actually use the website — where do they go to complete likely tasks, how do they interpret the navigation and content in front of them, how clear is the information they find? Steve Krug's "Rocket Surgery Made Easy" is an easy-to-read introduction to conducting usability tests. (You can also check out our own blog post about conducting user testing on a shoestring budget.) 
The secret to usability testing is that you only need a small number of users to pinpoint where the issues are. So if you know who your audience is and have an understanding of both what you want them to do and what they will likely want to do on your site, you are essentially ready to go. Just scrounge up some pizza or maybe some gift cards to thank your participants.
How this helps your redesign: Identifies UX strengths and weaknesses to inform the redesign
Cost: Gift cards (or, failing that, donuts, pizza, etc.) to reward participants
Mapping Tools
The other approach is to use a mapping tool like CrazyEgg or Hotjar. These tools monitor website user behavior to track where users click, how they scroll, and even where they move their mouse. You can get a sense of where they get stuck, where they are captivated, and everything in between. You can even capture video recordings of complete website sessions, which could be valuable ammunition in making the case for addressing persistent website issues. Pricing for these tools can vary.
How this helps your redesign: Allows you to aggregate the behavior of multiple users to better understand their needs
Cost: 
CrazyEgg: 30-day free trial; $24/month (billed yearly) for Basic Account (30,000 tracked pageviews/month)
​Hotjar: Free for 2,000 pageviews/day
Content Analysis
Content Inventory
Before you aim to fix your website, it's important to understand what exactly your website contains. A content inventory can help you gain a deep and thorough view into your website. It's a quantitative accounting of your content — no qualitative assessment yet, just taking stock of how many pages and files comprise your site, how many words or images they contain, what their metadata is, and other characteristics.
With a thorough content inventory, you could uncover insights such as the depth of your content bloat (informing what type of content strategy effort you may require), which parts of your site are the most problematic (informing conversations to have with stakeholders ahead of a redesign), how many PDFs are cluttering your domain (perhaps reflecting a governance issue with content authors), or how effective or complete your metadata is (which would impact SEO). Each of these insights would impact how you would approach your redesign.
Screaming Frog is the gold standard of site crawling tools, but URL Profiler and Content Analysis Tool are also solid products with slightly different feature sets. (They all, however, integrate with Google Analytics, layering valuable traffic and behavioral context onto your inventory.) These tools require some level of financial investment, but they will save you churn and provide focus in the long run.
How this helps your redesign: Gives you visibility into the breadth of content on your domain and surfaces areas warranting closer attention
Cost: 
Screaming Frog: free for up to 500 URLs; £149 per year for full access (one device license)
URL Profiler: 14-day free trial; $25.95/month (billed yearly) for Pro account (two device licenses)
​Content Analysis Tool: free for up to 250 URLs; $79/month for Basic account (25,000 pages/month)
Content Quality Assurance
We are living in the golden age of content quality assurance. There is no shortage of comprehensive tools — including SiteImprove, Monsido, DubBot, among others — that can serve as an ally in the uphill battle against website ROT. 
Quality assurance functions include readability scoring, content inventory, broken link checks, spell checking, and scanning content for appropriate brand application. These tools may also help assess accessibility, website performance, SEO, website analytics, and data privacy, or allow you to assign fixes to team members or define overarching policies.
(With regards to accessibility, some tools like pA11y or Functional Accessibility Evaluator are free and open-source, while others are sold and serviced by independent companies. WebAIM provides valuable guidance for picking the best accessibility evaluation tool for the job — and there are a lot of tools to choose from.)
To be fair, enterprise-level website governance tools tend to work best in the service of an established digital strategy and governance process. But if you have time and budget to perhaps leverage these tools to gain deeper insight into website issues, it may be worth it. You can identify which sections of your website are succeeding and which need more support, while beginning to think through what precipitated the current state and how to address it in a post-redesign world.
Pricing for enterprise tools such as these may vary. If you are at a school or college within a larger institution or university system, it is worth checking to see if you can leverage existing licenses.