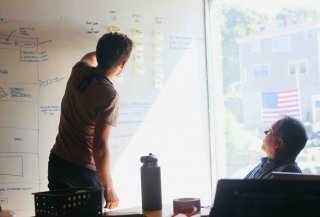 Writing a Higher Ed Website RFP: 6 Elements to Include
Sending out a request for proposals (RFP) for a redesign of your college or university website is a major milestone. It likely means that your long-sought-after new website is poised to become a reality, and you're ready to evaluate a selection of partners who want to help you bring this work to life.
You may think the project has not begun yet — but it has. The website redesign RFP is the first articulation of project priorities, requirements, and scope. It will likely change between this point and the start of the project, but as this first expression of what your new site should reflect and include, it is a critical starting point. 
With that in mind, it is important to be thoughtful about what you include in this RFP — to attract the right potential partners, but also to begin gaining internal alignment across the university on what success will look like for your new website. 
Ideally, the website redesign proposals you receive should indicate how these partners will deliver a new website that aligns to your unique needs and opportunities, through a process that is mindful of your institutional realities.
Key Topics for Your Higher Ed Website RFP
History and Current State of Your University Website
Every website has a story. Was the homepage reskinned a year ago? Has nothing been touched in a decade? Did your college or university have a full website redesign a couple years ago that didn't hit the mark? Are you looking to change content management systems for a specific reason? Is your governance model proving a challenge to sustain?
This context helps us see the website not just in one moment in time, but to understand how it got there. You have a sense of what worked in the past and what didn't, what's serving you well now and what has outlived its usefulness. A glimpse into this story deepens our understanding of what a new website redesign engagement should look like. Before you set the vision for your new site, it is a good idea to audit what exists – these free website analysis tools can provide insights that can help inform the redesign and the requirements included in the RFP.
Priorities Driving the Website Redesign Project
In a similar vein, no website exists in a vacuum. The website should be a tool for the institution to reflect its priorities and encourage actions by website visitors that ultimately reinforce those priorities.
In higher education, these priorities can vary — new president, new initiatives, expansion of programs, addressing recruitment priorities, and so on. A variety of notable events or changes in priority could shift the trajectory of the institution, and thus the trajectory of the website. 
By signaling these priorities in the website RFP, a potential vendor partner — particularly one with deep experience in the higher education industry — can have a better sense of how the project might play out and what approach might be needed.
Relevant Market Research or Engagement Data
Relatedly, these shifting priorities might come via research and recommendations delivered by other types of consultants — market research, branding, enrollment studies, and so on.
When an institution receives new information that reshapes its understanding of the market, or how it should position itself, there is a broad ripple effect — and the website should be one of the primary areas to consider implementing changes.
These are not typically changes that can be accommodated by, say, changing a headline — they would be comprehensive and foundational. So understanding these drivers can help a potential vendor partner understand what your college or university website redesign project needs in order to be successful, while also helping avoid scoping work that may already be accounted for with these other reports.
CMS Considerations
The content management system can be one of the biggest hinges in a website redesign project. Are you staying on your same platform? Upgrading it? Switching to a new platform? Unsure what you actually need to do?
Understanding your intentions from a technical standpoint is critical to inform a helpful website redesign RFP. Whether it's laying out a development scope, outlining potential support options, or defining what a CMS discovery exercise might look like, the most helpful proposal will be the one that is aligned to your current sense of what needs to happen to your college or university website from a technical perspective. 
Conveying a sense of your content publishing and governance vision — such as a plan to move to a more or less distributed model — can also shed light on the possible technical paths forward.
While we're on the topic of technology and scoping, it is similarly helpful to understand what third-party data source integrations, if any, might be included in this project. Course catalog? Faculty directory? ERP? Event calendar? Potential vendor partners might have relevant examples to show, and they should account for any integration work in the development pricing so you get the most realistic estimate.
Composition and Governance of Website Redesign Project Team
Having your internal project governance defined — meaning, you've worked through the roles and accountabilities for the project — before issuing a request for proposals is a smart idea. Including a sketch of your project governance in the RFP signals to potential vendor partners your thoughtfulness in managing the project effectively. But more importantly, you establish a solid foundation for future decision-making and stakeholder management.
On the OHO side, one of the first things we do when we  kickoff a project is determine project roles and responsibilities — both on our side and the client side. Who is the client project sponsor? Project manager? Members of the core project team? What are their accountabilities? 
Having clarity around these roles is critical to project efficiency, so the more you shore this up on your end ahead of time, the smoother your sailing will be.
Timeline and Budget for your Higher Ed Website Redesign 
The stickiest wicket of them all! Once we start attaching dollar signs and dates to a project, it becomes realer than real, right? But that's exactly it — the importance of sharing a realistic budget and timeline cannot be overstated. 
While some of the external pressures we mentioned earlier might drive a particular timeline (e.g. the timing of the recruitment cycle), attempting to squeeze a significant amount of work into a very tight timeline can cause issues. You may have vendor partners who promise they can deliver, only to skimp on parts of the work or otherwise deliver a substandard product. Or maybe they blow the deadline altogether, putting everybody on the line. 
Different clients have different understandings of what the timeline for a website redesign project may be, and the timeline of course may vary depending on the complexity and scope of the project. Generally, we see such projects taking 12-15 months — some may just take 9, but some may take 18 or more. It depends on what's involved. Talking through your needs with a range of vendor partners can help solidify your sense of what sort of timeline is reasonable to achieve your goals. Internally, it's important that all key parties have a shared understanding of a realistic timeline and what it entails, so there are no missed expectations down the line.
Most organizations are reluctant to provide budget parameters in the RFP — in fact, maybe one of the goals of the RFP process is to get a range to help inform a budget ask to senior leadership. But if the process goes too far along without each side having a clear sense of what the budget is, you can end up wasting everybody's time. 
If you don't have a sense internally of what the website redesign project you envision might cost, this is another great reason to have some preliminary calls with vendors to understand what it might cost to bring your vision to life.
Writing a Higher Ed Website RFP to Find a "Right Fit" Vendor
In short, getting to know each other before jumping to a proposal is good advice for both relationships and website redesign projects. Preliminary fact-finding conversations with potential vendor partners may help you think of considerations that had not crossed your mind and strengthen the ultimate RFP, while also helping you understand what type of vendor partner would be the best fit for your college or university.