8 Alumni Websites To Inspire Your Next Redesign
Learn why these college and university alumni sites are our current favorites, and snag some ideas for your own.
College students only spend a few years on campus, but they'll spend decades as alumni. During that time, the vast majority of graduates become disengaged with their school — a staggering 92% of alumni don't donate to their alma mater. A high-quality college or university alumni site can help foster a sense of belonging among graduates, to deepen their connection to the school and — hopefully — prevent them from disengaging.
An aspirational alumni website provides graduates with a central location to stay connected to the school, network with other alumni, and contribute to the larger campus community. However, building a website that meets the varied needs of a diverse alumni body can be challenging. 
Before embarking on a website build or redesign, we recommend taking the time to consider what your audience needs. This information can be collected by reviewing website analytics, surveys with alumni, focus groups, or one-on-one interviews. Based on our experience, we typically see a few motivations for alumni visiting the alumni website:
Find alumni or alumni clubs/events after relocating to a new city
Reconnect following major life transitions
As children begin to consider colleges, alumni re-engage with their alma mater
Find information about reunion events or homecoming
For colleges and universities with a strong sports culture, these alumni return to purchase tickets and follow teams
Based on information collected from user research, you can focus on the user needs to build a comprehensive strategy and inform the structure and content of the site. 
Planning a College or University Alumni Website Redesign
To help you through the planning process for your college or university alumni website, we've rounded up eight compelling alumni websites and highlighted the components that stand out. Whether your alumni base is large or small, local or global, these sites can serve as sources of inspiration as you build a new virtual home for your graduates.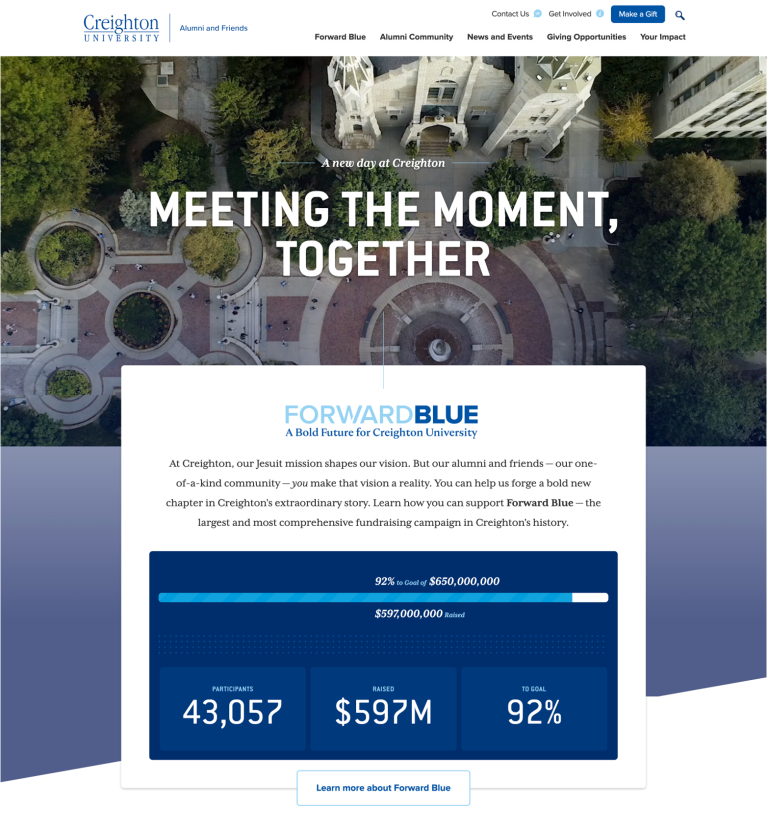 Inspiring alumni to donate and support the university's vision is critically important for any alumni site. The Creighton University alumni site exemplifies a "show, don't tell" approach by leaning heavily on storytelling to build connections between alumni and the campus community, reminding alumni why it's so important to give back. 
The site features a wealth of rich stories from both past and present students, sharing how scholarships impacted their lives, photo galleries of mission work, and other meaningful success stories made possible thanks to alumni donations.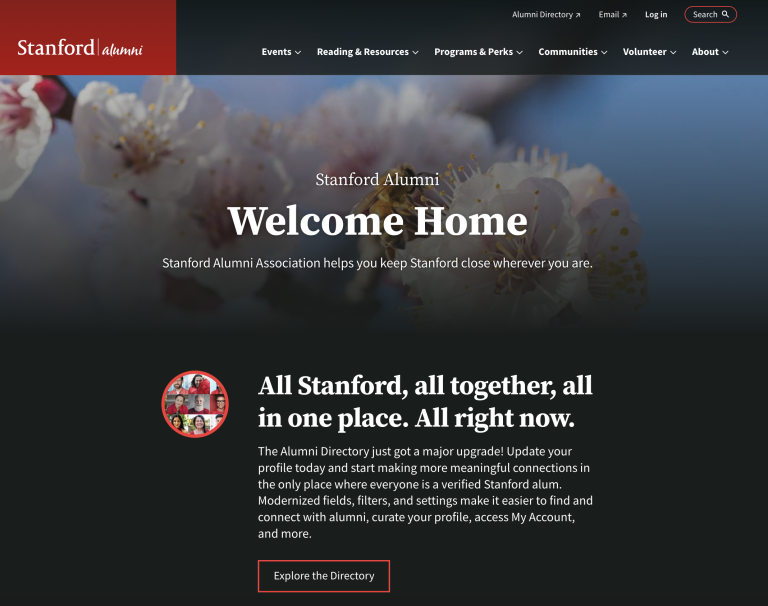 The Stanford University alumni site excels at one of the most challenging tasks facing alumni sites: providing graduates with a sense of community when they may be thousands of miles from campus and each other. The site establishes a digital destination for alumni. It promotes the alumni directory at the very top of the homepage, just below the hero image, reminding visitors that Stanford provides its alumni with valuable resources to stay connected. 
The website also highlights various benefits available exclusively to Stanford alumni — both in the main navigation and call-out boxes throughout the site — like library access, wellness resources, and group discounts on products ranging from insurance to iPhones.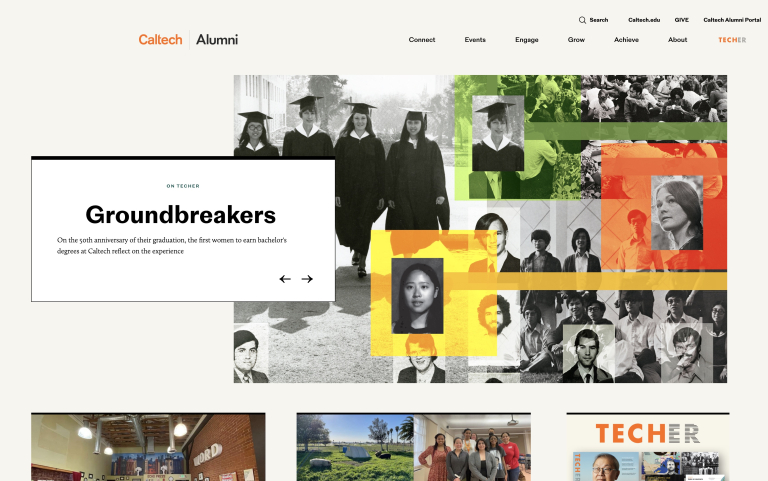 Alumni sites typically house large quantities of information which can often result in crowded, confusing layouts. Caltech overcomes this challenge by using a clean, aesthetically-pleasing design that captures the forward-thinking spirit of the university. Its navigation pairs active verbs with clear, descriptive drop-down menus, and the primary sections of the site are also visible when the user scrolls down the page. 
Notably, the homepage features alumni stories prominently, each of which is accompanied by a well-designed illustration. Alumni features are an excellent way to bolster graduates' pride in their alma mater, and the format Caltech uses to draw in readers is engaging and inviting.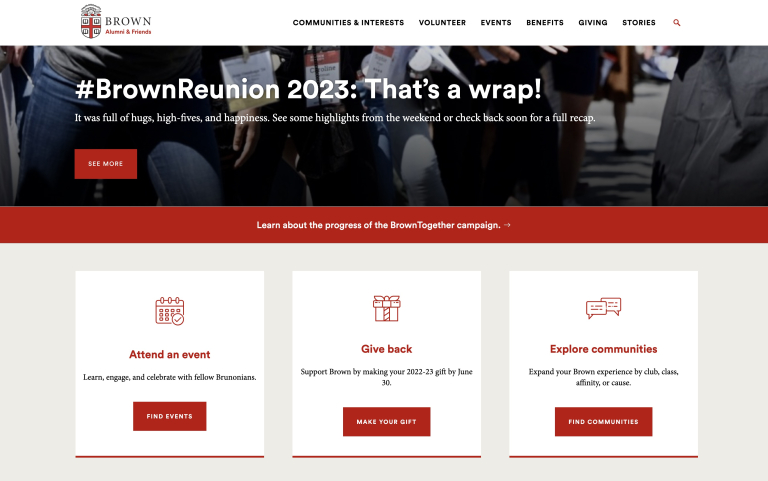 Brown's alumni page engages graduates in new ways by offering alumni several distinct pathways to engage with the university. In addition to straightforward top-level navigation, the homepage features three action-oriented navigation blocks directly below the hero image. Each drives the viewer to a landing page that aggregates opportunities to attend events, volunteer, or connect with alumni groups. This approach helps viewers find what they're looking for quickly, while also showing them the depth and breadth of opportunities available to them.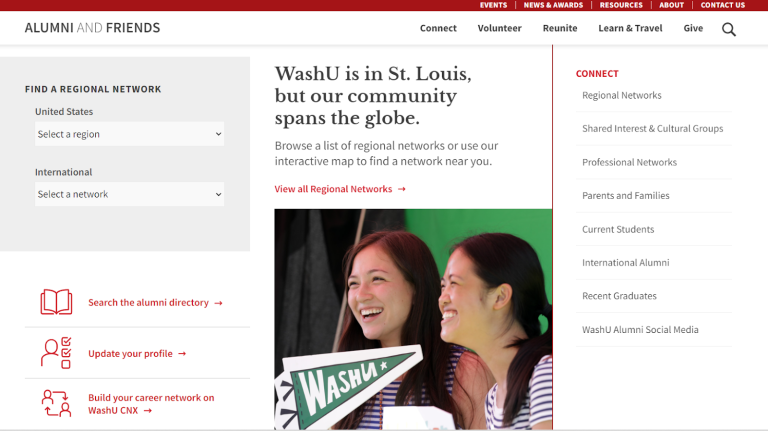 Many schools' alumni directories are clunky, difficult to filter, and detached from important information about alumni clubs and organizations. Washington University in St. Louis bucks the trend with a page that houses both the alumni directory and links to help viewers find fellow alums who live in their area, work in the same field, or share their interests or cultures. 
Additionally, visitors can click through interactive maps to find detailed information about engagement opportunities by location.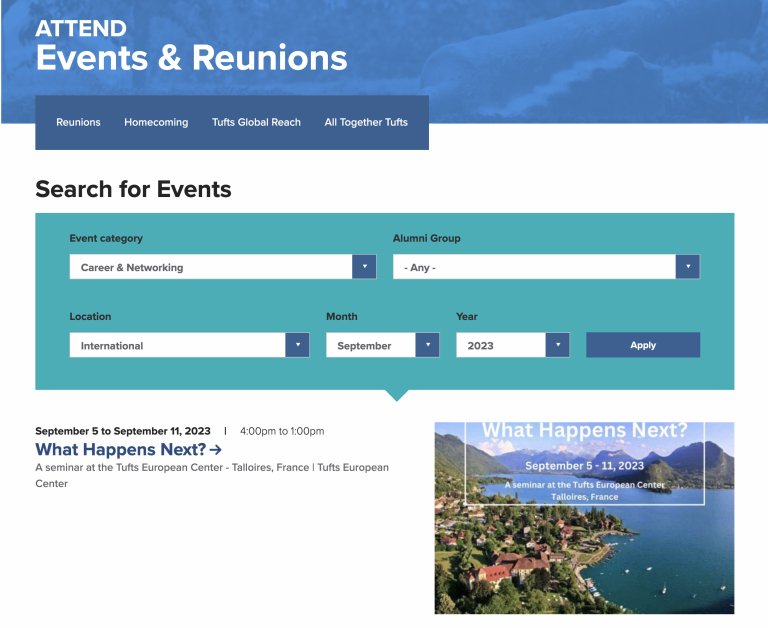 Sorting and streamlining calendar events held in different regions by different groups is not easy — and if the calendar contains too many items, the university's priority events can get lost. 
Tufts' alumni calendar neatly solves this problem by offering several filters to help alumni find the events most relevant to them, without narrowing search results too much. The event categories are simple to parse, with categories like "Community Service" and "Career & Networking." Clear shortcuts to signature events such as Homecoming and Reunion ensure that those key programs stay top of mind.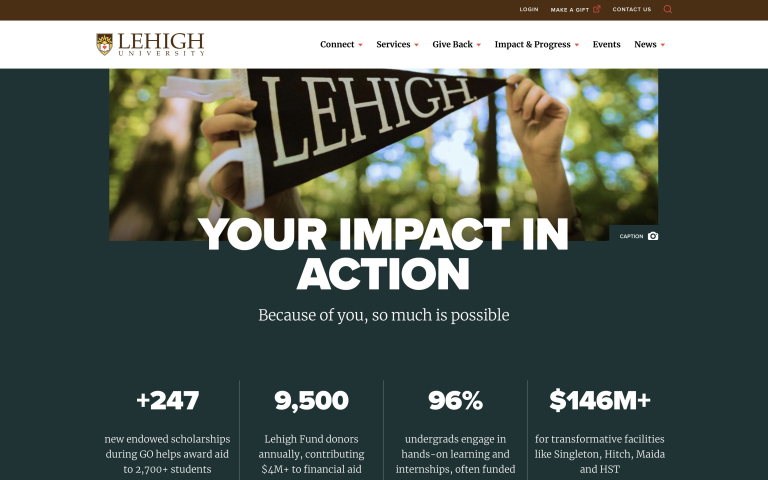 Alumni websites aren't just about engagement — they're also an important fundraising tool. Effective alumni websites need to demonstrate the impact of those funds, especially if the school has a capital campaign in progress.
Lehigh achieves this goal with an Impact and Progress page linked in its top-level navigation, separate from its giving page. While this approach may not work for all institutions, Lehigh uses it successfully to engage alumni with its ongoing campaign. The page ties donations to clearly defined outcomes and includes individual donor stories to inspire alumni to give themselves.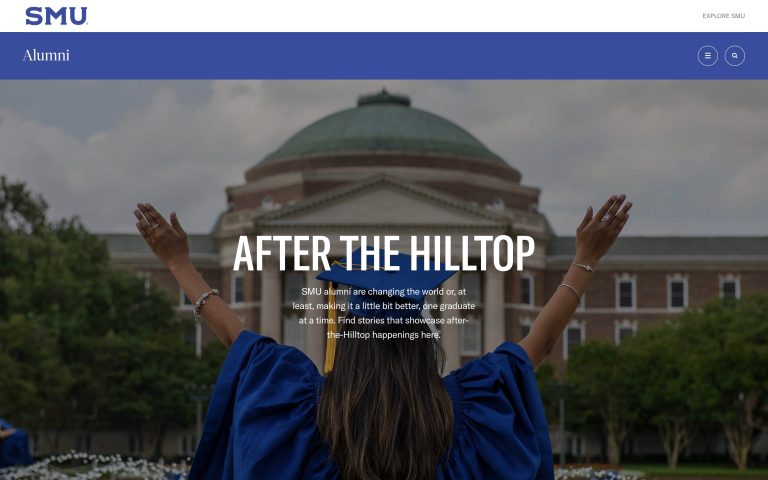 Southern Methodist University does an excellent job presenting alumni with different ways to donate their time and skills to their alma mater with a comprehensive list of volunteering opportunities featured prominently in their menu. It lists a number of ways to help fellow alumni and students, with information about roles, time commitments, and application processes. 
The use of high-quality event photography helps illustrate the experience of volunteering. SMU removes potential barriers to entry and encourages alumni to take action now by centralizing these important details in one place.