What Digital Marketers Need to Know About Apple's IDFA Privacy Changes 
Apple's new privacy policy changes will impact how individual apps can track users. Here's everything you need to know about the upcoming changes.
Building personalized audiences is at the core of today's digital advertising campaigns for student recruitment. Marketers often rely on third party information to help define, segment, and target users. This also means that as platforms change, marketers must evolve along with them — and that's the case with Apple's forthcoming privacy updates. In this post we'll discuss: 
Impact on major platforms: Facebook, Instagram and Google
Distinction between first-party and third-party information
The timing of these changes — why now?
How marketers can prepare
These upcoming changes, positioned as an effort to protect and empower consumers, are pitting battles between tech giants like Apple, Facebook, and Google — and digital marketers are seemingly caught in the middle, armed with only some vague guidance on how these updates will impact current and future paid campaign strategies. 
The Background: A High-level Overview of IDFA Updates
The Identifier for Advertisers — often referred to as simply IDFA — is a unique number that allows mobile developers to track individual iPhone users across devices and around the web. 
How it Works Now:
Historically, from 2012 until now, iOS users could opt out of tracking at the device level, from the Settings menu. 
What's Changing: 
With iOS 14, users will be asked to opt in at the individual app level. This will happen via a pop-up message upon download. 
Apple announced these changes — referred to as App Tracking Transparency — at its Worldwide Developers Conference in 2020. Roll-out plans were delayed until early 2021 in response to the developer community needing more time to prepare. (This announcement also caused quite a stir for the potential hit to small businesses who've grown to rely on this data.) 
A Closer Look: What the User Will See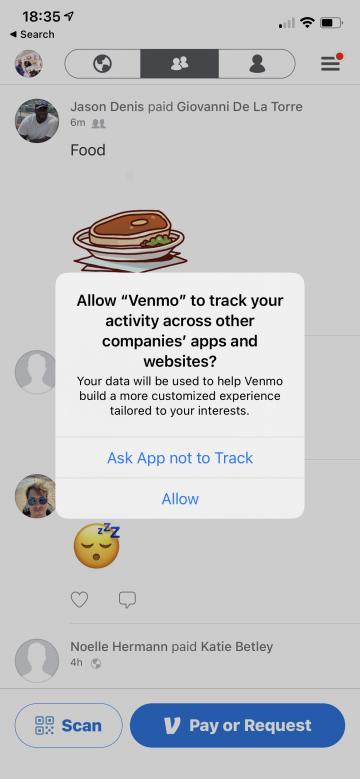 First, a standard message will appear: Allow "App Name" to track your activity across other companies' apps and websites?
Beneath it, app developers will have a certain amount of characters — about a sentence — to customize an expectations-setting message, such as: Your data will be used to deliver personalized ads to you.
Then, users are given to choices: "Allow" or "Ask App Not to Track"
What to Expect: Audience & Event Changes
As these changes gradually take shape, some current strategies will not be as efficient as they once were. Particularly those that rely heavily on third-party data as opposed to first-party data.
First-party data is information an organization gathers or acquires itself; this could mean organically, such as a newsletter sign-up or lead generation form, or by purchasing a mailing list. This also includes any analytics data acquired directly on the organizations site. 
On the other hand, third-party data is owned by another entity and made available to organizations through advertising networks, such as Facebook Business Manager and Google Display Network. To be clear, organizations don't have access to individual user data, but rather larger pools of data.
Apple's changes will apply to the latter: the data others collect. For example, lookalike audiences are considered the gold standard in targeting users; but marketers might see list sizes decrease as more Apple users choose to opt out of tracking.
Along with the iOS 14 updates, Facebook will also implement changes to what it measures. For example, you can expect Facebook to reduce the amount of web events it tracks. At this writing, it appears the platform will limit this to eight conversion events. 
While Apple is rolling out these changes to all applications, it's anticipated that Facebook — with its larger advertising network — will be among the most impacted. (It's not immediately clear if Google's Android platform will follow a similar course of action.) 
What You Need to Do
Here are  some short-term and longer-term recommendations for preparing for the IDFA changes. 
Verify Your Domain
One way to get ahead of these changes is to verify your top-level .edu domain through Facebook Business Manager. (This should also verify associated subdomains, such as for a program, school, or college.)
Define Your 8 Biggest Goals 
Higher ed is traditionally siloed, and one silver lining of these upcoming privacy changes could be better cross-campus collaboration and streamlining goals and metrics. Think about what conversion events and forms of measurement matter most. Examples could be starting an application, completing an information request form, or downloading a guide. 
Diversify Your Enrollment Strategy
At OHO, we've always recommended diversifying your digital advertising, and these changes reinforce that. Some of our partner institutions are considering music and entertainment streaming platforms, with one commenting on her experience with Spotify that, "It has amazing and rich information about interests."
Alternative platforms, such as TikTok, Hulu, Linkedin, and SnapChat could be effective for broader awareness-building campaigns as they might not have the same ability to tie user behavior to a direct action. Either way, these options are certainly worth exploring based on your target audience and enrollment goals. 
Explore In-Platform Lead Generation
Along with diversifying overall strategy, you'll want to consider in-platform lead generation forms. For example, at this writing, YouTube, Google Display Network, and Facebook have options either still in beta or newly released. While these options might deliver lower-quality leads, they could serve as an additional opportunity for engagement. 
Connect With Your Vendor(s)
If an outside vendor managers some or all of your digital advertising or other enrollment marketing strategies, be sure to ask them how they're preparing Apple's IDFA changes. 
Parting Words
Changes in the digital marketing landscape — both major and minor — are par for the course. While the IDFA privacy changes fall firmly in the "major" category, they are by no means insurmountable. By shoring up first-party data, building direct connections with prospects, and focusing on organic lead-generation tactics, you will be in a great position to adapt when Apple pushes their privacy changes live. 
The digital marketing team at OHO Interactive will, as always, continue to follow developments in the consumer privacy space so that we may help our clients make the most informed decisions they can. We'd love to speak with you about your digital marketing and lead generation strategies. Learn more or schedule a call here.
Further Reading: