How iOS 14 Privacy Changes Will Impact Your Digital Ad Campaigns
Upcoming changes to Apple's privacy policies will impact what information social media advertising platforms like Facebook and Instagram can use to target ads to users.
Whether you've been following the news about changes coming to Apple's iOS 14 and Facebook ads for months or this is your first time hearing about it, you should know that it's going to be okay. We're here to walk you through what these changes mean, how they will impact your digital marketing efforts, and how you can prepare.  
You're a marketer! This means you're resourceful, analytical, and you know how to pivot as challenges arise — you made it through 2020, after all! 
What's Happening?
Back in August, 2020, Apple released its latest operating system, iOS 14. From 2012 until this latest update, mobile app developers were able to use the Identifier For Advertisers (IDFA) to track Apple customers by default. The unique number is assigned to individual iPhone customers, and allows advertisers to track their movements around websites and apps by following that unique identifier.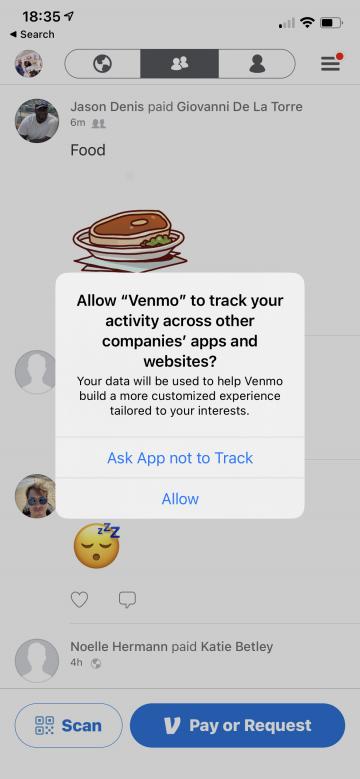 Apple will begin prohibiting certain data collection unless users explicitly opt in to being tracked, sometime within the next few months (likely early this summer). The concern is as more people opt out of tracking on iOS 14 devices, ad performance across Facebook's family of apps and services — including Instagram — is expected to decline because Facebook will have less data points to use in ad targeting.
It is important to clarify that so far, the only impact to data collection would be on Apple's mobile devices, meaning iPhones and iPads. However, when you consider that there are over one billion active iPhones, it's easy to worry that this change is going to shake some things up for digital advertising. 
When Will iOS 14 Impact Ads? 
These changes were slated to roll out in early 2020, but they continue to be pushed back. The latest information made available to marketers is these changes will likely be implemented in the second half of 2021, though an official date is not available at this time. 
How Will Apple's iOS14 Update Impact Digital Advertising Campaigns on Facebook?
Essentially, when these changes roll out, advertisers will lose the ability to track activity across the devices of any users who have opted out. So whether you're targeting users based on an interest they have in "law school" OR tracking them based on lookalike targeting, Facebook may not be able to identify what a significant portion of your target audience are browsing on their mobile devices. This will limit the likelihood that your ads reach the right people at the right times included limited ability to: 
Measure and report on conversions from certain customers 
Ensure that ads are delivered to the most relevant audiences at the right frequency
Deliver ads to people based on their engagement with a business (retargeting video viewers, website retargeting)
Predict and optimize performance over time
Efficiently allocate budgets
What Can I Do to Prepare for the iOS 14 changes? 
The number one step you can take right now is to verify your domain in your Facebook Business Manager, which is now mandatory to comply with rules for advertising on Facebook. Domain verification requires that a piece of code be implemented on your website. 
If you belong to a larger organization, it is critical that you coordinate efforts with the team responsible for managing the Facebook Business Manager at the domain level. For example, if you represent a graduate school at a large university, you should consult with the owner of the Facebook domain associated with "yourschool.edu" vs. your business manager which might be associated with "grad.school.edu." 
How to Verify Your Domain in Facebook Business Manager
The same rule applies for verifying your domain — this should happen at the domain level and not at the sub-domain level. Once you've figured out the who, you can either complete this on your own or pass the following steps along: 
In Business Manager, click on the "Business Settings" button in the upper right corner.
In the Business Settings, select the Brand Safety tab, and select Domains from the left side navigation list.
Click on the "Add" button, and enter your domain in the "Add a Domain" pop-up dialog.
If you have more than one domain listed, select the domain for which you desire to confirm ownership. IMPORTANT: You should select your primary domain. You will create a snippet to place deep in your site code (If you don't have direct access to the source code for your site, you'll need help from a developer). You will need to use one of the following verification methods which can all be found via the links below:
Once the code is Implemented:

Under "Domains", select the desired domain, and select pages in the "Assigned Assets" panel. On the right side click the "Assign Pages: button.
Will the iOS 14 Changes Only Impact Facebook Ads? 
No, but Facebook has been the most vocal in pushing back on this data collection policy change. Facebook has also provided the most guidance to advertisers to minimize the impact thus far. Apple's change will likely impact many digital advertising platforms which rely on tracking user behavior. If you are concerned that another vendor you work with is going to be impacted by these changes, we encourage you to reach out to ask them how they're preparing and how you can prepare. — that's what we've done! 
Anything Else I need to Know About iOS14 Changes and Ads? 
Once the update rolls out to iOS 14 users, Facebook will begin limiting the number of conversion events that are permitted to be tracked. 
Some examples of Facebook conversion events for a higher education institution may include:
an RFI form-fill complete (lead)
a brochure download (view content)
an application submission (submit application). 
After you've verified your domain, you should coordinate with the team referenced in the domain verification section to agree on the 8 standard conversion events that are most critical to your business outcomes. Once selected, you will need to configure them in Events Manager. Facebook may take the lead here and choose some standard conversion events based on your advertising behavior, but you will be able to override this. Once you've selected these 8 standard conversion events, any ad sets that are optimizing for any other conversion events will be paused. 
One Final iOS 14 Ad Issue
Once you've handled all of the technical implementation in preparation for these changes, here's where your marketing skills will come in handy. We know these changes will take effect, but we don't know exactly when or how. When things do start to change, marketers will need to go back to the basics. We recommend streamlining your campaigns to focus on very specific, measurable goals, and optimize as needed. Sure, there are a number of other vendors and channels in which you can invest your media budget in lieu of Facebook, but these platforms may be faced with similar challenges. At the end of the day, if you're not seeing the Return On Advertising Spend (ROAS) that you're looking for on any channel, you'll know it's time to try something new.