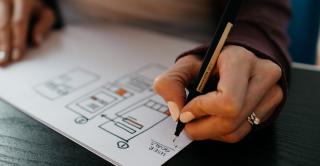 5 Questions to Ask Before Designing Your Capital Campaign Website
Ask your capital campaign team these five questions before you start your campaign website to ensure you're getting it right.
While a capital campaign can take a college or university years to plan, the website supporting the campaign is often rushed out the door at the last minute. The website serves as the digital face for the capital campaign, so it's important to make sure you have plenty of time to get it right. As you're thinking about launching a capital campaign, here are 5 questions to ask your team.
Does My College or University Need a Capital Campaign Website?
Five years ago, the "website" for the capital campaign was a simple web page with the PDF of the print case statement in a flipbook viewer. Today, colleges and universities offer much richer campaign site experiences that include campaign specific branding, dedicated video, and rich interactive pieces.
The College of the Holy Cross created a standalone website for their current capital campaign – the site emphasizes the priorities, board, and background in a highly visual presentation.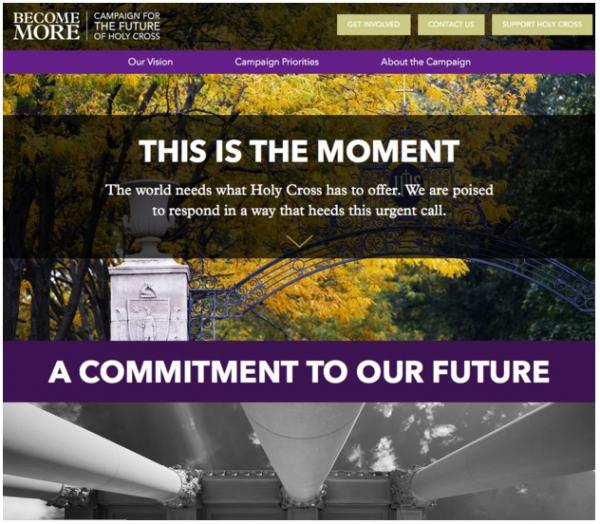 Brown University also launched a separate capital campaign website to cast the vision for a $3 billion campaign.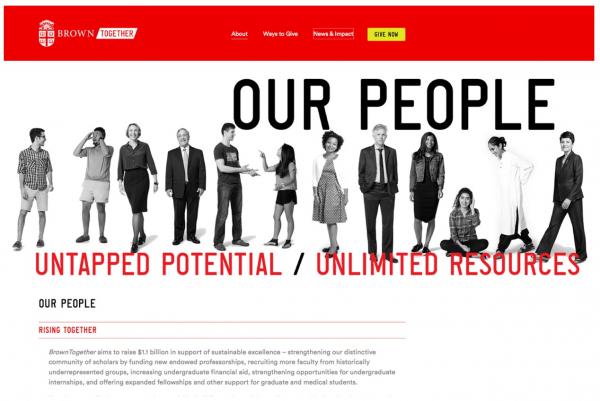 We've seen other recent capital campaign launches at Harvard University, Oberlin College, and the University of Chicago following a similar strategy.
Giving Site or Case Statement?
While all capital campaign sites need to offer links to make a donation, advancement groups need to ask themselves if the primary purpose of the capital campaign site is to inform visitors or drive donations. Most capital campaign sites lean toward acting as an online case statement – a digital destination to inform potential donors about the campaign.
If you follow this strategy, the site should include content that enriches the experience like:
Giving priorities

Campaign goals

Progress to date

Personal stories from students, alumni, and donors that illustrate impact

Campaign board or committee
Most college and university capital campaign websites stand alongside other giving or advancement websites rather than replace these institutional sites.
The Harvard Campaign developed a unique visual-web user interface to allow donors to navigate stories, profiles and priorities in a non-linear way.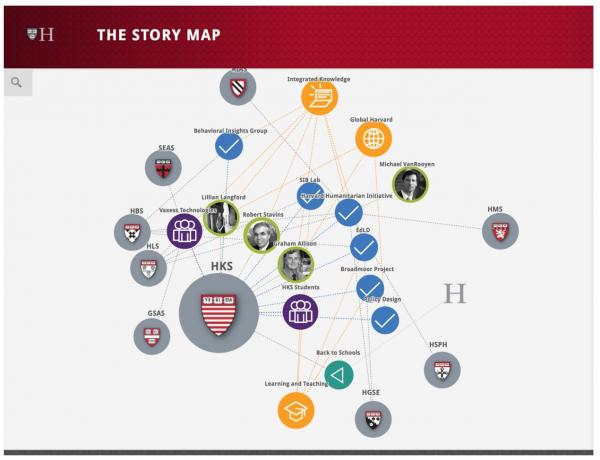 Who Will Create Ongoing Content for the Capital Campaign?
The capital campaign site needs to be more than just a digital version of the print case statement. The site must inspire by showing campaign activities such as major donations, milestones, events, and donor profiles.
Developing an editorial strategy for regular content creation is critical to keeping the site fresh and excitement high, but be realistic about your advancement team's ability to update web-specific content. It's also important to plan ahead for lots of additional photography, from donors to events. A lack of images can be a barrier to publishing content.
How Will You Recognize Donors & Track Progress?
Unlike a print donor recognition piece at the end of the campaign, the website offers the opportunity to thank donors and track progress in real-time. However, this can be a double-edged sword.
As you develop the site, you'll also need to develop editorial guidelines and processes for donor recognition. Will you recognize only gifts of a certain size? Which size gifts will have a story? Will you include a list of donors? It's important to establish an approval and proofing process that ensures accuracy.
Stony Brook University's $600 million capital campaign website displays campaign progress using animated graphs that grow as the user scrolls past.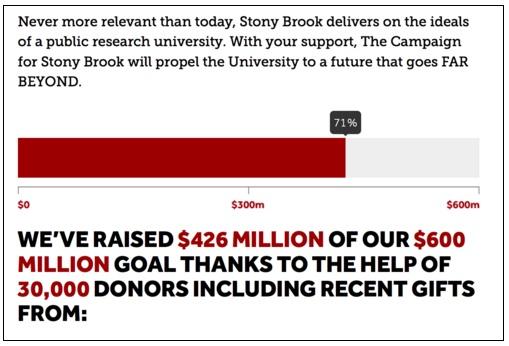 The Brown University campaign employed a more simple graphical treatment to demonstrate progress.

Stony Brook solved the problem of long donor rolls by using a scrolling list of donors and gifts. Not only does this help avoid missing recognizing a donor, but by showcasing various donor information, it shows gifts of any size are welcome, donors come from a variety of ages, and it's possible to earmark gifts to certain university programs.

How Will You Handle Social Media?
You'll want to broadcast campaign news far and wide using email, newsletters, letters, and social media. To start, include "Share This" tools that allow site visitors to post content from the campaign site to their social media networks. Also provide fun, attention-grabbing, engaging graphics that donors and alumni will want to share on social media channels.
Post-donation is an ideal spot for promoting social shares. It lets donors show pride in the school and allows them to demonstrate their support to friends and followers. Create a shareable badge like the one below from Unilever that donors can post.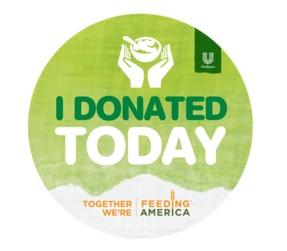 The most important thing to remember when running and social media campaign is to think about who will monitor social media channels and how you'll handle both positive and negative comments. Plan ahead by creating social media interaction guidelines to ensure you're prepared for whatever comes your way.
How to Get Started
The first step in getting started on a successful capital campaign website is to begin planning for it early. Talk about the questions outlined here with your team. If you're doing any surveys, make sure you include questions about social media and web usage. A campaign website that helps your college or university reach its goal requires a well thought out user experience that can drive gifts and connect with potential donors. By asking these five questions, you'll be starting off on the right foot.