Reimagining the Giving Experience
In order to reach the Call to Lead campaign's ambitious $3 billion fundraising goal, the OHO and Dartmouth teams set out to reimagine the capital campaign site from the ground up, taking cues from crowd-source fundraising sites, leading editorial sites, and e-commerce.
Website Redesign
Content Strategy
Services
Strategy
User Experience
Visual Design
Content Strategy
CMS Development
Surpassing Fundraising Benchmarks
As part of the campaign, Dartmouth sought to expand its donor base, increase participation and significantly increase the dollar amount of gift-giving online. Dartmouth more than achieved its goal. The online gifts from the website far exceeded national benchmarks for online donations from individuals with revenue per website visitor up over 36x the national average.
Current Amount Raised
The campaign is 77% to goal, with 88,322 participants donating $2,293,971,167 out of the total goal of $3,000,000,000, including bequest intentions
Average Online Gift
Average Non-Profit
$147 (CY 2018)
Annual Fund Site
$386 (FY 2019)
Call to Lead Site
$1219 (FY 2019)
Revenue Per Visitor
Average Non-Profit
$.83 (CY 2018)
Call to Lead Site
$36.66 (FY 2019)
Focus on the Online Donor Experience
We employed two strategies to reach the small, online donor – engage with rich stories and borrow user experience inspiration from crowdfunding sites such Kickstarter and GoFundMe. The site structure and stories helps users discover giving opportunities that speak to their unique interests and connect with their passions.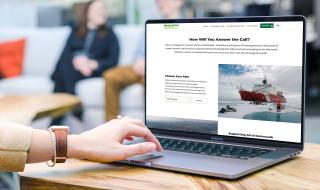 Using Digital Storytelling to Connect to Donor Motivations
Compelling short-form and long-form giving stories from members of the Dartmouth community drives home the impact of contributing to prospective donors.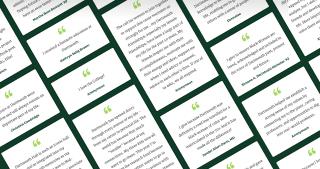 88,300+ Donors
The "Why I Give" section allows donors to share their stories and encourages visitors to join the giving community.
Finding Personal Giving Opportunities
To help prospective donors filter through the over 150 opportunities to support, we crafted a three-tier taxonomy that allows users to find causes that resonate with their personal giving priorities and passions. We showed how each opportunity leveled up to one of the three major campaign priorities.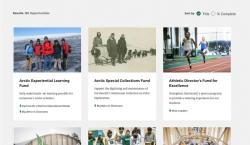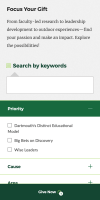 Collaborative Effort
On-site brainstorming meetings with the Dartmouth team helped us define the vision for the site and leverage Dartmouth's extensive preliminary market research to deliver a best-in-class capital campaign site.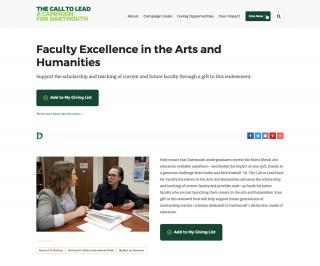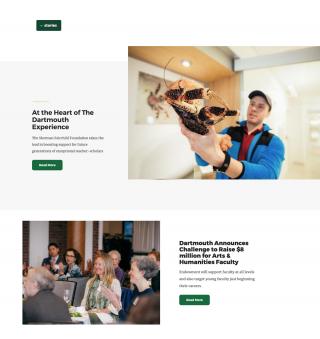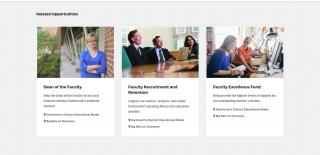 The OHO team were great partners on this project. Their creative and flexible approach gave us a site that allows us to tell the stories of our community, demonstrating the impact of their support and tying those stories to the opportunities to give.