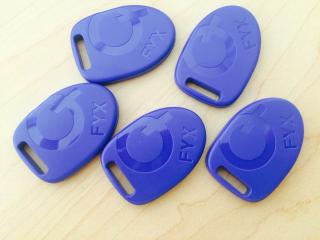 Top Problems Implementing iBeacon Marketing Solutions
Survey of iBeacon CMS and hardware providers highlights what the concerns are for this new technology.
We recently surveyed 35 of the top beacon CMS and hardware providers who are on the front lines of implementing this emerging technology and leading the push toward proximity marketing. Collectively these firms have deployed more than 3,000 beacon solutions to businesses around the world. Our survey dug into their top concerns about beacons, user experience and deployment.
Wait, What's a Beacon?
A low-energy device that emits a signal, a beacon can interact with a mobile device when it is within range, allowing for the creation of location-specific interactions and experiences. There are four parts to creating a beacon deployment:
Beacon hardware – small, Bluetooth low energy (BLE) transponders that are set up in a location to transmit a signal. The signal radius can be set from inches to many yards. Various triggers can be set to control the user interactions.

A management platform for the beacons and content – this sets parameters on the beacons, schedules content, and connects to business CRM solutions

A native iOS or Android app that interacts with the beacon

Compelling use cases
Top Concern: Bad User Experience
Nearly half of companies surveyed cite poor user experience as a top concern for beacon deployments with one respondent commenting, "Because of the highly personal nature of this new marketing channel, marketers need to be extremely thoughtful in how they leverage it." There is concern around businesses not exploring inventive ways that engage users in their use of beacons and that they are simply creating "spammy, intrusive implementations."
Providers surveyed are concerned retailers are thinking too much about simple coupon and offer redemptions that will ultimately turn-off customers: "Beacons can easily become another way to spam customers, and ultimately, push end users to delete an app. Just because a message can be sent, doesn't always mean that it should be sent."
Another provider echoed the concern that "marketers are going to push too many irrelevant ads and have users lose interest in the technology – like QR Codes – before we have a chance to prove how useful [beacons] can be." Other providers cautioned about "over-hyped" pilot projects that are never completed or fail to deliver. As one respondent commented, "retailers have wildly optimistic expectations about how beacons can be used."
Some platforms provide tools to improve the user experience by tracking user dwell time or frequency capping (i.e., limiting the number of messages a customer can receive in a time period) to ensure that users are not overwhelmed by beacon messages. While these solutions are valuable and ensure customers' phones are not inundated with push notifications as they shop, they are only part of developing a superior user experience.
Finding the Motivation to Download the App
As noted above, many of the use cases to date have focused on pushing special offers and coupons to users. A number of providers note that businesses need to develop a compelling use case to get users to download a beacon-empowered app in the first place. App adoption is the first barrier to entering the beacon game.
Overall, beacon deployments for larger, global retailers will be less of a challenge, but app adoption will be an enormous hurdle for smaller companies or organizations.
(Our survey was completed one week before the release of Apple's iOS8 which has added support to prompt users to download a mobile app that supports iBeacons).
Blocked Phone Interactions & Battery Life
Providers cite concerns with regard to a number of technical limitations. One limitation is users turning off Bluetooth on their phones to save battery life. Because beacons communicate using Bluetooth, customers are essentially turning off the beacon experience. In order for a seamless, consistent beacon experience, providers point out that phones will need to advance to provide longer battery life so that power drain from leaving Bluetooth on will not be a concern.
Providers also called out concerns about battery life in the beacons themselves. Prolonged battery life in the beacon requires balancing battery longevity and the number of transmissions per second the beacon sends out. The more transmissions, the less delay users will experience in receiving messages on their phone. However, more frequent transmissions from the beacon require more power and reduce beacon battery life overall.
Lack of Precision
Three providers surveyed highlighted a lack of precision in pinpointing devices with beacons to create mobile maps that could guide users through the interior of a physical space. There are too many factors that can impact the signal strength from beacons and these factors make pinpointing another device – like a mobile phone – with triangulation difficult and inaccurate. These providers called out the need to confront the myth that Bluetooth low energy – the underlying beacon technology – is the best solution for indoor mapping.
Specification Wars
Surprisingly, only one respondent raised concerns about specification wars between Apple, Google, and altbeacon as they each try to "land grab" in this new space. Their concern is that each of these tech players will develop their own specifications so there will be iBeacons that work only with iOS products, and beacons that work only with Android devices. The concern is the lack of a central and open standard resulting in a fragmented and frustrating user experience as businesses would need to purchase, install, and manage beacons that support each platform in addition to developing iOS and Android apps.
The survey showed that most of these providers are supporting Apple iOS and Google Android platforms with a slight lead going to Apple. In addition, 69% of companies responding have registered or plan to register with Apple's iBeacon licensing program.
Conclusions
As a technology, Bluetooth Low Energy (BLE) beacons are a "first step toward the Internet of Things." Nearly all providers surveyed are striving for new ways to connect people with contextual data exactly when they want it. With Apple and Google putting an emphasis on this technology, beacon will likely evolve and be a part of the proximity marketing landscape. As more rollouts of these installations happen and the mobile phone experience improves, we believe that the top concern – poor user experience – will be overcome.