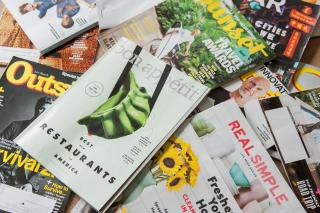 News vs. Stories: What's the Difference?
News articles and stories are often used synonymously, but the differences between the two are night and day.
Colleges and universities have so much to share, from groundbreaking research to breaking ground on a much-awaited student center. But how, where, and why we share these nuggets with our audiences can vary. "News" and "stories" may sound interchangeable to some, but when it comes to web content, there are some key differences.
A simple way to think about it is this:
Stories are about a person, the heart of who they are

News is about what a person did recently
Or this:
Stories inspire

​News informs
But let's dig a little deeper and look at some of the other key characteristics of each; this will show how they're different, what they have in common, and why and where they might be used.
Characteristics of Story
Proactive brand storytelling intended in part to influence

Usually aligned with brand and business goals

Character- and journey-driven, holistic narrative

Creative or clever approach typically welcome

Written primarily for an external audience

Content can be produced in varying ways

May not have a byline

​Evergreen: no timestamp needed
Characteristics of News
Reactive reporting intended to share information

Informed by, but not defined by, brand and business goals

Event- or accomplishment-driven and focused on details

Clarity over creativity/cleverness; straightforward

Content more likely to have internal value

Typically uses a standard content template

May have a byline

​Timely: date included
So for example, say a student is awarded a Fulbright fellowship to Norway to study Norse mythology and folklore. You might immediately write a brief news item to announce this achievement; it would include the student's information (name, major, class year, hometown), details of their award (sponsoring university, research topic, goals/role), and  maybe you'll include a quote from the student and one of their mentors.
Months down the line, however, this international scholar may be the subject of a web story series showcasing the value of cross-cultural experiences in the social sciences. The writer may do an in-depth interview to uncover anecdotes. The story would likely be written in an engaging way: a narrative arc, scenes, sensory detail, and other traditional storytelling elements that may even transport the reader to Norway.
Visuals In News and Stories
Images are often vital to news and stories, but how often do you think about how we use them differently? With the above example of the Fulbright scholar, the news piece may include a headshot of the student or maybe a staged photo of the student and professor with the acceptance letter. (Nothing wrong with the classic grip and grin here!)
A feature story about this same student, however, would likely include multiple images of them immersed in their new environment: scenic landscapes, notable sites, with peers or local residents, or in action at work. While you will likely rely on the subject to provide photos, depending on the significance of the story, and only if time and budget allow, there's also always the idea of hiring a local freelancer or sending a lucky staff photographer abroad.
Sometimes, based on strategy and resources, a specific brand story (or group of stories) may warrant a bigger project, such as a feature-rich, interactive experience. This shows storytelling efforts can go well beyond a writer putting words on a page; it might also involve lots of thoughtful planning and other talent and skills: design, videography, photography, and programming.
As you can see, since stories are often more purposeful (again, geared toward an external audience of prospective students or donors), the visuals may often be bolder, more compelling, and even evoke more emotion. Here, there may be a greater time and budget investment in the photography and art direction.  
Show & Tell: Examples in Practice
You have lots of options with how to write, format, publish, and share new articles and brand stories. For example:
Finding a Home and a Caretaker for Your Stories and News
As with any web content initiative, there's the question of "Where will this content live?" and "Who is charged with managing the various parts of the storytelling and news-gathering process?"
Depending on the size or structure of your institution, one person or team might be responsible for the news, while another spearheads storytelling efforts. Or maybe media relations, marketing, and efforts are under one roof. Either way, communication and collaboration in these situations is helpful from overall brand and content strategy standpoint.
News articles generally originate in one section of a website, such as a "newsroom." They might be arranged by date as well as be searchable by tag or keyword. However, if you're really maximizing your website/CMS, individual news items may also appear throughout the website (ex: using tags to create feeds), such as on a related academic department landing page or a transfer student admissions page. Additionally, sharing current news on relevant social media outlets can also bring traffic to an individual article.
Stories, however, are usually sprinkled throughout the site and featured more prominently on top-level pages. Like news items, stories can also be cross-promoted. For example, a story may live in one section, but a promo block on an academic department page might tease that content and then link to a story detail page. And then other similar promotional modules may appear elsewhere on the site, such as the homepage or an admissions landing page.  
Turning News into Evergreen Stories
Sometimes you may read or write about a student or faculty achievement that you cannot forget. When the time comes to brainstorm story ideas for a new marketing initiative or web overhaul, you're reminded of some of those more memorable moments. This is where repurposing content comes in.
Just as in the Norway Fulbright example earlier, you can use previous news stories as a resource and inspiration to find the bigger story. This practice goes beyond the web as well; stories are often sprinkled throughout print and other digital efforts: viewbooks, road pieces, email campaigns, postcard series, videos, annual reports, and alumni magazines.
What We're Not Talking About When We Talk About News
Before we go, I'd like to clarify something. There's another content type that lurks in the vicinity of news: the classic press release. Posting a press release to your website is not the same thing as sharing news. Rather, the press release is a tool geared toward (and sent to) the media which, we hope, will lead an outlet to write about or produce their own version of the story. We'll say it again: Press releases aren't meant to be read by the everyday reader, and they're not a substitute for original news articles.