Mobile a Top Priority for Higher Ed Website Redesigns
When it comes to college and university website redesigns, mobile tops the priority list. Find out why your higher ed website needs to give a great user experience in this post.
When it comes to college and university website redesigns, mobile tops the priority list. It's really no surprise - the number of visits to websites from mobile devices has seen steady growth in the past few years, making it an absolute necessity to provide a great user experience for site visitors from every device. If you're wondering how device usage on your site stacks up against other colleges and universities, you'll love the latest benchmarks (January to November 2015) we've put together.
Mobile & Tablet Usage on Higher Ed Websites
Since January 2015, there's been a 7% increase in mobile phone access to college and university websites we monitor compared with our 2014 data. An average of 25% of website views are coming from mobile phones, which is likely due to the increase in adoption of larger phone screens, particularly the iPhone 6.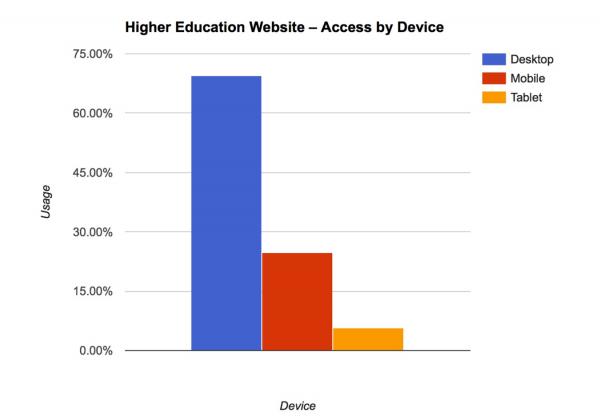 Use of tablet to visit college and university websites has been flat during the January to November time period of this year, hovering around 6%. For some colleges and universities, tablet traffic has dropped 1-2%.
Averages for January 1, 2015 to November 1, 2015 were:
Desktop – 69%

Mobile Phone – 25%

Tablet – 6%
Average Visit Time on Higher Education, University and College Websites
While the past year saw an increase in mobile usage, visitors from mobile devices logged the shortest site visits of all three devices.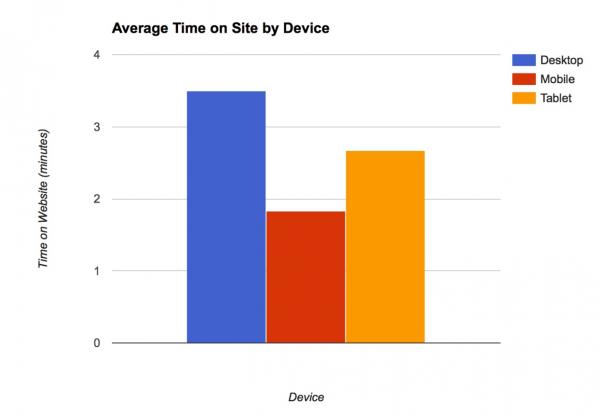 Overall, average visit times to higher education websites over the past 10 months (January 2015 to November 2015) by device were:
Desktop – 3:30 minutes

Mobile – 1:50 minutes

Tablet – 2:47 minutes
The average website visit on a mobile phone is 1:40 shorter than visits from desktop.
Average Website Visit for Higher Education, Universities and Colleges
The average visit to a college or university website is 3:05 minutes with 2.96 pageviews, equating to approximately one page visited per minute, allowing users enough time to fully read content on a page. The average bounce rate, meaning a user visited a page on the site and exited on the same page, is 45%. Bounce rate is an important metric to note as it can be an indicator or poor content or poor SEO.
Best Practices for Higher Education Website Analytics
This data is helpful for setting a benchmark for your site and evaluating its overall health. For universities just getting their feet wet with analytics and conversion goals, tracking some more modest measures is a good place to start. Some typical mid-level conversion goals include:
Requests for information

Online chat sessions

Campus visit registrations
If you're looking to do more with analytics in order to move the conversation at your institution from opinion-based to data-driven, consider the following steps:
Bring whatever data you have to conversations. Even if that starts with simple year-over-year or month-over-month comparisons of web analytics data, this simple start can open up a conversation and get other folks in your organization asking questions. We find even simple health measures – number of sessions, bounce rates, top pages – can spark conversations about improving data tracking.

Set up conversion goals in Google Analytics. If you have business goals set up that are important to revenue generation for your school – form completions, campus visits, etc. – you can start showing how the website drives business impact.

Move toward end-to-end reporting. With conversion goals in place, you can move toward more detailed reporting that tracks an individual user from first visit to conversion. This closed loop, or end-to-end, reporting will help you begin to show the effectiveness of lead generation channels.
Benchmark Data
This self-reported data is from a sample of college and university websites from across the United States encompassing January 1, 2015 to November 11, 2015.