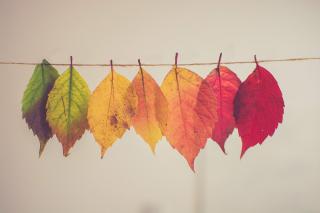 Marketing Community Colleges to Shifting Demographics
We gathered a group of community college marketing experts to discuss how community colleges can market themselves during the COVID-19 health crisis to meet the shifting needs of prospective students.
We convened this Brain Trust because the role of community colleges historically becomes more poignant during moments of crisis. As the author of Five Reasons Why Community Colleges are Key to Our COVID-19 Recovery — recently published by Jobs For the Future (JFF) — highlights, "Community colleges have been leaders in crisis response throughout our history. Because they emphasize affordability, flexible education delivery, and connections to local communities and regional economies, community colleges are well positioned to provide Americans with access to postsecondary education and prepare them for work. That is why, especially in times of economic downturn, government, communities, and families ought to look to community colleges as engines of recovery."
Enrollment Trends
In a survey conducted by Art & Science Group at the end of March, 17% of respondents indicated that they expected to forgo full-time enrollment in a 4-year school in favor of taking a gap year, enrolling part-time, working full-time, or taking courses at a community college. To cater to these uncertain students, some on the panel have been targeting those who are considering the gap year to try to convince them to get some of their general education courses out of the way at their community college. However one of our panelists noted that some regional four-year colleges are refusing to honor enrollment deferment if students attend a community college during a gap year — making it challenging to recruit those students.
In a Diverse Education article about the outlook for fall enrollment at community colleges, the author noted that the City University of New York (CUNY) has seen a surge in summer session enrollment and CUNY's seven community colleges have shown a 5% increase.
Our panelists shared that despite promising enrollment numbers for the summer, most of their schools are currently down in enrollment for the fall compared to this time last year, noting that "it is a weird market" currently. However, we also discussed the likelihood that many students may register last minute as things are in such flux at many four-year institutions and students may be waiting to make their final decision whether to go away to their four-year school or not. This month could still show significant shifts in community college enrollment.
Interestingly, our panelists and attendees have not seen an increase in demand or interest in health care or public health administration coursework since the pandemic began.
Marketing Approaches
Many of our panelists suspended their advertising efforts in the spring when the pandemic shut down most of the U.S. in March. Some have programs they have had to suspend due to the pandemic, such as a certified nursing assistant (CNA) program because of the inability to have sites where CNAs can practice this fall. 
When they did restart their marketing efforts, one area of opportunity several of our panelists have seen increased interest in are microcredentials, such as those now being offered at SUNY Ulster. Microcredential programs are intended to help people who have a job but might want to shift into a more niche field, and thus need to strengthen their skills and expand their areas of expertise.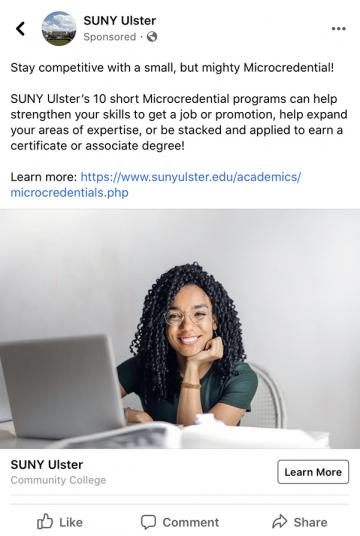 While some of the community colleges have increased their direct mail marketing, others such as St. Louis Community College are venturing into targeted advertising on podcasts and YouTube based on broad demographic targets.
In a recent webinar hosted by The Boston Globe called "Community Colleges in Crisis: How COVID-19 and Race Are Reshaping Higher Education," two community college presidents talked about the critical impact community colleges, and their schools in particular, have on the regional economy and well-being of their community. Many students, especially in urban areas, rely on community colleges not only for their courses, but for food, childcare, and WiFi access to support their coursework. One of the presidents stated 85% of the EMT's wouldn't be EMT's without the local community colleges, which would mean an even more drastic shortage in first responders in local communities. Panelists shared that they are giving out Chromebooks and WiFi hotspots to students in need to support remote and hybrid learning this summer and fall.
School budgets are being cut, which means marketing budgets are shrinking at a time when competition is fierce and is needed more than ever.
Do you want to talk through how your community college is pivoting your marketing strategies and come up with some new approaches? Schedule a free half-hour strategy session with Rachel Reuben Senor, our vice president for account strategy.