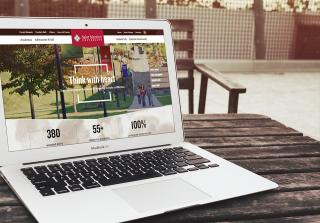 #makeitawesome: Saint Martin's University Launches New Website
Saint Martin's University recently launched a new responsive website designed to drive applications and enrollment.
A huge congratulations to our friends at Saint Martin's University on the launch of their new website!
Veterans of website redesign projects will tell you how much effort, education, and sometimes emotion are wrapped into the redesign process, but rarely will you get to hear all of the nitty-gritty details. Until now. In addition to all of the work the Marketing and Communications team at Saint Martin's University put into their new website, these digital superheroes also kept a blog documenting the process.
Not only is the blog fun to read (Vanessa, you are amazing!), but it also provides a transparent view into the redesign process while keeping the campus community informed and involved. Additionally, it talks about how our teams worked together to achieve Saint Martin's project goals.
In redesigning the school's website, the Marketing and Communications team wanted to:
Clearly define the Saint Martin's brand and highlight the university's values and unique student experience while creating a better usability for all site visitors

Increase inquiries, applications, and enrollment

Increase community engagement, interaction, and involvement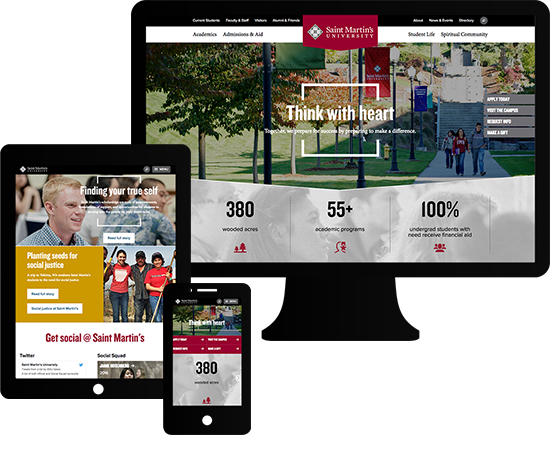 The new Saint Martin's University responsive website, built on Drupal7, was designed to address each of the project goals in various ways:
Visual Design
Information Architecture – Redesign user pathways on the application page using a segmented approach that promotes easier navigation through the application process.

Messaging and Photography – Create visual design allowing for better featuring of messaging and photography in order to more effectively communicate the school's values and community.

Calls-to-Action – Increase prominence of calls-to-action on homepage and program pages by placing them front and center, encouraging prospective students to click.
Content Strategy
Community Profiles – Feature student, faculty, and alumni stories throughout the website to help increase engagement while showcasing the student experience.

Content Management System – Implement pages with a high level of structural flexibility so that site pages are easily customizable, allowing for both better storytelling capabilities and showcasing of content.
Have a look at the new Saint Martin's University website and read all about how it happened.