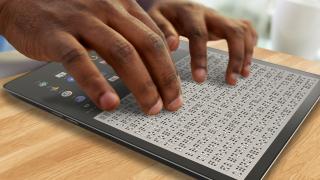 ADA Website Compliance: Preparing Your College or University Website
The best way to avoid an ADA compliance complaint is to review your content and ensure it adheres to accessibility best practices.
The American's with Disabilities Act was first passed in 1990, at a time when the internet was still in its infancy and the bill was focused primarily on physical spaces. Over time, the bill has adapted to creating accessible spaces in the digital world as well — as have the penalties for failing to do so.  
The intent of ADA compliance is to provide "full and equal enjoyment" to people with varying levels of physical and mental abilities. This includes individuals using assistive devices – such as screen readers for vision impairment – as well as those that can't use a mouse and keyboard to navigate.
As is the case for physical spaces, citizens can file a complaint with the federal government against digital properties that are in violation of the ADA act.
ADA Title III Compliance Complaints Are Growing
In the past year, the number of ADA complaints has risen steeply: "The U.S. Department of Justice (DOJ), which enforces [ADA] Title III, received 6,391 accessibility complaints in fiscal year 2015 – representing a 40% increase over claims in the prior fiscal year."
The DOJ does not break out ADA website complaints from ADA physical complaints. However, The University of Minnesota maintains a list of ADA website complaints filed against schools. Currently, they count 31 school with complaints against websites.
What Does ADA Website Compliance Mean for Colleges and Universities?
In June 2016, The Department of Education Office of Civil Rights reached settlements with 11 schools and school districts with complaints filed against them for lack of accessibility on their websites. The DOE provided some general summaries of the issues identified:
Lack of alt-tags for images – Alt-tags provide a description of images for those who are blind or have low vision and are using a screen reader to access a website.
Videos missing accurate captions – Videos need subtitles, captions, or alternate text so people who are hearing impaired can still ingest the content.
Bad color combinations – People with certain vision impairments — like color blindness — have more difficulty perceiving content with certain color combinations.
​Content only available by mouse – The entire website should be accessible by keyboard to meet W3C requirements and allow people lacking fine motor skills to access all information.
What to Expect if an ADA Website Compliance Complaint is Filed Against Your College or University
We reviewed the 11 agreements between the DOE and the schools or school districts to understand what would be expected in bringing a website into compliance. The DOJ asked each school to agree to the following:
Meet level AA requirements in the W3C Web Content Accessibility Guidelines. Level AA compliance includes many more requirements such as providing multiple ways to find pages, precise minimum contrast requirements, using logical order for content and audio descriptions for videos.
Make their websites and all content and functionality fully accessible. In addition, they must administer annual training to staff who work on the site like content developers, webmasters, and procurement officials.
Provide a notice on their site with instructions for reporting accessibility issues. This must be prominently displayed throughout the site.
Create policies and procedures for new online content and functionality, including quality assurance procedures.
In addition, the US Department of Education required these schools to engage a knowledgeable and experienced auditor to help them identify accessibility issues on their sites.
Client Example: ADA Website Compliance
In 2017, we worked with an education organization to respond to a complaint filed with the Department of Education. The original complaint detailed ADA issues on only a handful of pages out of over 500 total pages. The school was required to respond, in writing, to the Department of Education with information about their processes for ensuring Level AA compliance. Working with the web team and the organization's legal team, we assisted in minimizing risk and putting a sustainable process in place to maintain compliance:
Preliminary Evaluation. We reviewed the pages that were out of compliance and identified the root causes of the issues. These issues related to alt tags on images, language in text links, and color contrast issues (i.e., light gray text on white and white text on light colors). We fixed all identified issues.
Legal Consultation. We worked with the client and their legal counsel to explain the nuances of ADA compliance and website development best practices.
Issue Resolution. Based on the preliminary evaluation, we resolved the issues on the website before the client was required to respond to the Department of Education.
​Policy Development. In conjunction with legal counsel, we provided strategy and technical input into our client's draft policy that was required to be submitted to the Department of Education.
Challenges in Resolving ADA Website Compliance Issues
Lack of standard testing tool. One key challenge is that there is not a standard or clearly identified testing tool. Through our engagement with the Department of Education, we are familiar with the tools that they are using to evaluate a site for compliance.
ADA compliance is not just a technical issue. While there are technical aspects to the work, many of the fixes have related content and design issues. For example, we had to adjust link language on our client's site to make it less generic. We changed "Read More" to include more descriptive language like "Learn More About Our Faculty." And, we adjusted some of the site's colors to bring them into ADA compliance with contrast rules.
​Third-Party Applications. Most websites today aren't just designed, built, and controlled by a single organization. Websites include embedded content from other online services — job boards, news feeds, etc. — and from social media. Since there is limited access to the code, it requires workarounds. For example, Instagram photos don't come in with alt tags by default, we needed to use special coding to programmatically add alt tags.
If your college or university is not thinking about ADA compliance, it's worth starting a conversation in your organization to begin putting some of these ADA review processes in place. With some early analysis, your school can understand the level of effort to bring your site into compliance and get ahead of any compliance issues to better serve your entire community.