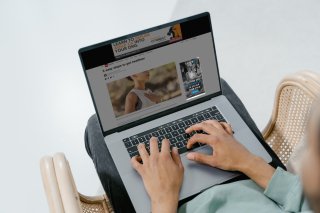 5 Eye-Catching Blue Cross Blue Shield Health Insurance Ad Campaigns
Blue Cross Blue Shield affiliates are a powerful force in health insurance, collectively serving over 115 million Americans. What can we learn from a look at some of their more noteworthy digital advertising campaigns?
Online health insurance advertising campaigns have long been a popular strategy for building brand awareness and affinity. While much insurance is employer or government-paid, many consumers still have the option of choosing their specific insurer or plan. If you're buying your own insurance, you're even more empowered with choices. 
Auditing Health Insurance Ad Campaigns
Our audit of digital health insurance advertising campaigns centered on Blue Cross Blue Shield affiliates. There are exceptions, but from experience, these affiliates tend to be large and sophisticated marketers — easing our search for campaigns worthy of celebration. Within this universe, Oracle's Moat platform helped us find campaigns ranging from business-to-business efforts focused on employers to entire campaigns targeting health professionals seeking new jobs.
We hope you enjoy and learn from these 5 consumer-focused health insurance advertising campaigns that caught our attention for being particularly interesting, unusual, or insightful.
Blue Cross Blue Shield of Arizona
Attention is a scarce commodity on today's web. Lacking it, how effective can an online ad's messaging and call-to-action possibly be? BCBS Arizona's use of bold and non-traditional colors and visual elements — along with simple messaging — help these ads break through our mental filters. On a web full of cliched advertising, these ads don't feel like ones you've seen before.

We're drawn to the icon-like people in these ads, too. Vividly illustrated but still abstract, their colors and shapes speak well to diversity and inclusivity. We noted the Arizona-inspired orange and blue color palette echoed on the BCBS Arizona website. Strategic cohesiveness like this helps strengthen brands. There's a lot to like here.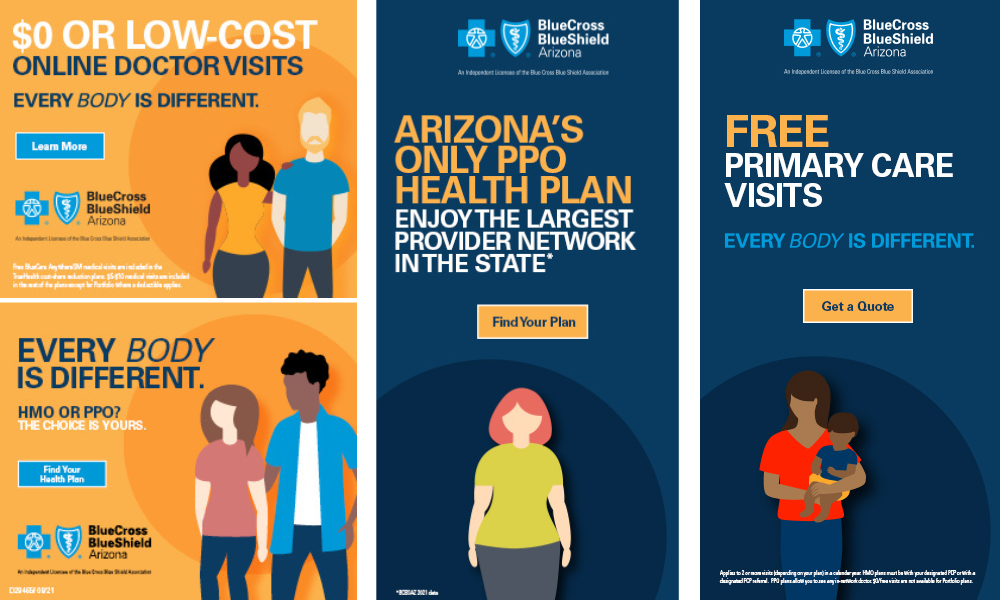 Blue Shield of California
"Black-and-white images can lead consumers to focus on the abstract, essential, and defining components of a product. In contrast, color images can draw attention to the concrete, sometimes unimportant and idiosyncratic features of the product," observed Ohio State University researcher Hyojin Lee and his colleagues in a 2015 journal article.
We like this insight a lot. The moments depicted in this Blue Shield of California campaign take on a significance in black-and-white that we wouldn't have otherwise expected. The moments feel important and remind us, perhaps subconsciously, of the importance of health insurance for ourselves and our loved ones. These health insurance ads caught our attention, indeed.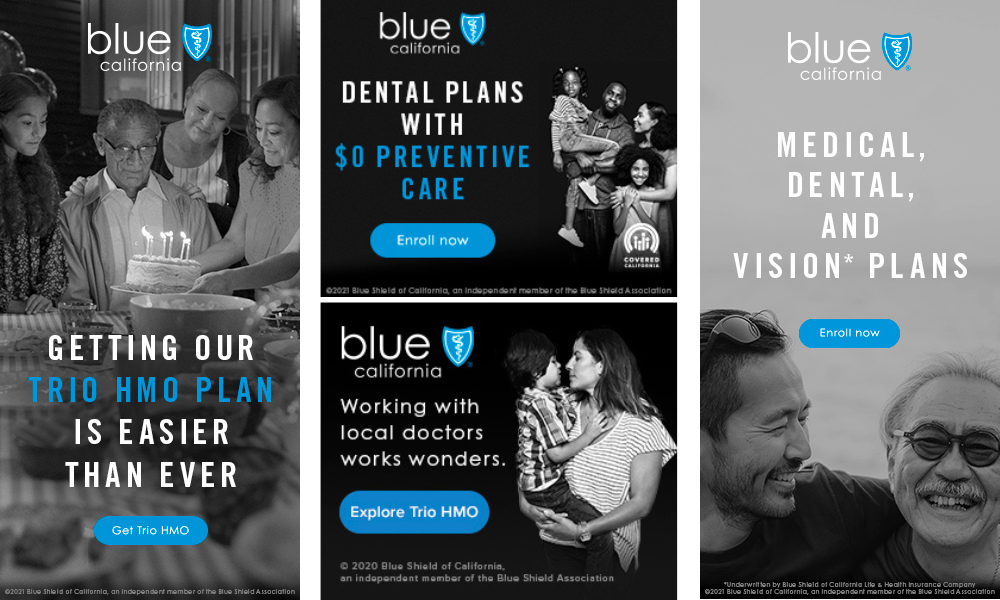 Blue Cross Blue Shield of Massachusetts
We like the authentic feel of this campaign from Blue Cross Blue Shield of Massachusetts. Stock photos abound online, many of them unfortunately generic and trite. As we reviewed this campaign, these photos felt powerfully real and original. Our hunch proved correct: with a little effort, we tracked down Stephen and Andrew from the popular television ads that aired in Massachusetts. They're indeed real New Englanders.  
Beyond this authenticity, we also admire the campaign's consistency of messaging and design across channels. There's a large body of research indicating that integrated campaigns outperform those limited to only one media channel. They can also stretch your production budget.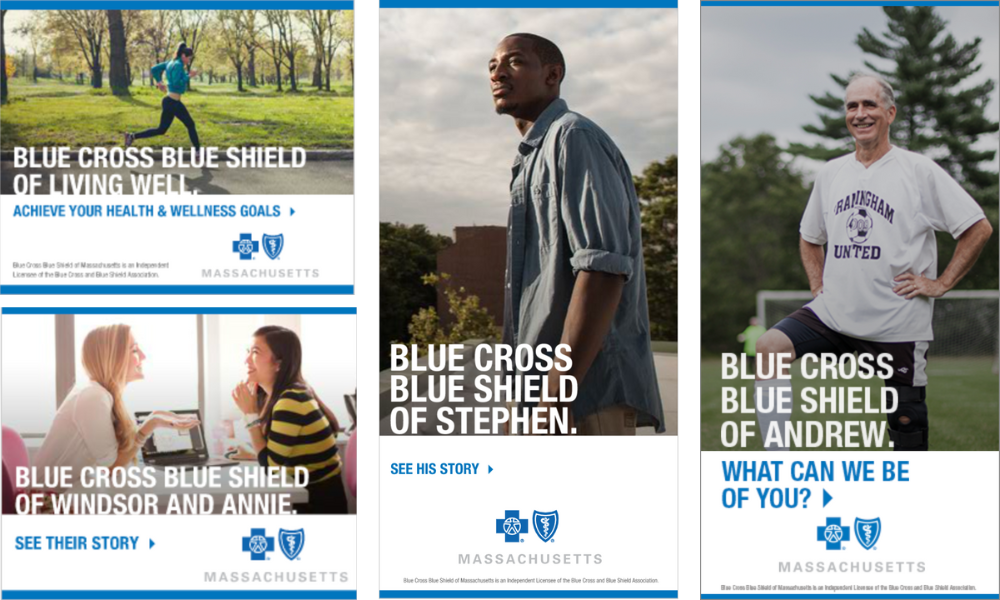 Blue Cross Blue Shield of Tennessee 
The clean simplicity and single-minded messaging of this campaign from Blue Cross Blue Shield of Tennessee resonated strongly with us. We reviewed several other campaigns that suffered from avoidable problems like cluttered designs and overly complex messaging – less is often more when communicating and persuading.
The intergenerational moments captured here appealed to us, too. Health insurance and the peace of mind it provides are important for everyone, young and old. Beyond ourselves, the campaign subtly encourages us, to think of our loved ones who need us healthy. There's some powerful messaging here.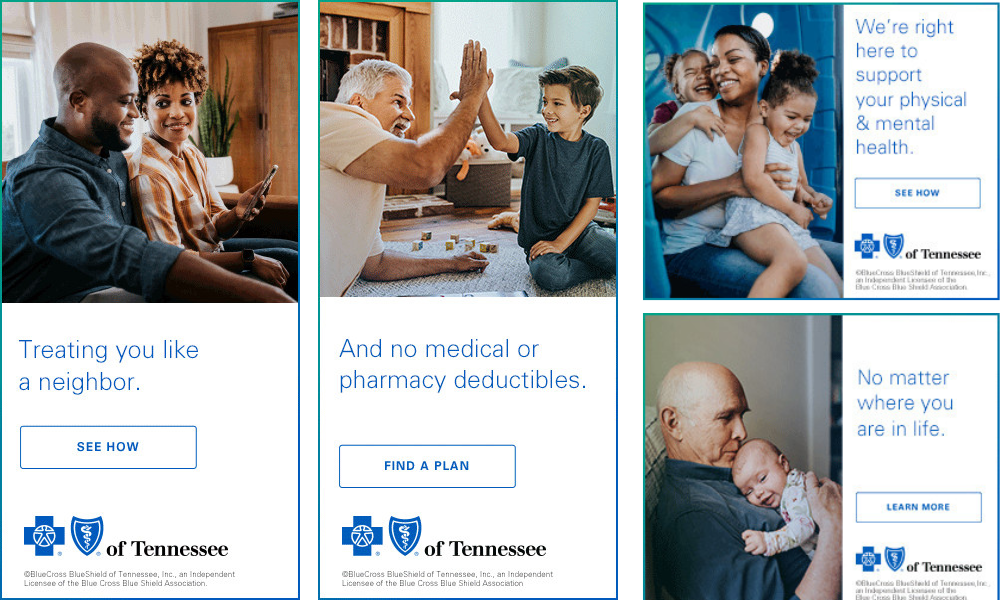 Blue Cross Blue Shield of North Carolina
Health insurance isn't necessarily a fun topic for consumers. We like this campaign from Blue Cross Blue Shield of North Carolina for reminding us that we purchase insurance as much for our loved ones as for ourselves. Joyous family moments capture this sentiment quite well. Who can't help but smile upon seeing these ads?
We also admire the campaign's diversity and inclusiveness. Love of our families and caring for them transcends skin color or language. All advertisers would do well to reflect the lives of their consumers in their messaging and design.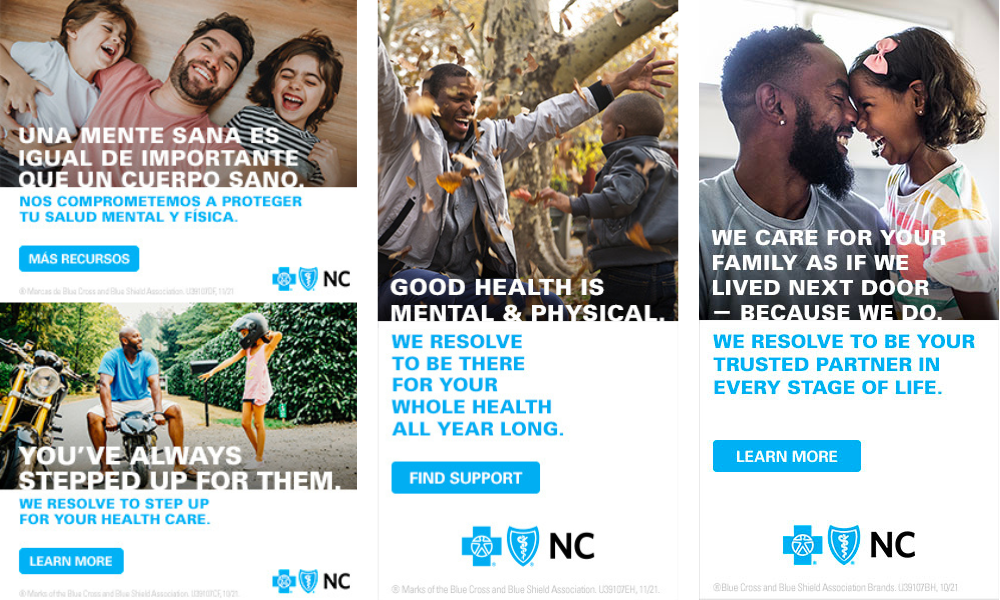 Did we overlook a Blue Cross Blue Shield or other health insurance ad campaign that's a favorite of yours? We'd love to hear about it.