OHO
USC Rossier School of Education
Attracting and Training Education's Future Leaders
Elevating the prestige of USC Rossier with a refreshed website aimed at promoting research, engaging educators at all levels, and helping prospective students find the best fit program.
Website Redesign
Content Strategy
Digital Strategy
Services
Strategy
User Experience
Visual Design
Content Strategy
Drupal Development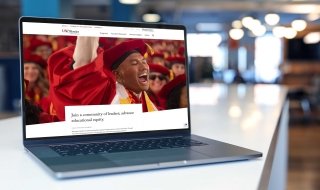 Extending and Evolving the USC Brand
To elevate the prestige of the school, USC Rossier sought a more sophisticated visual design that moved beyond the brick red, gold, and yellows. Beginning with the brand styles, we evolved the application of the colors, added fresh accent colors, and introduced new shapes and graphic treatments that reflected the southern California location and echoed the architecture on campus. We presented two concepts – "Shaping Tomorrow, Today" (left) and "Doing the Work Together." (right).
A Homepage for All Audiences
The new homepage captures and reflects the community of USC Rossier through images and thoughtful content strategy that levels up to the brand pillars. The layout gives priority to prospective students with direct access to the program finder. To highlight Rossier's impact in education, the homepage highlights research articles and topical news stories related to current education issues.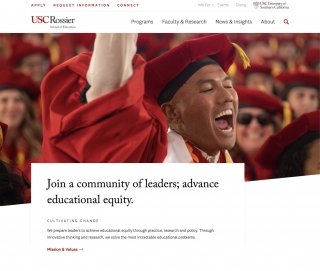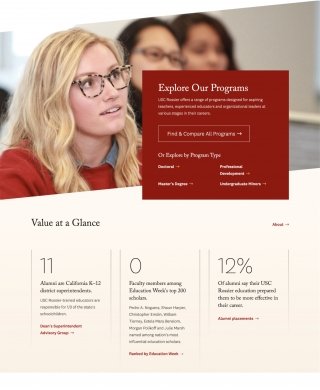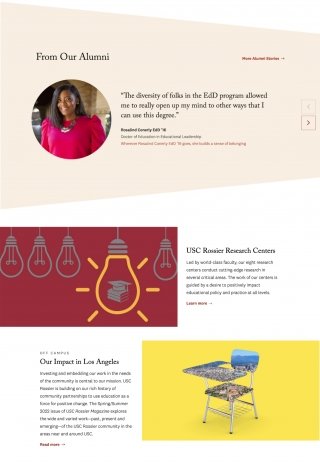 Helping Prospective Students Find Their Path
The program finder guides prospective students to the best fit program and allows them to compare up to three programs side-by-side.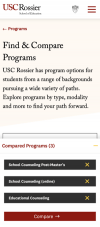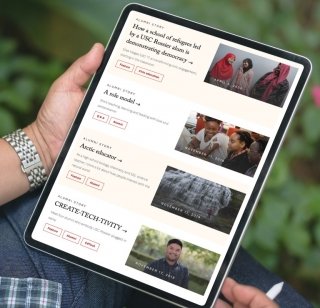 Incorporating Student Outcomes
Prospective students want to know what they can expect when they complete their program. Showcasing alumni stories throughout the site helps prospects get a sense of how attending USC Rossier can impact their career prospects.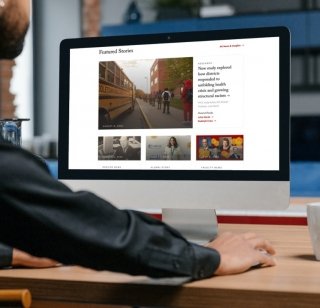 Emphasizing Thought Leadership
The updated News & Insights section applies a more sophisticated, editorial look-and-feel to reinforce the perception of USC Rossier as a thought leader.