OHO
Champlain College Online
Full Funnel Digital Marketing
For both our website redesign and digital marketing campaigns with Champlain College Online, lead generation was paramount. But it wasn't just about increasing lead volume – it was about focusing on quality to find the right leads who were ready to enroll.
Website Redesign
Digital Marketing
Services
Digital Marketing
SEO
Strategy
Visual Design
User Experience
Content Strategy
CMS Development
Ongoing Support
Diversifying Marketing Efforts
Instead of focusing on just the top of the funnel, we optimized Champlain's marketing efforts across their entire digital footprint.
Increase in graduate enrollments (YoY)
Doubled organic traffic in 12 months
Increased PPC Conversion Rate (YoY)
Increase in website leads following the website relaunch
Decrease Cost-Per-Acquisition (YoY)
Increase in leads from organic search following the website relaunch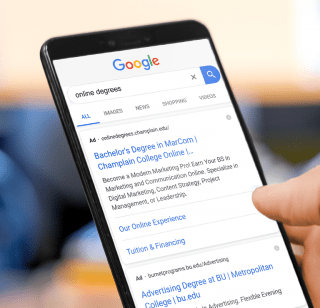 Paid Search
Thoughtful, precise keyword and regional targeting helped Champlain use Google and Bing to reach only the prospects that were most likely to convert.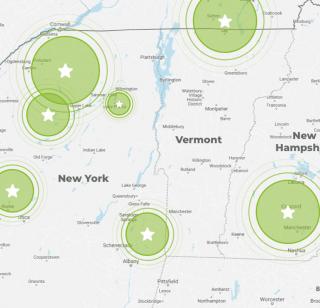 Geofencing
Geofencing high-traffic areas — airports, movie theaters — in their target markets raised brand awareness where it mattered most and reinforced out-of-home advertising.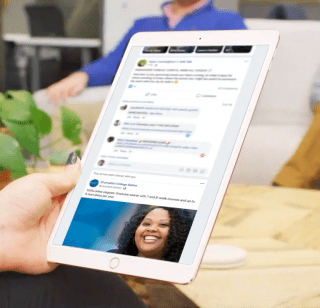 Paid Social
Social efforts included lead generation using unique downloads as well as website retargeting, which both deliver Champlain's message to specific prospect pools.
Optimizing the Website for Conversion
Following the launch of paid campaigns, we partnered with the internal team to reimagine and fully redesign the Champlain College Online website to produce leads from direct and organic traffic and to nurture prospects already touched by paid media. We combined new brand messages developed by the marketing team with an information architecture and visual design grounded in the customer journey of adult learners.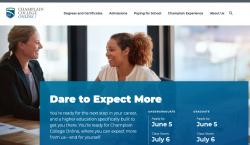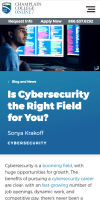 Degree program pages are the core of the site and a primary destination for prospects. To meet the user's prioritized needs, we assembled a program page that brings all of the relevant content together in one location – requirements, courses, outcomes, testimonials, and affordability messages. Embedded calls to action with upcoming deadlines add a sense of urgency and transform informational pages into lead generation pages.


Amplifying Blog Articles
With the marketing team already successfully executing on a blog strategy, we extended the reach of this asset by more elegantly integrating the articles into program content and highlighting program offers within the blog. With our monthly search engine optimization (SEO) memos, we helped Champlain College Online's editorial team find new topics to drive more traffic at the top of the enrollment funnel.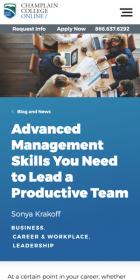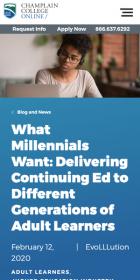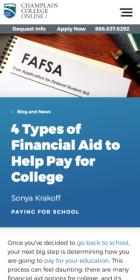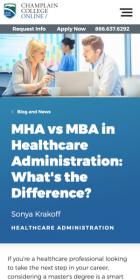 After meeting OHO, I knew I really wanted to work with them. OHO has become an extension of our talented internal team. They roll up their sleeves and work with us seamlessly. OHO brings savvy, creativity, accountability, and an investment in our success.