Rating the New Federal College Scorecard Against Other College Comparison Tools
A look at how the new College Scorecard from the Federal Government stacks up agains other comparison sites like Chegg and Big Future.
Last weekend, President Obama released a new version of the college scorecard. This updated scorecard replaces an earlier version which focused on ranking schools and, as The New York Times put it, was designed "with the aim of publicly shaming low-rated schools that saddle students with high debt and poor earning potential." The intended goal of the scorecard was to replace popular college and university rankings like that of the U.S. News and World Report's annual list.
How Prospects Use College Comparison Sites
While the college scorecard site is filled with a wealth of data, we were curious to see how it stacks up against similar sites including Chegg and Big Future from the College Board. Research shows that prospective undergraduate students and their families rely heavily on third-party sites like Chegg and the College Board during their research and information gathering phase.
The One Standout Feature
Each of these comparison sites have valuable tools and useful features for prospective undergraduate students navigating their research and information gathering process, but there are some unique details that help each site standout and differentiate their user experience against the others.
Federal College Scorecard: Salary After Attending
The new college scorecard allows students to sort and compare schools by their future earnings potential 10 years post-attendance. It shows the "median earnings of former students who received federal financial aid, at 10 years after entering the school." While the other third-party tools have some of this same information, the extended time frame of this data makes it more useful for prospective students, particularly those considering the long-term impact of attending a specific college or university.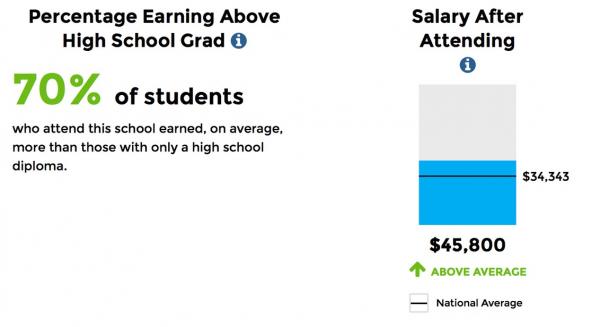 Chegg: What are your chances?
Despite the rise in the past few years of the number of applications prospective students complete, they still want to make sure they have realistic ideals. Chegg's site features a tool that helps potential applicants understand what their chances of getting accepted to a school are.
Prospective students use the chances of admission feature to assess a school and decide whether they will add it to their list, which then drives them to continue on to the school's website for additional research. While all three sites - College Scorecard, Chegg, and Big Future - offer GPA and test score data, only Chegg provides an interactive tool that assesses a prospect's chance of admission by having the user enter in GPA and test score data.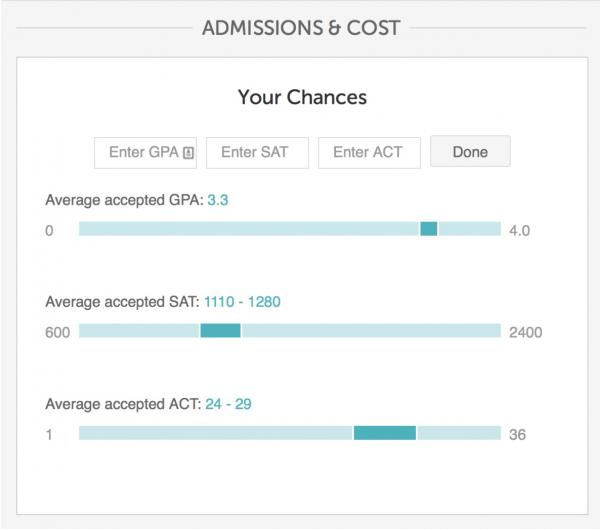 College Board: Breadth of Data on the Student Experience
The College Board may not have one standout feature, however the overall breadth of data about each college and university, as well as campus life make their site a powerful tool for prospective students. The site provides the most comprehensive view of the school and student life experience including housing, dining, sports, and specific majors.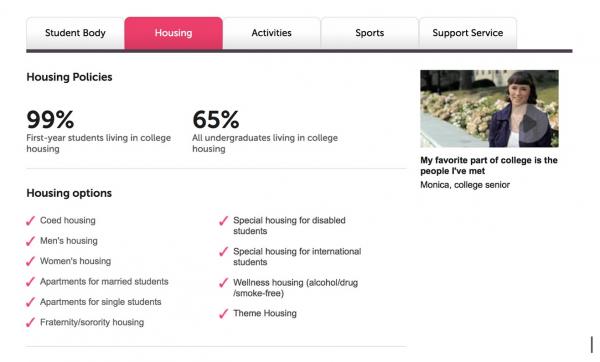 Our user research has shown prospective students are looking to understand what their college experience will be like on a day-to-day basis. By providing all of this information in one spot, the College Board site is most useful to prospects at the start of the college selection process.
The Federal College Scorecard & Financial Cost and Aid
While there has been a lot of focus recently on the cost of higher education, these comparison sites do only an average job of providing information that can help families estimate and manage college costs.
Let's assume a prospective family is using all three comparison sites in addition to individual college and university websites in order to get a full picture of the cost and student experience. They might first notice that it's not easy to find comparable data. Each site slices the data slightly differently which means the user has to pay very close attention to make sure she is comparing apples to apples.
When it comes to cost – this example is looking at the University of Massachusetts Amherst here – the Federal College Scorecard site does not provide tuition, which makes for a very incomplete picture of aid and indebtedness since it only reports on Federal loans.

All three comparison sites push users to a net calculator (which happens to be in desperate need of redesign) to find true cost. However, Chegg and the College Scorecard attempt to estimate a Net Price. Overall the College Scorecard does a better job of breaking out this price for users.
Improving the Federal College Scorecard
The College Scorecard gets overall high marks for providing a wealth of data in a simple interface on a mobile ready site. There's certainly room for opportunity when it comes to adding additional features like:
Two school side-by-side comparison
Ability to use familiar names for schools. For example the current search does not return results for "UMASS." Instead, we needed to search for "University of Massachusetts"
Ability to show a list of specific majors
While the scorecard makes great strides in providing more data, education policy professor Sara Goldrick-Rab sums up our assessment perfectly: "It's good information to have, but it doesn't tell an individual student what to do." As always, that decision remains with the prospective student.
For more on the College Scorecard, check out:
Four Ways Higher Ed Must Respond to the New College Scorecard