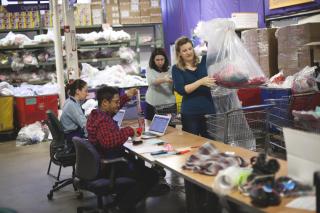 OHO's Annual Volunteer Day: Cradles to Crayons
I started with OHO in November of 2015 and one of the first calendar invites I received was an invite to OHO's Annual Volunteer Day.
I started with OHO in November of 2015 and one of the first calendar invites I received was an invite to OHO's Annual Volunteer Day. I was excited even though I didn't really know anyone yet, but as it turns out this was probably the best possible introduction to both the folks at OHO and the company in general. Whether through Content, UX, or Development, OHO is the sort of place that takes pride in the impact of our work, and volunteering gives us a chance to get out of our heads and give back to our local community.
For the past few years OHO has been volunteering at Cradles to Crayons, a charity with the mission of providing children ages 0 to 12 with all the basics they need to learn and grow — clothing, winter-wear, school supplies, books, toiletries — all free of charge. They are a great organization with locations in Boston, Philadelphia, and Chicago, and I highly recommend you look into them as a partner when thinking about your own charity events, whether that be through donations, volunteering, or both!
Numerous Ways to Give Back
There are a number of jobs for volunteers at Cradles to Crayons and volunteers participate in everything from inspecting donations to sorting them by item to packaging them up into customized bundles for individual children. During our visit, we were given a 'shopping list' to navigate the donations, all organized by item and size, to create personalized "KidPacks." A pack might be for a toddler looking for a winter coat, some mittens, and some new books, or it could be for a child just starting school in need some some markers and winter boots. Every pack we made was individual, because every child's needs are individual.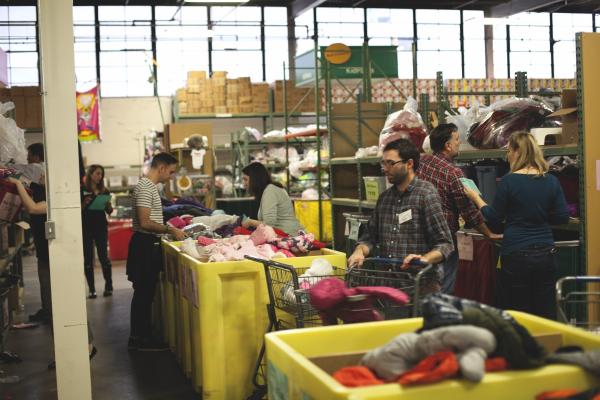 At OHO we try to have fun no matter the task. I worked with Jenny, another Project Manager, and we made a game out of matching our items as best we could. We even got a compliment on our matching from one of the volunteer coordinators! True, this isn't the point, but it's always important to have fun while doing good work and Cradles to Crayons definitely agreed.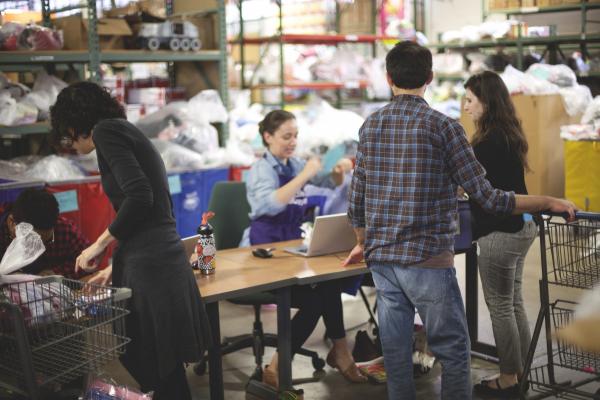 By the end of our two hours, OHO was successful in creating KidPacks for 107 kids! As people who work in interactive development, we love to see the impact of our work on the end-user, and Cradles to Crayons does a great job showing you the importance of your work to the children you're serving. We're grateful for the experience to work with such a great charity, and we'll definitely be back.
If you'd like to volunteer for a 2 hour shift with Cradles to Crayons, check out their Volunteer Page here. Volunteer stations cover a range of activities, and volunteer tasks are appropriate for individuals, community groups, or corporate groups. If you can't make it, you can always donate your goods. Check out more information on how to donate here.