Northeastern School of Law Launches Integrated Marketing Campaign
Making your way through law school is no small feat, but these days what happens after graduation can be the real challenge.
The job market for newly minted lawyers is incredibly tight, so law school students are scrutinizing schools more carefully than ever before making their selection. They want to be set up for success when it comes to finding their first job in the field. One thing many have come to recognize is that experiential education prepares them for what's ahead more effectively than other education methodologies.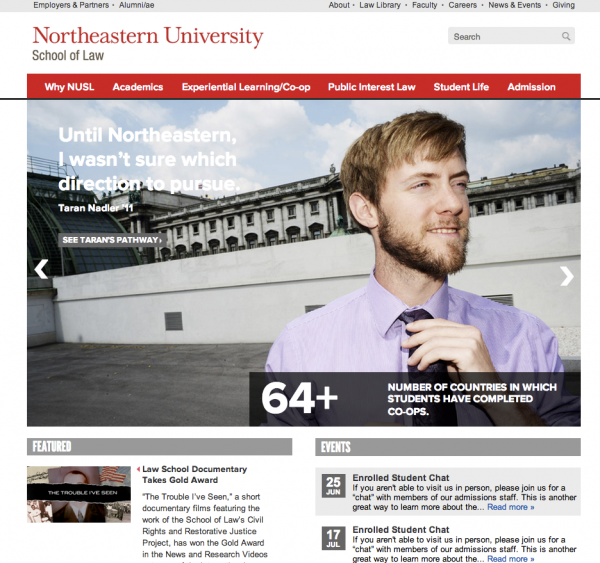 Northeastern University School of Law (NUSL) has been offering students a collaborative educational experience for more than 40 years. Their Cooperative Legal Education Program, also known as Co-op, allows students to graduate with real job experience on their resume and built-in references. NUSL wanted to feature this unique program and all of its benefits in their marketing communication efforts. They also sought to highlight their public interest law commitment, access to faculty, exceptional diversity, and their supportive and positive environment.
Site Design
In order to design and build a site that effectively communicates NUSL's values and benefits to prospective students, OHO conducted internal and external interviews as well as a competitor audit. This helped us understand the most critical information that prospective students are expecting to find when they visit a school site and what their most important program evaluation criteria are. Research revealed that top of mind for prospective students was understanding the return on their education investment. Will they be able to find a job after graduation?
To illustrate how the Co-op program prepares students and how they have leveraged their experiential education, we worked with NUSL to showcase the individual pathways of a number of graduates. These pathways provide detailed examples that give prospective students a sense of how they can use their NUSL experience to build the career they want.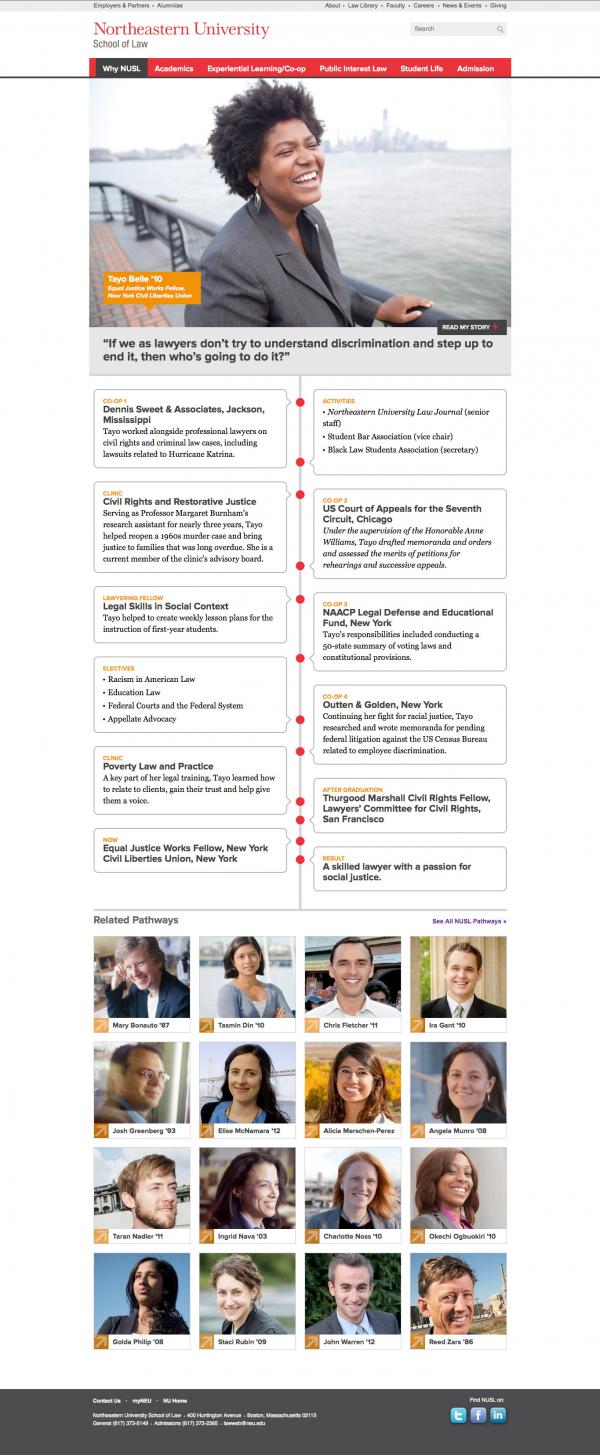 Creating an integrated campaign with NUSL was a great opportunity to bring together multiple mediums to communicate one cohesive message. Once the messaging platform was determined, the content strategy took shape. In addition to the new site, which was built on the Hannon Hill Cascade CMS platform, we created a viewbook and video.
Viewbook
In addition to the site design, OHO and NUSL worked together to create a Viewbook that communicates the unique benefits of the school. This print piece was used by the NUSL Office of Admissions for the 2012-2013 mailing campaign. Ultimately the viewbook was digitized through a partnership with Zmags, allowing it to reach an audience beyond those on the mailing list.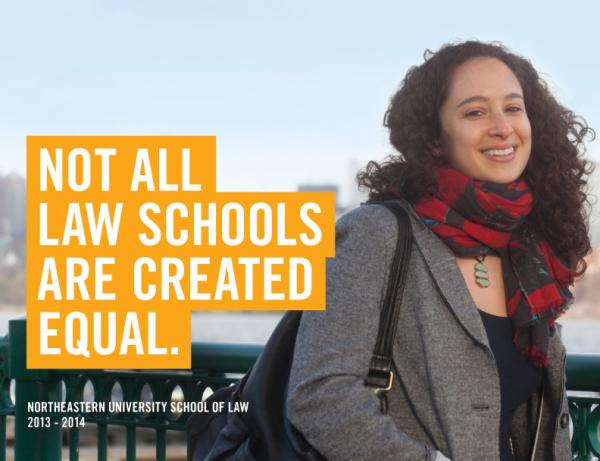 Video
NUSL wanted to feature student testimonials in the integrated campaign as they are an incredibly powerful tool in communicating the importance of the Co-op as part of the overall program. We worked together to create this short video highlighting the opportunities that a number of students have been able to work into their education.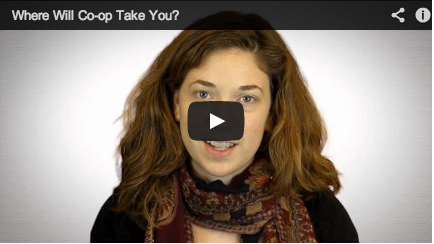 The site redesign, viewbook and video form a seamless integrated marketing campaign that makes clear the benefits of a NUSL education to prospective students and answers the most important questions in their decision making process.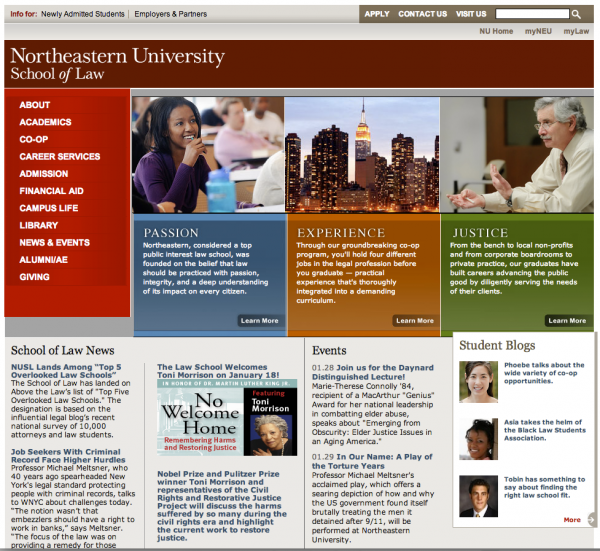 To hear what it was like to work with OHO on the new NUSL site, check out this video. To see all of the NUSL site features or learn more about the school, visit northeastern.edu/law.