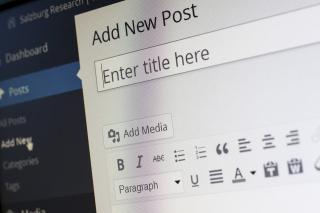 Mobile Marketing for Higher Education
Here we share five ways to approach mobile marketing at your higher education institution.
"Thanks to mobile, micro-moments can happen anytime, anywhere. In those moments, consumers expect brands to address their needs with real-time relevance." Google challenges digital marketers to identify these moments for their unique mobile visitors and ensure that these consumers can achieve both their goals and yours.
Google defines "micro-moments" as "I-want-to-know, I-want-to-go, I-want-to-buy, and I-want-to-do moments… to take action on whatever we need or want right now… These are loaded with intent, context, and immediacy." When added together, these moments ultimately determine how the consumer journey ends.
Google also coaches us through "5 questions to ask yourself about your mobile strategy":
Is a mobile strategy a company-wide (institutional/university-wide) priority?

Is your site performance up to speed?

Are you using the right solutions?

Are you continually testing?

Are you thinking like a customer?
In higher education, with more competition for our audiences' attention than ever, we need to capture and engage the increasing 38% of visitors who visit from their phones (up 14% in 3 years, according to Google Analytics benchmarking data for colleges and universities). International students heavily engage with the university on mobile. More and more seniors and juniors complete Request for Information (RFI) forms on their mobile devices. "Dark social" (traffic to your website from text messaging apps and other non-trackable mobile apps) continues to increase as a traffic source. Over the past two years, mobile searches with the qualifier "for me" have grown over 60% and with the qualifier "should I" have grown over 65%. And generally, mobile users say that their phones help them feel more productive, confident, and prepared.
You've worked hard to optimize your website for mobile, but is your marketing strategy optimized to match the behaviors of these visitors? Can those who use their phones get to what they need — and can they complete your goals? How can you ensure you don't lose these visitors, but rather, win them over?
First, become the user! Conduct an exercise where you investigate what micro-moments they could have as they engage with the school, aligned along the prospective student journey, and all on your phone. Here's an example:
| | | | | | |
| --- | --- | --- | --- | --- | --- |
| BECOME AWARE | CONSIDER | EVALUATE | BUY | ENJOY | ADVOCATE |
| Searches for college rankings on Google | Visits college website to see college majors | Registers for an upcoming preview day, then looks up directions to campus on Google maps | Checks application status | Follows the University on Instagram | Shares Magazine story on Facebook |
Be your user and attempt to complete these transactions on your phone. Is the process easy? Can you complete all these tasks efficiently? Where do you hit roadblocks? How do you feel through this process? This exercise can help you prioritize where to start. After you walk through this exercise, here are 5 approaches to your mobile marketing strategy to get you started.
1. Use Analytics to Establish Your Own Mobile Persona
Use a mix of Google Analytics and user testing to understand how your mobile users engage with your website and complete tasks.

​After creating a mobile segment in Google Analytics, research these metrics:

Time on site, bounce rate, pages per session, and location

Traffic sources, specifically AdWords, social, and email

Top landing pages from organic search

Internal search keywords

Event and goal completions
2. Optimize Your Website for Mobile Conversions
Conduct a mobile-friendly test through Google's testing tool.

​Take a mobile-first or mobile-equal approach to your web design.

Check out our work with Blythedale Children's Hospital and the Dartmouth Capital Campaign. For both projects, mobile visitors were a key target audience. For Blythedale, mobile visitors (60% of all traffic) need to be able to complete key transactions. For Dartmouth, campaign promotions come heavily through social and email, thus requiring sleek pathways on the website from users' phones.
3. Establish a Search Strategy that Prioritizes Mobile Visitors.
Site speed is a factor in Google's mobile search ranking. Conduct a site speed test.

Audit your organic search rankings, digital footprint via Google properties, and improve your results.

​To dominate the search engine result pages (SERPs) for your priority branded and non-branded keywords and queries, integrate a paid search strategy into your brand awareness and lead generation efforts. For example, bidding on branded search queries can bring your users closer to conversion since they are in the consideration/evaluation stage.

​​For more: Refer to our SEO checklist for higher education.
4. Messaging Apps
Gen Z uses messaging apps more than native text apps to send messages, thus contributing to "dark social" mobile traffic. Integrate messaging apps into your community management for social media, like Facebook and Instagram. It will serve as a critical customer service channel at points of high engagement.
5. Mobile Website Personalization
Use a website personalization engine to identify mobile users and customize their experiences to help them find information and complete tasks faster through relevance, consumer journey, or CRM-driven tactics.

For example, consider supporting your campus visitors by personalizing the web experience. Did they visit the website from a mobile device? Are they on-campus? Are they not logged into the campus network? Assume this is a prospective student, parent, or alum navigating your campus; then, on the homepage, replace the hero and main calls-to-action with campus information, directions, and events.
Key Takeaways
Dive into your mobile-specific data to gather some insights.

Prioritize and focus on improving one audience at a time, one channel/platform at a time.

Start small, but think long-term.

​Mobile-friendly is a step in the right direction, but strive for mobile-equal.
Gene Begin, Vice President of Marketing & Communications at Wheaton College in Massachusetts, contributed to this blog post.