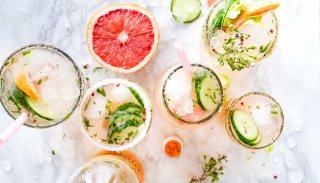 Mixology 101
A Compendium of Higher Ed Themed Cocktails and Mocktails
Raise a Glass With Your Higher Ed Colleagues
What if the Summer Melt were a delicious libation instead of a maligned enrollment phenomenon? Or Budget Cuts came with a watermelon garnish instead of "other duties as assigned?"
We've compiled some of our favorite higher-ed inspired cocktails and mocktails into a handy booklet, to share with our colleagues in higher education. We hope you'll enjoy making (and drinking) them with your industry peers, and we promise that our version of the 2AM Smoke Alarm is at least 1,000x better than its namesake.
Download the Free Mixology 101 Booklet
Download Colleges Against Insanity Game
The drinks in our Mixology 101 booklet pair very nicely with our popular Colleges Against Insanity card game! Download and print the original version to enjoy with your team today.