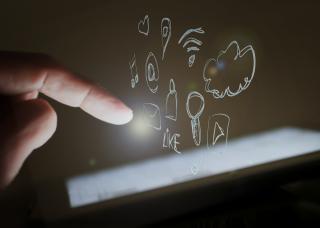 Measuring Social Media Success in Higher Education
A panel of social media strategists from Lesley, MIT, and Harvard share their insights into defining and measuring social media success at their institutions.
What's considered a "success" in social media? 
Is it the number of likes a post gets? The ratio of retweets to impressions? The overall quality of the discussion? A net increase in followers over time? 
Yes to all of those, but it's more than just tangible data points, as was discussed during OHO's 2019 Higher Education Digital Marketing Bootcamp. 
During a social media panel, Jenny Fowler, Manager of Social Media Strategy at MIT, Kimberly Moniz, Digital Communications Coordinator at Harvard University, and Emily Earle, Social Media Specialist at Lesley University joined me to discuss some of their tactics in reporting successes.
Social Success Beyond the Numbers
Across the board, the panelists stressed how important it is to elevate social media successes that don't fit into conventional analytics reporting. Even if a particular campaign didn't perform well by the numbers, it's still a success if it caught the attention of a specific individual (or group of people) you've been targeting, allowed you to experiment with some innovative forms of storytelling, or brought together teams from across campus in ways they'd never collaborated before.
When it comes time to report out on social media, numbers are still very important — all of our panelists agreed that's where they start. But it's not just flat out rows and columns of numbers. A report of numbers is not going to catch anyone's eyes, even if you're reporting the best month ever. Instead, make the report meaningful. 
For Fowler, it's calling out a single metric per platform in her monthly report. "We measure things like interactions per YouTube video per month. Just one very specific metric," she said. "Then the other, I list our top Instagram posts or top Twitter posts."
Moniz agrees and with her weekly reporting, she also tries to keep it succinct. By using the tool CrowdTangle, she is able to give some of the stats context. "I can say to someone, 'This post had 3,000 interactions, but that made it four times as popular as an average tweet this week'," she explained. "So that it gives people some sort of metric to understand. That was a big number, but is it really big or is it kind of small in general?"
Another approach is to use screenshots and images of the posts to provide context. Earle said that while there are some people who are very numbers-focused, there are a lot of people receiving the report who are not. For them she said you need to deliver the information in a way that they understand. "I think that if you give them the right context, then the reporting, it speaks for itself," she said. "And if you're curating a digital story across campuses, then people are going to be engaged no matter what."
You Can't Measure What You Don't Define
What constitutes success differs from one college or university to another, and even from one campaign to another. If you don't have clearly defined goals and alignment on what you're trying to accomplish, you'll never know if you're social efforts are having the impact they should (and could). 
Perhaps you're trying to get your audience to recognize you school has a competitive basketball team. You have to create a plan to incorporate that message into the rest of your posts. But then knowing what the goal is, you know what to look for. Then it will happen. "You'll see it in the comments, after a while, people will comment, 'I didn't know you had a basketball team. Thanks for help' or 'Oh I didn't consider your university because I wanted to play basketball, but now that I know you give to scholarships,'" Earle said. These posts might not have the largest engagement or otherwise rise to the top of the reporting, but because you knew what your goal was, these comments can be marked as successes.
It doesn't always have to be the pictures with the most hearts that help you reach your goal, either. Moniz talked about a campaign Harvard ran named "My Harvard Story," in which students were asked to share pictures from their time at Harvard and then Moniz and her team asked the students questions that then highlighted their time at Harvard. Moniz admits, "They were not the best Instagram posts we've ever had." But, it's what happened in the comments where they knew they hit the nail on the head. "People understood what we were doing. And they were saying, 'This is a great story. I didn't know that someone from Louisiana had gone to Harvard,'" she shared. "So, it was getting our point across how Harvard had had an impact on these people's lives and was therefore rippling effect through the country and the world."
So a success can be gaining more followers or having high engagement on a post, but it can also be finding that one nugget comment in a post. It's all in how you look at it and what your goals are.
Share Your Social Successes, Don't Hide Them
When you live and breathe social media each day, it can be easy to forget that not everyone is as hyper aware of your feeds as you are. It's important not to take for granted that your leadership — as well as the rest of the faculty and staff — have the same level of insight and understanding that you do.
"If we see a really high performing post, I'll make sure that it gets out there, and that it's noticed," said Earle. "Because sometimes if they don't see it, then it doesn't exist." 
Whether it's firing off a quick email, or sharing a social post directly in Slack (or another internal messaging app), it's important to find ways to call out your social media successes in real time whenever you can. You and your team work hard to create opportunities for success with your social channels, and it's important that you feel confident drawing attention to those wins.