Higher Education Marketing: Prove Your Impact with End-to-End Reporting
What higher education marketers need to understand about end-to-end reporting and how to implement it.
Are Pandora ads worth the investment? Should I test out Facebook ads? Twitter? LinkedIn?
Today, college and university marketing directors face a dizzying array of advertising channels and lead generation tactics to entice prospective students to engage. Before your head starts to spin thinking about all of your options, I'll let you in on a little secret about online advertising.
Too often marketers ask the wrong question when evaluating these channels. The question should not be "Do they drive traffic?" but rather, "Do they drive business results?" and "Do they drive the right traffic?"
All of these channels – paid and unpaid – are designed to drive traffic. The real questions are: are you getting the right traffic and what happens to the traffic after the click.
To answer the more important questions about the real return on advertising and making decisions about how to invest, you'll need to make two changes to your approach to advertising:
Set up digital end-to-end reporting that will help you determine how effective your marketing programs are and demonstrate their impact

Create a culture of continual testing and refinement
What is Digital End-to-End Reporting?
Digital end-to-end reporting tracks the activity of a prospect through all of the touchpoints in the prospective student journey.
For schools, this reporting provides visibility from first contact to the first day of class, and it provides information at every stage in between: inquiry, application, acceptance, and matriculation.
It tracks the activity and influences of various marketing programs – website visit, email, phone calls – and offers the opportunity to glean insights about the effectiveness of marketing campaigns.
What's the Goal of End-to-End Reporting?
Simple – to understand which marketing strategies are the most effective at recruiting students. An end-to-end report allows marketers to know more than just how many clicks came from a campaign. With this type of reporting, marketers can learn that paid search generated:
X number of leads

Y number of applicants

Z number of new students
End-to-end reporting ties marketing efforts to actual revenue generation and allows marketing groups to demonstrate ROI.

Without end-to-end reporting marketers only know the initial impact of their work and choices – this ad created X number of clicks, but they have no idea if these they are reaching the right prospects that becoming paying students.
Making End-to-End Reporting Happen
Setting up end-to-end reporting requires connecting all of the systems that track a prospective student from first contact to inquiry to application to matriculation. For most schools this means connecting the data shared from marketing campaigns to website or campaign landing pages to a CRM and/or a student information system.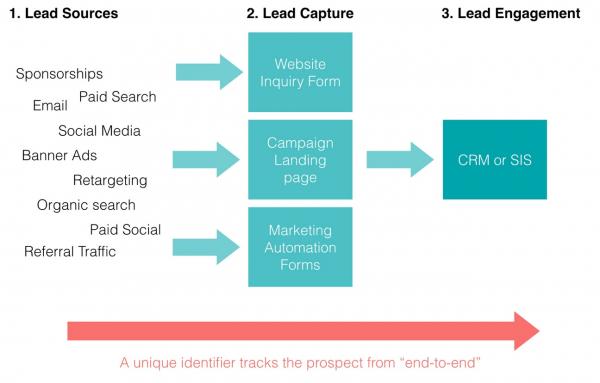 Following a prospect from end-to-end of your marketing funnel requires capturing a unique identifier from your lead source in your lead capture and then into your CRM system. As the prospect moves through, unique information can be passed along:
Specific ad copy

Placement of ad – LinkedIn, Google, Facebook

Anonymous customer journey – which of your website pages did they look before submitting an inquiry form?

Geolocation data

Content on landing pages

Quality of form

Content and frequency of drip email campaigns
The Challenge of End-to-End Reporting for Colleges and Universities
In higher education, multiple departments touch and own the data that is threaded through this process:
Marketing or an agency usually buys the ads

Marketing owns the website

Marketing or enrollment control the inquiry forms on the website

Campaign landing pages can be a third-party system like Hubspot

Frequently inquiry forms are sent immediately to the CRM – for which marketing has no access
The departmental silos result in departments purchasing their own systems of solutions that solve a single problem. The lack of collaboration and the proliferation of different systems and vendors results in fragmented and silo'ed data. The ultimate result is an incomplete picture of the prospective student journey and an inability to discern what marketing and enrollment strategies effectively move a prospect through the funnel.
The Culture Changes Required for End-to-End Reporting
Now, that we've covered the logistical aspects of end-to-end reporting, let's tackle the harder issue for higher education – the culture shift. There are four important changes that need to occur in order for higher ed to be successful with end-to-end reporting:
Agree that the goal of marketing is to reach prospects. This statement may seem obvious, but for some schools the projects undertaken by marketing groups achieve some vague communication goals.

Understand and define business goals. A business goal must be defined in terms of generating revenue, decreasing cost, or increasing awareness. A business goal must have a measurement: "Our business goal is to increase enrollment by 4%" or "Our business goal is to increase campus visits by 150 students." The culture shift for many higher education marketing groups is to define their business goal.

Get aligned behind one business goal – recruiting students. One of the biggest challenges to end-to-end reporting is that marketing and admissions groups are not aligned behind one goal.

Move beyond lead capture. One of the biggest shifts is moving beyond just thinking about getting names. Many admissions offices simply want names and email addresses to add students to the nurture campaign. With new data reporting in place, marketing and admissions can work together to improve the results and decrease cost of student recruitment.
End-to-end reporting requires a commitment from three separate groups – marketing, IT and admissions – to align behind a single business goal: increase revenue by recruiting more of the right students. End-to-end reporting provides the data to begin new conversations that leads to new collaborations.