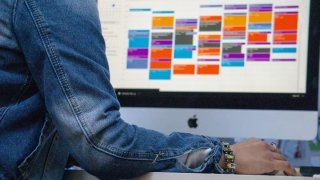 Editorial Calendar: The Heartbeat of Your Content Strategy
An editorial calendar ensures your website and other digital platforms stay fresh, accurate, and relevant for the long haul.
You can have a sleek website on a fancy platform, or a big new brand you're putting out there. But if a website user comes across outdated content — whether it is last year's tuition, the most recent news article dated 2019, the omission of your new campus from your locations, or prominent photos of students who have long since graduated — your fancy website and new brand matter little. Content issues like these immediately degrade the brand perception and user experience, and your user might bounce right then and there.
Content that is irrelevant, inaccurate, or outdated is a huge turn-off and can have a real negative impact. So how can we keep track? Because even a well-structured website can still be a massive entity to manage. As you think through your content strategy and identify the content you need to communicate meaningfully and sustainability, an editorial calendar can help hold you accountable to that plan and ensure that users are greeted with fresh, relevant information.
What is an editorial calendar?
An editorial calendar is a tool for organizing and planning content publishing on your website. You may first think of an editorial calendar as a tool just for scheduling blog posts or news articles, but it can be used for any section of your website that requires updating at some frequency. That could be the homepage, news section, product offerings, events, program deadlines… you name it. You can even use your calendar to align content planning across channels — for instance, when you publish a new news story, you can coordinate what social channels you are using to promote it, and when.
Why should I use an editorial calendar?
If we don't have a tool to help us know what website content needs updating, when, and how, we run the risk of our content becoming old and outdated, subsequently misleading and misguiding users. We create websites with big expectations for how they will help our organization. An editorial calendar helps ensure those expectations become (and remain) reality by helping you:
Plan, schedule, and organize digital content publishing.
Track applications and uses of story ideas, deadlines, workflow, and generally facilitate day-to-day editorial decision-making
Create consolidated internal awareness of cross-platform activity
Ideally, an editorial calendar functions as an online complement to offline editorial meetings, allowing communicators a place to list, organize, and prioritize content and not use valuable meeting time to repeat those details. 
While an editorial calendar is a tool you can use to plan the future, it can also function as an institutional record of what you published when and where. That can come in handy if you are trying to understand a change in your website traffic, or to inform a future editorial planning effort. By looping high-level website analytics back into this record to indicate how past content performed, you can make this function even more helpful.
How do I create an editorial calendar?
There are many tools you can use to create an editorial calendar, depending on what tool works best for your organization's content and collaborative needs.
Excel or Google Sheets spreadsheet
Microsoft Word or Google Docs
Google Calendar
Airtable (a cloud-based, collaborative spreadsheet/database)
A project management tool like Trello, Asana, or Basecamp
These are all very different types of tools, to be sure. But the best tool is going to be the one that you can get your organization to adopt. Since an editorial calendar is a tool for cultural accountability around content upkeep, forcing a tool onto people without some amount of discussion or discovery may not go well.
What does an editorial calendar include?
A calendar can be as minimal or as robust as your content needs dictate, but some fields to consider tracking include:
Topic

Relevant message pillars and taxonomy tags (tracking these elements during planning will set you up for easier analysis of themes after publication, enabling you to see the balance of themes over time)

Associated media (photos, video, etc.)

Link(s)

Content source

Status (What this means could vary depending on the content. Is it awaiting review? Has it been written or curated yet? Is a development task required before publishing?)

Reviews and approvals

Audience alignment

Relevant deadlines: Drafts, Review, Publish, Remove/Archive

Promotional approach (e.g. social, email)
Editorial calendars can be powerful tools not only for scheduling content, but reinforcing a balance of brand messaging. By noting which key messages, brand components, and target audience your content reflects, you can make sure you're planning content that is relevant and supports your communication goals.