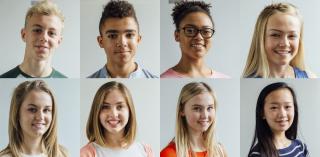 Webinar: Appealing to Gen Z in Higher Education
OHO's Director, UX Research and Strategy, Jim Dalglish, explores ways colleges and universities can appeal to the next generation of prospective students.
Over the past 8 years, OHO Interactive has engaged with more than 32,455 higher education survey participants, and had the opportunity to interact with nearly 1,000 prospective students through individual interviews and focus groups.
Through that research, we noticed a very clear shift in the mindset of prospective undergrads within the past two years. Imagery and content that appealed to Millennials was suddenly off putting to prospects just a few years younger. How they spoke about themselves — their wants, needs, and opinions — ran completely counter to what we'd come to expect from prospective undergrads. 
In this webinar, we'd like to share some of the insights we've gained about Generation Z. You'll learn:
What sets them apart from Millennials

What drives their decisions when choosing a school

​How to tailor your messaging to appeal to their unique traits